Pellicer and its renovation: "There will be no problems in any aspect"
Sergio Pellicer will add his 50th game as coach of Málaga. "Hopefully there are many more" he assured. He appreciates the support of the judicial administrator.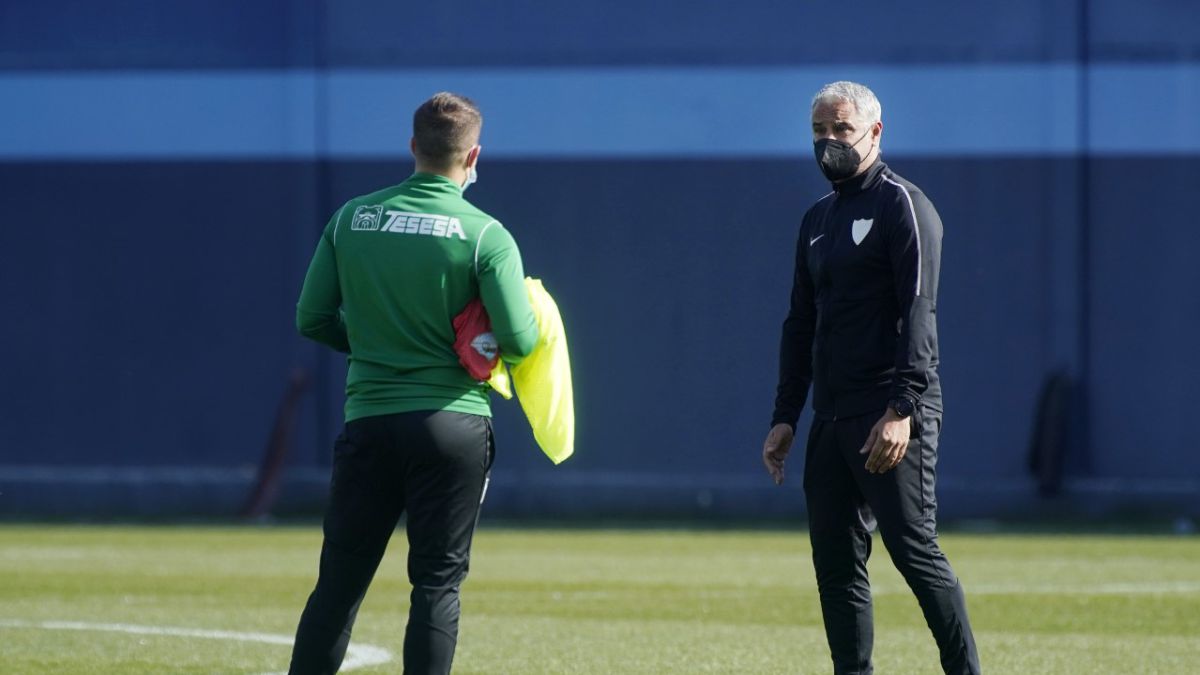 Plans after the victory against Rayo. "You have to continue the work, know that this competition does not stop, any team changes its score in the second round. We have to always be on permanent alert. The Mirandés is one of the revelation rivals of the category. We have done very good training sessions, the commitment of the group is very high. We have worked throughout the week to provide continuity. It's been a long time since we had two wins in a row. We go with that illusion, but with humility and feet on the ground. It would give us more peace of mind. Winning helps win.
Injured. "With Hicham you have to go little by little and Cristian Rodríguez continues to play. There is continuity in the list. By not playing the subsidiary this week there is room to bring more players. "
Will complete his 50th match (three of the Cup) in Anduva. "Who was going to tell me and my work group. It is a pride to be where we are. It's 50 weeks of training, a lot of video and talk, a lot of stress, also a lot of release. What the competition demands. I remember the first day I arrived, in a situation with a lot of external noise. We remain the same, focused on the day-to-day training. The competition is a crusher and goes further. We manage to dignify our profession with dedication, with hours of work and that passion. This is a beautiful game, but no matter how well you do it, playing 50 games means that you have been meeting your goals. We want players to believe is the way. It is the most important thing. It is a pride, as a coach that I have been from the quarry, I have that feeling of belonging. There are many anecdotes, hopefully we will take stock at the end of the season and we can tell them. "
Analysis of Mirandés. "It is a daring and dynamic team, the one that recovers the most balls in the league's top block, one of the youngest in the category, just like us. It says a lot about the daring it has. They handle a lot of records. It is one of the most surprising teams. It has acclimatized to these current markets, with young people on loan from very good quarries. He's competing at a high level against teams with a lot more budget. In this open market it is one of those that has been best strengthened, not by quantity but by quality. He has an associative game, an inner game, he always looks ahead. They have physical data records very similar to ours, among the highest in the category. Team with a lot of rhythm, like us more direct in transitions. Whoever manages those spaces in the center of the field and is very precise without making mistakes will have a lot of gains. I anticipate a game with a lot of rhythm because both teams require it. It will be nice for the viewer. We have to give continuity to what we are doing, like the day of Sporting, although we lost, we gave a great version. They haven't had the best results lately, but we can't get lost. "
Flexibility in the game scheme. "During the course of the season we have handled different drawings, but each game will have a different context. We are the shortest squad, but we are the team that we have employed the most players. It is a wheel, with penalties, fitness and injuries. The idea is clear, press up, not make mistakes in initiation and play in the opposite field. Especially with the continuity of the last games. We sinned from things that we have improved, but you have to be vigilant. The idea is the same as in Tenerife or Castellón at the beginning, but with more ideas and arguments. Being the protagonist in the opposite field, although the rival has a lot of possession and is brave. We want the game that we propose to be played. We have to get that victory that gives us peace of mind and add ".
José María Muñoz, Malaga judicial administrator wants to offer you the best possible renovation. "To thank José María for his words, but I was a defender, although one of the bad guys, and I liked to clear. It is a pride to have 50 games, I hope there will be many more. But in the football business the bench is rabidly topical and present. Since I came to the quarry I always had the affection of the whole club. Above all is Malaga. There will be no problem in any aspect, but I will focus on tomorrow's game. I focus on continuing to add. You have to see lights, yesterday we saw results that warn us. When a team is not 100%, what happens happens, not everyone wins easily. I thank you, but we have to focus on day to day and work. "
Better institutional situation than a year ago. "Undoubtedly. The past serves to prepare for the present and improve the future. A year ago there was a lot of talk about everything. We had to focus and see the day-to-day training. We are all people, each professional has a responsibility. There is more calm, this week we have talked about economic things that we should not enter, for that are José María and Manolo. You have to stay calm, enjoy the moment and dignify and enjoy this profession.
Dedication to little José Gutiérrez
Sergio Pellicer has wanted to allocate a section of his appearance before the media on the occasion of the Mirandés-Málaga to the little Malaguista Jose Gutiérrez, who died this past Friday, a victim of leukemia when he was only 13 years old. Jose was known and much loved in the Malaga dressing room and at the club, and the blue and white coach wanted to publicly convey his condolences to the family in these difficult times and dedicate him the victory in the case of achieving it this Monday in Anduva.
"If we win, hopefully, I would like to dedicate it to José Gutiérrez. I offer my condolences to his entire family. He came to see us in training last year with a smile. He gave us an example of solidarity, life and pure Malaguismo ". Afterwards, both he and many players and other members of the staff have been very aware of the little one.
Pellicer draws a lesson from this sad story: "It shows that life is short and that we should enjoy it. Be calm and enjoy every day ".
Photos from as.com