Pablo Chavarría: "My short-term dream is to move up with Málaga"
Pablo Chavarría was able to come to Malaga three seasons ago. But Reims did not let him out. An admirer of Messi and Manteca Martínez, he said goodbye to France scoring a goal against Buffon.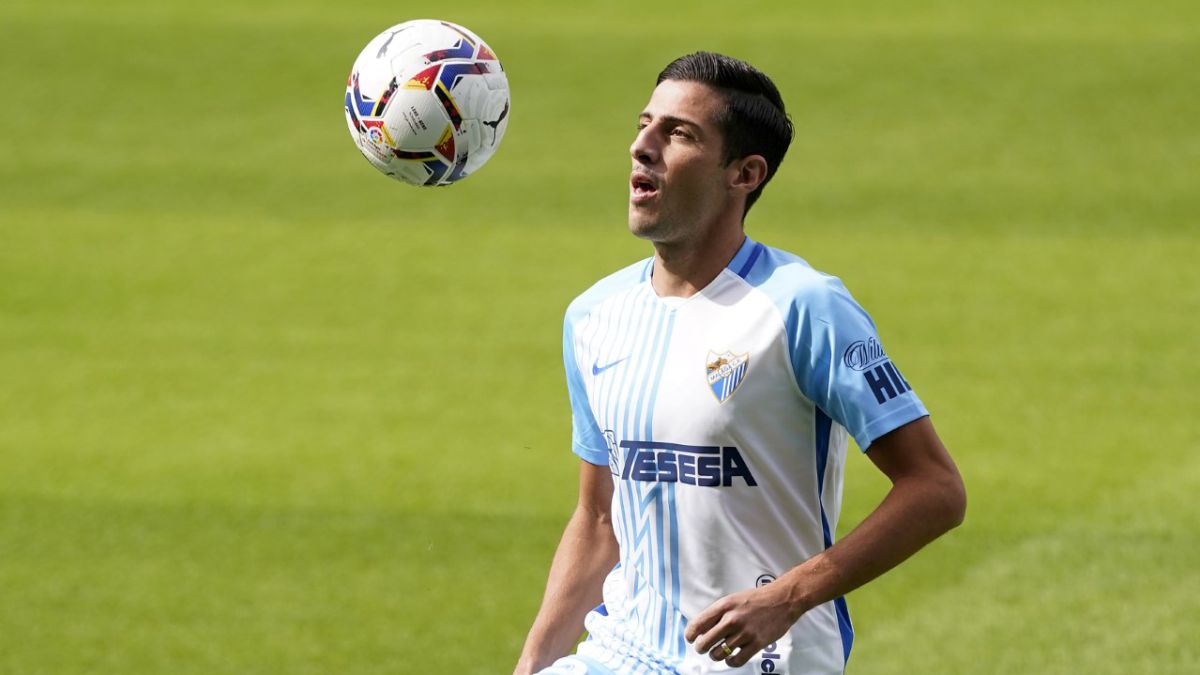 Sebastián Humberto Viberti, an idol for generations of Malaguistas, was like you from Córdoba (Argentina) .
I am from Las Perdices, province of Córdoba and I was lucky enough to meet Sebastián on a television program there. We had a chat. I was very young and he was a person who advised me a lot. I was playing in Belgrano and things were going well for me. He spoke very well to me. I knew that he had played for Málaga. I realized when I got here that many people talk about him and it is an honor because he is a player who left Córdoba, very humble.
How is life in Malaga?
Very happy. I really like the city. My family is very comfortable and we enjoy the day to day. In addition, things are going well for me in sport.
Do you take walks around the city?
With all this pandemic, I move little. Whenever I can, I go out with the family to enjoy the outdoors, which is where there are less dangers. I would have liked to be in another time that we do not have this pandemic. It has been a very big change from a year to now. And I, who have two small children, suffer for them because they are things that are no longer enjoyed. It tastes bad to me. But you have to think about the people who are really having a hard time, who are sick or have sick relatives,
Do you notice the affection of the people?
A lot, I realized that the people here follow the club a lot and the little that I have left I feel that they love me a lot. I hope I can continue to perform on the pitch and give Málaga joy.
At the age of 14 he tried the Sochaux in France.
I traveled to France. I trained with them for a while. I had a really bad time because I didn't know the language. You were very complicated and I told my family that, as much as they wanted to sign me, I wanted to play in Argentina and have a career there. Look at the fate that I ended up playing for six years in France.
At the age of 15, he entered the Belgrano de Córdoba and lives in a pension.
At that time the club was not very good. We lived below the stadium. We were 30 or 35 players of different ages. Then Armando Pérez arrived, who was a president who gave the club a lot. There we went to live in a hotel with better conditions. I had to make my debut at the age of 20 after a torn ligament.
From Belgrano, to Anderlecht.
He had had two very good years with Belgrano. Anderlecht had already signed Matías Suárez, who is now at River Plate. When I arrived it was complicated by the language issue, the different culture and the first six months cost me. He had Lukaku in front of him, who was doing very well. I went on loan for six months at Eupen and two years at Kortrijk, both in the Belgian first division. Then Lens signed me.
Winters out there are harsh.
Very cold. It suffers a lot. I also had to travel with Anderlecht in a Europa League match in Russia, against Zenit in Saint Petersburg. A cold that I was not used to coming from Argentina. -22 on the Zenit court. His feet were freezing! The people there are used to it because their fans were naked…
Also coincided with Lucas Biglia. How did they manage to make that priceless barbecue, so important in the identity of an Argentine?
I met Lucas Biglia, Matías Suárez and Pier Barrios, an Argentine footballer, who came with me from Argentina on loan. We did barbecue, but sometimes it got complicated because there was a lot of snow outside. So we made them in the garage of the house. And the mate that is not missing. Whenever I eat, my wife and children start drinking mate. That is never lacking in any Argentine family,
Where does your Italian passport come from?
On the part of my maternal grandfather whose last name is Pesce. Since he had gone through Brazil after the war, it was a bit complicated. But we got the papers and we were able to make the Italian passport.
How did it go for France?
I arrived at Lens and the first year we were promoted. We had a good team with Alphonse Areola as goalkeeper. We had an incredible year. Then the person who put the money, who was from Azerbaijan, had some problems and that year we couldn't bring in reinforcements and we lost all the players who were on loan. We descended. After another year in Lens I went free to Stade Reims and I had to move up in my second year beating all records. We scored 88 points and scored 14 goals. Then I signed for Mallorca.
In Mallorca it did not go so well.
I arrived with great enthusiasm and enthusiasm. But I only played 200 minutes and of those 200, 60 were in the last league game against Osasuna, my only starter. I don't blame anyone. I just needed a change of scene and my head was coming to Malaga. And when the opportunity arose I did not hesitate for a moment. I prioritized Malaga to any other team in the Second Division of Spain.
Tell us how you got Messi's shirt.
I have Messi's shirt from the game that Barcelona played in Mallorca. I didn't go in, but I had the chance to talk to him before the game started and asked him for the shirt. You can see that he remembered because at halftime he gave it to me. Very good! He is very humble and I am very happy to have the shirt of the best player of all time from my point of view.
You will have it framed ...
I have quite a few important t-shirts that I have gotten throughout my career. There are many and I have them in Argentina. There are several of those shirts that my son, who is eight years old, says they are his. He really likes Mbappé, Neymar, Dybala, Mané ... they are players that he likes because he plays on the play.
How were you convinced to come to Malaga despite its delicate reality?
One year before signing for Mallorca they already wanted to bring me. He came from scoring 14 goals and moving up. Reims asked for a very high chip for my transfer and I couldn't come. Now the opportunity has been given. Manolo (Gaspar, the sports director) called me, told me about the project and what they wanted. I did not hesitate. Mallorca weren't going to count on me so I told them I wanted to come and that it was my priority. Thank God everything could be solved.
Has agreed an automatic renewal in case of promotion.
That's right. I have that option. Even though we are now in the middle of the table, the objective is to stay in the Second Division. You never know what can happen. So I enjoy the day to day.
Would you stay at Malaga?
My family and I are very comfortable in Malaga. I would have no problem staying. It's more. I would be very happy.
Why is the equipment not working at La Rosaleda?
It is true that we do not have a good streak at home. Sporting was the last game we won. Then we won in the Cup but in the League it has been a long time since we managed it. They are streaks that are going to be cut. The weekend against Zaragoza we were watching the images of the match and the truth is that we did not do everything as bad as it seems. We had a lot of good things, but we must be more rigorous defensively because I think that in this category it is very important not to score goals. It is necessary to improve in that. We have the situations above and we will win many games if we improve defensively. But it is not only from the defenders but from ourselves, the attackers that we are the first to defend. The defensive work in which the eleven players participate. If we win or lose it belongs to the whole team. No one is to blame.
Do you consider yourself a pure center forward or do you prefer to move down the right wing?
I really like the freedoms as the coach gives me. If I have to finish in the area or switch out, I do. I always played like this. I am happy when I score goals or attend. The important thing is to win. I always try to be useful to the team and do what the coach asks me to do.
He has a great understanding with Yanis Ranmani. Has given him more than one goal assist.
He is a player that I get on very well with. We speak French and we understand each other a lot in the field. With the other forwards as well. It is important to associate with everyone because today it is very difficult for a player to win a game alone. All colleagues are needed.
Yanis says Pellicer is a coach who makes players better.
Certainly. He is a very humble coach who works hard. Treat all players equally. The one who plays every minute and the one who doesn't play any minute. That is very important in a group. He is the right person to be here. He knows young people a lot. He knows how to handle experienced players. We are very comfortable with it.
Y Pellicer highlights about you that you make your peers better.
That's what I try when I go out on the court. I don't care if I make a goal or make a decisive pass. What matters is that the team wins. I try to work for the team. There are always things to improve, but it's what I try to do every weekend-
Who is the soccer player on the team that has surprised you the most?
Because of the youth and because he is doing very well, I will tell him that Ramón. He is a player with enormous technical capacity. Physically he is improving a lot. He is one of the footballers who surprised me the most. There are many youngsters who are very talented. They are very humble and listen a lot. If the player is like this, he will progress and improve.
Who is your best friend on the staff?
We all get along very well. If I have to say some, Escassi, Jairo. They are players that I am always with them. It's a good group, very healthy, there is healthy competition.
Málaga is one of the teams promoting the most young footballers.
The youth players are talented and the main thing is that they are humble, they listen to the most veteran, the coach and the coaching staff. That helps them to improve and in the future most of these players will be very happy at Málaga.
Do you see that Málaga is slowly coming back?
It is a club, at least since I arrived, very transparent. All that is spoken is what happens. We are calm and we only think about playing soccer. We do not get involved in other problems. It is such a big city and club that the best thing for everyone is to get out of trouble.
What would you have liked to do if you had not been a footballer?
As a child I really liked veterinary medicine because my mother was a veterinarian. I always had animals at home and, surely, I would have dedicated myself to that. Later, when I realized that I was going to play soccer, I didn't start studying. I have a younger sister who will follow in the footsteps of my mother who passed away in 2009.
And after football?
Veterinary not because it is a six-year career. Surely something related to football, but I have not thought about it yet because I still have a lot to give in football because I am very well physically, although I am 33 years old, without any problem.
What do you like to do outside of football?
I am very familiar. When I can, we go out a little for a walk, have some mates or see places and be on the beach. I live in the La Malagueta area, near the center. I know several people who have taken me to eat at good places, although now everything is closed. Hopefully things will improve soon. I have faith that all of this will happen one day. I am optimistic.
Do you have any sports dreams to fulfill?
If I tell you a short-term dream it would be to promote with Malaga. I don't know if it can be fulfilled, but it's a dream I have.
This Second Division is tremendous.
Anything can happen. There is not a very big difference between the teams. We are now thinking of playing a good game against Sporting, which is very good. I saw his last game that he won 0-4 (Al Logroñés). Everything can happen there because we add many points as visitors. He has the top scorer in the championship (Djurdjevic). You have to be vigilant and be solid defensively and take advantage of what you have offensively to get the three points. Because every game we go out to win.
What is the goal of which you have the best memory?
The last I scored in France against Paris Saint Germain, against Buffon. We won 3-1 (with Stade Reims). I said goodbye to the people in the best way, scoring a goal for a legend. I was lucky to score him a goal. I knew I was going to say goodbye to Reims, where I felt very loved and doing it that way made me very happy,
Your idol as a footballer?
As a child I really liked Manteca Martínez, from Boca Juniors, a striker who when I got older I realized that he has characteristics very similar to me. I remember watching his videos a lot. My father bought me the videos of the scorers of the year in Argentina. Afterwards Messi, who is the idol of the whole world and the best player in all history.
Good luck
Thank you so much.
Photos from as.com