Open Australia 2021: winners, titles and tournament winners
Novak Djokovic claimed the title in 2021, his ninth Grand Slam in Melbourne. Nobody has won more than the Serbian in this tournament.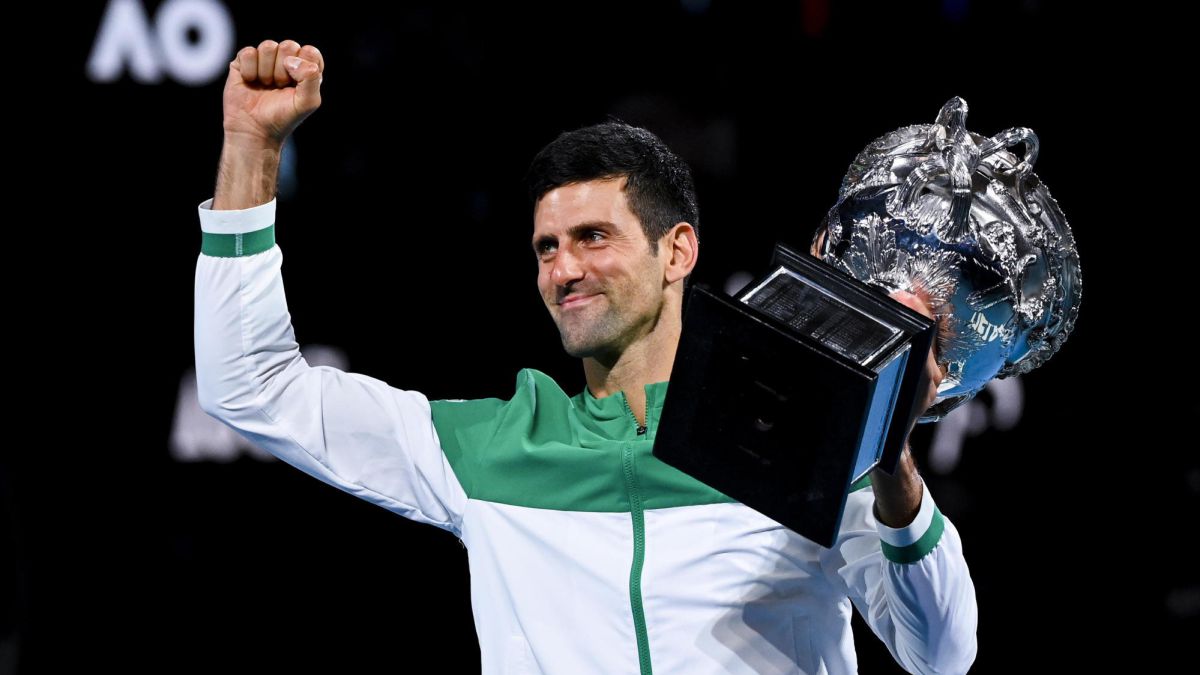 Novak Djokovic shone again at Melbourne Park, raising his ninth Grand Slam to the sky at the Australian Open, full of effectiveness in finals with nine trophies out of nine possible. The Serbian beat Daniil Medvedev (7-5, 6-2 and 6-2) in less than two hours and tied the 18th major of his sporting career, placing only two behind Roger Federer and Rafa Nadal. Absolute 'Emperor' in Melbourne.
Historical honors of the Australian Open
2021 Novak Djokovic (SER)
2020 Novak Djokovic (SER)
2019 Novak Djokovic (SER)
2018 Roger Federer (SUI)
2017 Roger Federer (SUI)
2016 Novak Djokovic (SER)
2015 Novak Djokovic (SER)
2014 S. Wawrinka (SUI)
2013 Novak Djokovic (SER)
2012 Novak Djokovic (SER)
2011 Novak Djokovic (SER)
2010 Roger Federer (SUI)
2009 Rafa Nadal
2008 Novak Djokovic (SER)
2007 Roger Federer (SUI)
2006 Roger Federer (SUI)
2005 M. Safin (RUS)
2004 Roger Federer (SUI)
2003 A. Agassi (USA)
2002 T. Johansson (SUE)
2001 A. Agassi (USA)
2000 A. Agassi (USA)
1999 Y. Kafelnikov (RUS)
1998 P. Korda (RCH)
1997 Pete Sampras (USA)
1996 Boris Becker (ALE)
1995 A. Agassi (USA)
1994 Pete Sampras (USA)
1993 Jim Courier (USA)
1992 Jim Courier (USA)
1991 Boris Becker (ALE)
1990 I. Lendl (CHE)
1989 I. Lendl (CHE)
1988 M. Wilander (SUE)
1987 E. Edberg (SUE)
1986 Not disputed
1985 E. Edberg (SUE)
1984 M. Wilander (SUE)
1983 M. Wilander (SUE)
1982 J. Kriek (USA)
1981 J. Kriek (USA)
1980 B. Teacher (USA)
1979 G. Vilas (ARG)
1978 G. Vilas (ARG)
1977 R. Tanner (USA)
1976 M. Edmondson (AUS)
1975 J. Newcombe (AUS)
1974 J. Connors (USA)
1973 J. Newcombe (AUS)
1972 K. Rosewall (AUS)
1971 K. Rosewall (AUS)
1970 Arthur Ashe (USA)
1969 Rod Laver (AUS)
1968 B. Bowrey (AUS)
1967 Roy Emerson (AUS)
1966 Roy Emerson (AUS)
1965 Roy Emerson (AUS)
1964 Roy Emerson (AUS)
1963 Roy Emerson (AUS)
1962 Rod Laver (AUS)
1961 Roy Emerson (AUS)
1960 Rod Laver (AUS)
1959 A. Olmedo (PER)
1958 A. Cooper (AUS)
1957 A. Cooper (AUS)
1956 Lew Hoad (AUS)
1955 K. Rosewall (AUS)
1954 M. Rose (AUS)
1953 K. Rosewall (USA)
1952 K. McGregor (USA)
1951 Dick Savitt (USA)
1950 F. Sedgman (AUS)
1949 F. Sedgman (AUS)
1948 Adrian Quist (AUS)
1947 D. Pails (AUS)
1946 J. Bromwich (AUS)
1941-45 World War II - Not disputed
1939 A. Quist (AUS)
1939 J. Bromwich (AUS)
1938 Don Budge (USA)
1937 V. McGrath (AUS)
1936 Adrian Quist (AUS)
1935 J. Crawford (AUS)
1934 Fred Perry (GBR)
1933 J. Crawford (AUS)
1932 J. Crawford (AUS)
1931 J. Crawford (AUS)
1930 Edgar Moon (AUS)
1929 John Gregory (GBR)
1928 Jean Borotra (FRA)
1927 G. Patterson (AUS)
1926 John Hawkes (AUS)
1925 James Anderson (AUS)
1924 James Anderson (AUS)
1923 P. O'Hara Wood (AUS)
1922 James Anderson (AUS)
1921 J. Samazeuilh (FRA)
1920 P. O'Hara Wood (AUS)
1919 A. Kingscote (GBR)
1916-18 World War I - Not disputed
1915 Gordon Lowe (GBR)
1914 A. O'Hara Wood (AUS)
1913 Ernie Parker (AUS)
1912 James Parke (IRL)
1911 Norman Brookes (AUS)
1910 Rodney Heath (AUS)
1909 Tony Wilding (AUS)
1908 F. Alexander (USA)
1907 Horace Rice (AUS)
1906 Tony Wilding (AUS)
1905 R. Heath (AUS)
Photos from as.com