Onana, suspended one year for doping: "I confused an illegal drug with an aspirin"
The Ajax goalkeeper tested positive on October 30 for taking a drug containing furosemide. Club and player will resort to TAS.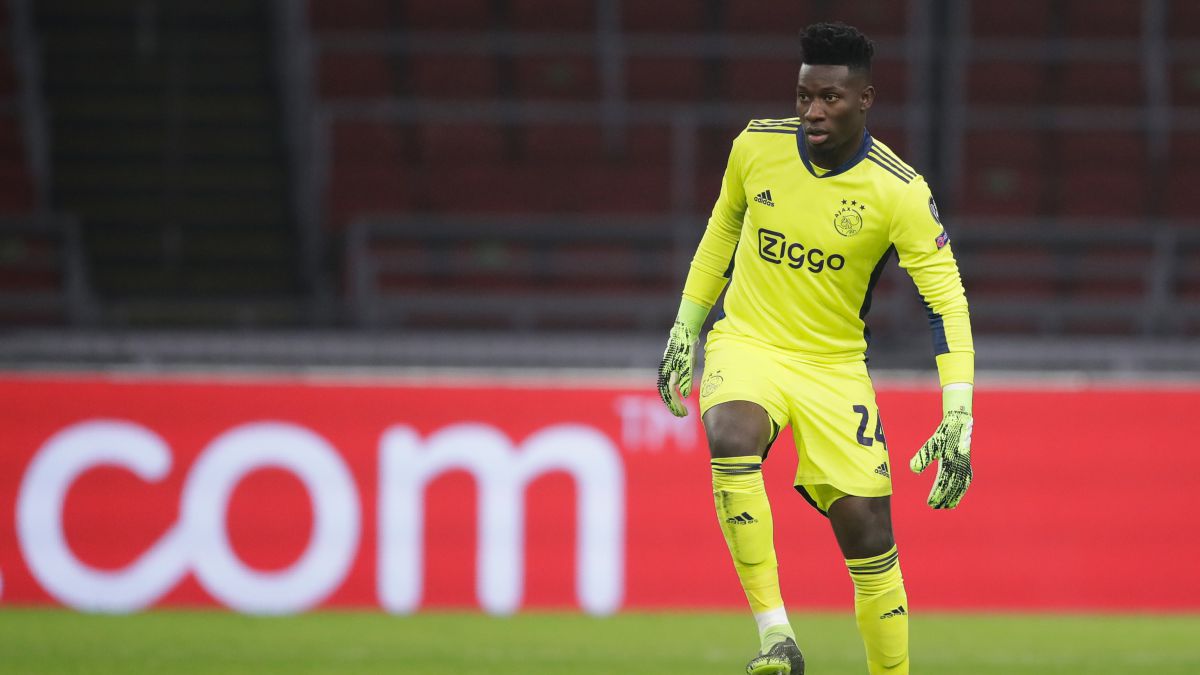 André Onana will be out for a year with both Ajax and his national team. The Cameroonian goalkeeper has been sanctioned for doping by UEFA after furosemide was found in his urine in an out-of-competition test on 30 October last year.
Ajax, through a statement, has given the news and has offered more details of what happened. According to the club, the goalkeeper on the morning of October 30, 2020 had a general malaise and wanted to take medication to relieve the discomfort. Unknowingly, Onana took a tablet of Lasimac, a medication that had been prescribed for his wife. This drug contained the aforementioned furosemide, a diuretic, which was detected a posteriori in the goalkeeper's urine sample after an out-of-competition anti-doping control.
Onana has expressed no intention of doping or obtaining any benefit from this substance but the European Football Association considers, according to Ajax, that the goalkeeper has a duty to ensure at all times that no substance considered doping enters the body. This substance, being a diuretic, is not considered a dopant for use but is prohibited by the World Anti-Doping Agency, since it can be used to accelerate the elimination through urine of others that may have been previously used for athlete in question to avoid testing positive.
Furosemide is included in the list of banned substances for 2021 published by the WADA and which entered into force on January 1, 2020. It is categorized among those that cannot be used neither in competition nor out of competition, at which time, According to Ajax, André Onana was checked. This substance is commonly used in medicine with the intention of 'speeding up' the functioning of the kidneys so that they urinate more frequently. In Spain, it is always administered under medical prescription.
The player issued a statement minutes after the sanction was known. "I want to clarify that everything has been the result of a human error when confusing a medicine that contained a substance prohibited by WADA with a simple aspirin. This medicine was prescribed to my girlfriend, and, by mistake, I confused it with a medicine for the cold because the wrappers were almost identical, which I am very sorry for. "Ajax and Onana will appeal to TAS
Both Onana and Ajax have announced that they will appeal to the Court of Arbitration for Sport. In its statement, Ajax has demonstrated its support for the goal publicly through Edwin Van der Sar, who came out to assess the case. "We explicitly renounce any performance-enhancing drugs and advocate for clean sport. This is a terrible setback for André and for us as a club. He is a great goalkeeper, he has shown it for years and also very popular among the fans. We expected a shorter suspension than these twelve months as André had no intention of improving his performance, "said the former goalkeeper of the Dutch club.
Photos from as.com