"Many of my teammates will end up in the First Division"
It became the most expensive signing of the Mirandés. The club paid about 130,000 euros to Murcia. The bet was risky, but Víctor Meseguer is showing his potential.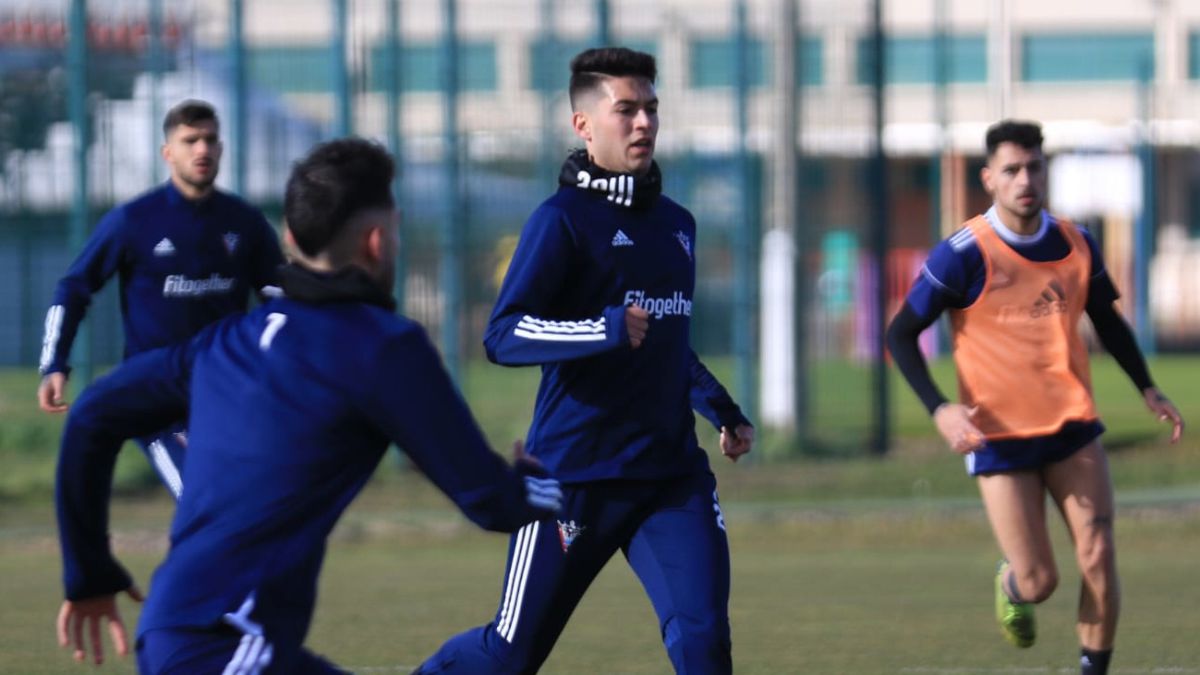 - He was born in Alguazas, a town very close to Murcia. Did you start playing soccer there?
- I started with five years at the San Lorenzo stadium with friends from my class and childhood, which I still keep. I remember very well. In my early days I had a coach with whom I managed to win the league in second-year fry, but I was still the youngest. His name is Paco and he has La Parada Bar in town. I still have contact with him and I wear a t-shirt.
- What do you miss about your land?
- Especially the routine with my friends and family. I have always been very familiar. You are in your habitat, the weather also helps a lot, but Miranda is a quiet place. I have adapted well and am very comfortable.
- His work at Real Murcia did not go unnoticed, even for a great club like FC Barcelona.
- They are things that are always there. I read it at the time, but I have always said that when I go out on the pitch, I focus on the game. All that you don't take into account and you forget. You always try to do the job right.
- And this summer a much more modest club arrives that pays out about 130,000 euros for its signing. How do you remember that interest?
It was very early to make contact with the Mirandés. Chema (Aragon) immediately spoke with my representative and me. From the first moment I wanted to come to a club of Segunda that bet on young people. It was the best option. The amount disbursed means a lot. He is doing things very well and is capable of making property transfers.
- Have you come to feel more pressure at Real Murcia than you can at Mirandés?
There the pressure is continuous because it is a club that demands a lot because of the shield you wear and having to win every game. I was there for a year and I think that has helped me. The demand makes you stronger, both on the field and psychologically. At Mirandés you also have to meet certain objectives.
- Apart from football, how does Meseguer have fun off the pitch?
I spend a lot of time playing Play, which in the end is my partner. I have a lot of friendship with Iván (Martín). We knew each other before and we spend a lot of time together when we can. I usually go to Vitoria to the shopping center, I have gone to Bilbao, which is possible and complying with the protocol.
- Which teammate has surprised you the most on the grass?
- Coming from our team, more than one player will finish in First. Many of my colleagues have brutal conditions. Iván is a footballer who makes a difference. Vivian has an impressive hierarchy. It seems that he has been playing in the Second Division for 5 or 6 years. Víctor (Gómez) has also surprised me. He is the youngest and will return to play in the top flight.
- A week ago the ninth anniversary of the first qualification of Mirandés for the semifinals of the Copa del Rey was commemorated. At that time, Meseguer was only 12 years old.
- I remember that moment of the Mirandés because it went viral. I remember Pablo Infante who appeared everywhere, in the news and in the newspapers.
- You have two more seasons ahead as a rojillo, with what personal goals do you present yourself?
- My idea is to keep playing and taking minutes in the category. And this year to achieve the objective as soon as possible to stay another year in Second.
- Was the fact of hovering around the playoff positions a few days ago disorienting?
- I don't think it was that, but the footballer sometimes trusts himself and stops doing things because he looks comfortable. We looked good in qualifying. We must not lose the north. We must know what our main objective is, which is salvation. The other day the team had a change of attitude and that is the way.
- Will Cristo González give the team many points in the second round?
- Of course I think so. He is a player who makes a difference within the area and has already given us the first three. He is going to bring us a lot at stake in three quarters of the field, in association because he likes to be in contact with the ball. It won't give much more.
- In his case he performs the so-called 'dark' work within the field. An aspect of the game that is often undervalued.
- My game is that way. Do a correct job. It's true that the goals, the assists and the quality of going one-on-one I don't have, which in the end is what the fans like the most. I consider myself a team player who is always trying to help.
- El Mirandés closed the first section of the season with 27 points. What score do you give the team?
- An 8. We had a good first round, although the last three games stained the work we had done a bit. We got a lot of points and with a good game. You can always improve and hopefully in this second round we will do even better than in the first.
Photos from as.com