"I'm not happy, but I'm going healthier, which is positive"
Nadal acknowledged after losing to Tsitsipas that he was wrong "in a few tactical things" and that "the errors in the tie-break were decisive."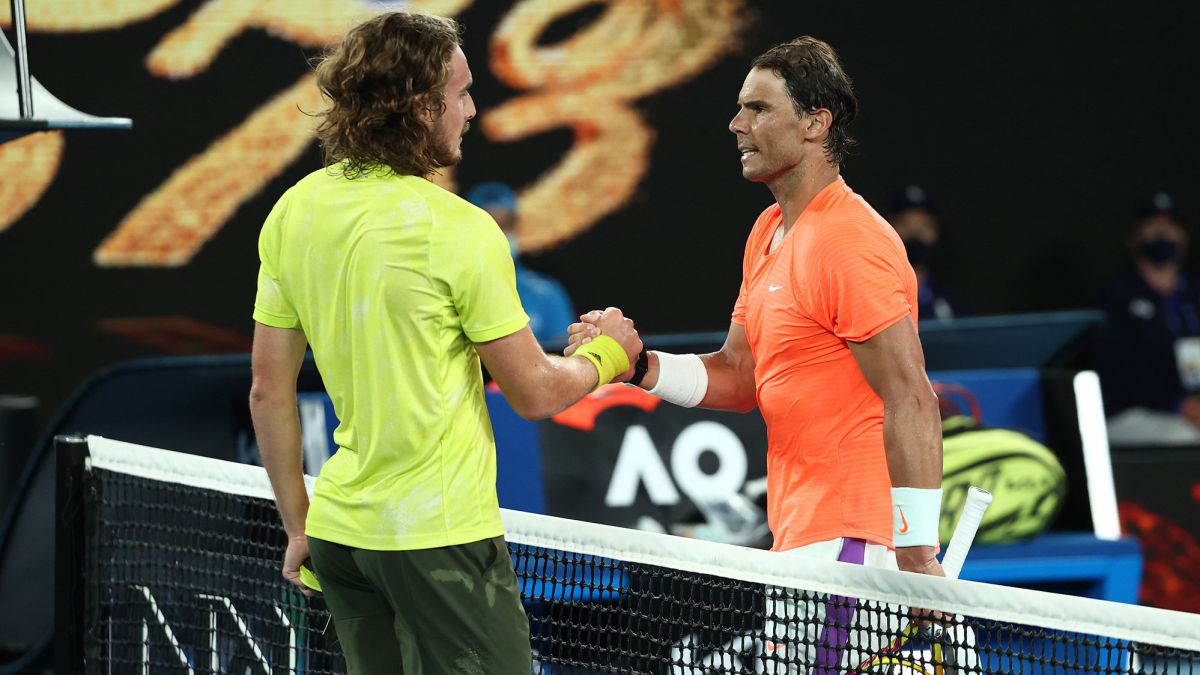 Disappointed and somewhat hesitant, Rafa Nadal appeared at a press conference after losing in five sets to Stefanos Tsitsipas in the quarterfinals of the Australian Open, in a match that he led 2-0 after one hour and 18 minutes of play.
Missed chance: "It is not, it was a quarterfinal match and the preparation had not been perfect, it was an opportunity to be in the fight at the Australian Open, which is one of my favorite tournaments, without a doubt, but there was work left to do ".
How he feels: "I'm not happy, but what can I do, play better next time or at least try. The errors in the tie-break were decisive. I played well in the first two sets, but then he was at a very good level , especially in the fourth and fifth sets, when he made very few mistakes. He probably played better than me in important moments. My attitude has been adequate, I think I stayed positive, but physically I lacked a bit, an extra spark, but I missed a very comfortable shot, a forehand and another shot in that tiebreaker. "
Keys: "There was something missing and I did others well. Things have not gone as expected, but I am leaving much healthier, which for me is very positive mentally. Let's see what happens now, I have to go home and understand what I have to do in this difficult situation that we live and prepare myself in the best possible way. "
Fitness: "I should be prepared for that. I think my physical stamina is quite good. It is true that I probably need a little more time, because I was in very good shape and for 20 days I could not practice in the way I expected, no I was able to play only one match in the ATP Cup. Yes, maybe this kind of thing would have helped a little to be physically better. Because the more games you play and the more you train against good players, playing sets, then the more chances you have to be better. But I don't complain much. I think physically it was a very wet day. It wasn't fantastic, but it wasn't bad either. I was able to fight to the end, and that's it. What is clear is that the problem was not my back. "
Mistakes: "I didn't play a bad game in the fifth set, just a bad game in the equal five. If I had won the tie-break we would be at the hotel a long time ago. I was wrong in a few tactical things, which I have to analyze, but it was not easy either on a fast track and with an opponent who was serving well and hitting the ball fast and hard. The first two sets have been easier because he played them worse. Sometimes suffering is won, but sometimes not. You have to accept it, life goes on, without drama. "
Almost at the end of the press conference, Nadal suffered a cramp and got up to leave the room, then he returned and explained what had happened: "They asked me if I was well prepared and it has been shown that I was not. jerk and I decided to go out whistling because that time at the US Open I stretched, I almost fell off my chair, and many memes were made ".
Photos from as.com