No one can stop these Jazz
Great game by Donovan Mitchell and another triumph for the Jazz that are at the best start in their history, with 16 victories in 17 games.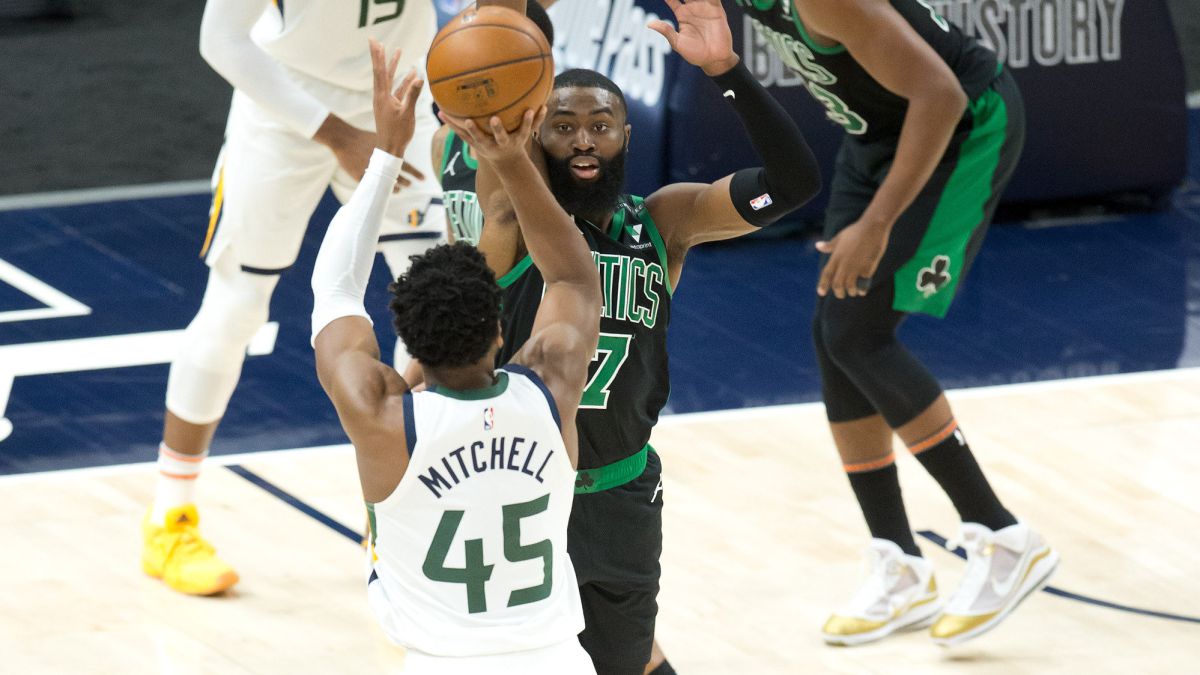 It has been a long, long time since the excellent moment of the Utah Jazz is neither transitory nor circumstantial nor, really, news: it is that after sweating against the Celtics (122-108) it is in the best start of its history (20- 5, 16 wins in 17 games). And also it is that it has all the traces of hopefuls to the title. Yes, not just outsider or playoff cheerleader. These Jazz will aspire to anything if they make it to the playoffs this well. And there is no reason to think that they won't.
With an exceptional coach like Quin Snyder, the Jazz have been a rock in the regular season for years but falling short in the playoffs. This time everything seems different, basically due to the internal growth of those who have been the pillars of a simmering project and for which the great moment has arrived. Mike Conley was not against the Celtics, with a muscle injury that will stop him for a few games. But the Jazz, without the player with the best +/- in the entire NBA, won again and made very little mistakes in the decisive moments. Donovan Mitchell, who breaks into a megastar, played point guard and finished with 36 points and 9 assists. In the last four games in which he has had to officially play one, his averages are 36.7 points and 8.7 basket passes.
Right now it seems that no matter how it goes, the time for the Jazz always comes. In all matches. This time it was in a second half in which they scored 74 points and 11 triples with percentages of 53% in shots and 44% in triples to which they added 21/24 in free throws only in that second half. The third quarter (42-32) had a shaking moment (+14 local) to which the Celtics survived wonderfully, who sent with small advantages in the first half and converted a 99-89 into a 108-104 in the last quarter three minutes from the end. There came a final 7-0 (115-104) and in just over a minute, with triples from Mitchell and a Joe Ingles who bursts into the quintet as soon as there is a loss and, as a boy for everything, continues to shine in excellent season (24 points, 6 assists, 5/11 in triples). Bogdanovic's points (16 with 8 rebounds and 4 assists) supported in that second half, in which a Rudy Gobert grew up who was everywhere (18 + 12 + 3 with 3 blocks) and played another simply phenomenal game.
The Celtics ended up defeated by a team that is better than them right now ... and almost, almost all of them. It is not a loss to make blood, closing a tough tour through the West that finished 2-3, with three losses in four games. In total they are 12-11, a very discreet balance of course but that should improve now that they return to the Garden and the calendar softens. They are still without Marcus Smart, who they obviously miss, but in Salt Lake City Jaylen Brown returned. And big: 33 + 4 + 8. Better than a Tatum (23 + 4 + 4 but 7/20 in shots) that started badly and finished base, solutions in a team that bleeds out there, with Jeff Teague out of the game and Kemba Walker without capacity, for now, to correct his lousy gait. This time 7 points with a 2/12 shooting and another vote of confidence from Brad Stevens, who doesn't want to miss out on the four-time all-star: "If we become the team we want to be, it will be partly because Kemba will be the player we need him to be ". In the end the Celtics fell short again despite showing their face, as in Phoenix, and Jaylen Brown regretted that the Jazz ended up showing off, victory and streak: "We should have taken it personally. The last quarter was embarrassing It is when we should have been tougher and we broke down. They lacked, of some wood, toughness and leadership. And a large part I attribute it to myself ".
Photos from as.com