The Brazilian, close to renewing with PSG, promotes the movement to convince the French, while closing salary space. Messi has a key role.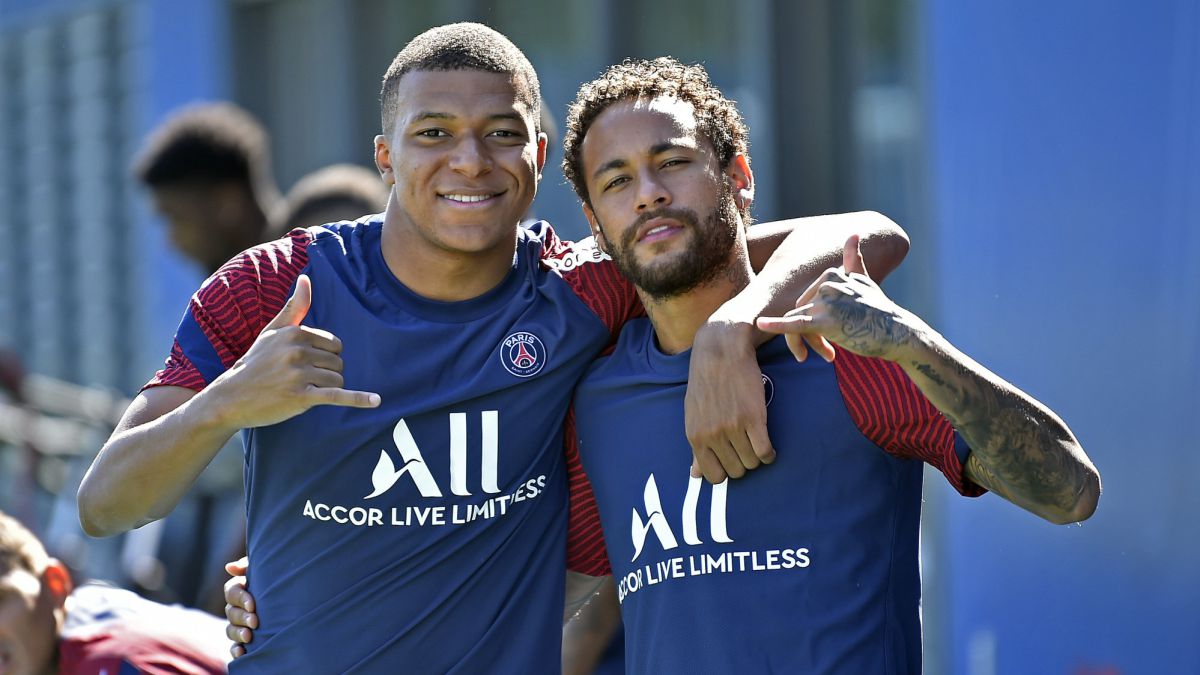 Neymar is close to closing his four-season renewal with PSG, as reported by TNT Sports this week, as the Parisian team leaves behind a stormy past of disputes with the Brazilian and secures one of the most decisive attackers in the world. to continue fighting for his great goal: the Champions League, which he already touched last year. The 2021-22 season has special significance for PSG: the Qatar World Cup will take place in the middle of the course (the Parisian club is owned by Qatar) and the idea is that that season the French capital team will have already won a European title or is on track to do so by May 2022. PSG will spare no expense to compose a winning squad that crosses that finish line. The next step is the renewal of Mbappé, in principle more complicated than Neymar's: the Frenchman ends his contract in June 2022, so next summer he will have one year left to be able to leave for free and it will be for PSG the moment to decide . If he does not renew, he will have to sell it to get an economic return (it cost him 180 million euros, from Monaco), with Real Madrid and Liverpool as the best placed, if necessary.
Mbappé has been rejecting the renewal offers that PSG made him for two years now, thanks to an already very voluminous contract (he charges about 21 million net per year) and with his mind set on not closing future routes; Madrid, a team he has been passionate about since childhood (specifically, Cristiano Ronaldo), loomed on the horizon. However, in recent weeks it seems that the positions have come closer, as Mbappé himself evidenced in an interview with L'Equipe: "We are negotiating, I feel good here. If I renew, it will be to spend many years here, I am reflecting. I want to think about what I want to do in the next few years, where I want to be ... "
Neymar and Mbappé, suddenly inseparable
A statement in which he keeps the door open to look for an exit that he has already tried in the past (Unai Emery, his coach for two years, already explained that they had to stop their desire to go to Madrid after only one year in Paris), but in which he also values the option of staying and making a career in French football as a springboard to reign in Europe. The first step that PSG had to take was to secure fellow travelers of their level and with the renewal of Neymar they have fulfilled in that sense.
The relationship between the two was not always the best. Not in football, a facet in which they understand each other wonderfully, but in terms of leadership of the dressing room. After finishing the 2018-19 season, Mbappé dropped the bomb seconds after being recognized as the best player in Ligue 1 that season: "Maybe I'll be happy here, maybe somewhere else. I think it's time to take more responsibility" . He did not make it explicit, but from all sectors the message was understood as a criticism of Neymar's leading role, above himself, despite the fact that he had already guided France to a 2018 World Championship in Russia.
Now, however, the positions are closer than ever. Neymar himself made it clear on Telefoot, just a few days ago: "I'm staying at PSG, things have changed a lot, I want to continue and I hope that Mbappé will do so as well." The Frenchman responded the next day, in an interview to 'France Football': "Neymar is the best in the world, he knows how to do everything. I have always believed that great players should play together. The statuses were decided from the beginning: he he is the center of the project, I am here to help him. I will never forget how he helped me in my early days, he is a good boy ". Tons of soap between the two that reveal a possible future together at PSG that did not seem close before ... and now it looks better.
But the soccer man lives not only by good words. Money is a central issue in this case, with PSG projecting losses of 204 million for this course due to the pandemic. The fervent desire of its president, Nasser Al Khelaifi, to form a team of stars collides with the financial reality of the entity, which pays Mbappé 21 million net a year and Neymar, around 35; These are the figures of their current contracts, they would foreseeably grow in successive renewals, although economic details of the Brazilian's agreement have not been disclosed.
Losses of 200 million ... and Messi
The renewal of Neymar, inevitably, will close salary space for Mbappé, with PSG needing to cut salaries in order not to skip the UEFA Financial Fair Play. And a name looms on the horizon: Lionel Messi. The Argentine still does not clarify if he will renew with Barcelona or if he will go free to another team. If the latter happens (a very feasible option, Barça's economic situation is critical and his salary of more than 70 million clean per year, unaffordable), PSG has already made it clear in the mouth of its sports director, Leonardo, that it wants to compete for that signing: "Such a player is always on the PSG roster" .
And he added: "Neymar or Mbappé? The situation is difficult, which team has the financial means to pay them their salaries right now? I don't think anyone ...". If Messi enters the equation, one of the two must necessarily come out. And Neymar has already said that he is staying in Paris, where he wants to meet his friend Messi. The Brazilian, with his renewal, wants to bring Mbappé closer to following the same path but, at the same time, constrains that path economically and enhances his departure. A scale that is difficult to predict, four months after the end of the season.
Photos from as.com