Neymar and Dortmund continue to mock on social networks
Lorient celebrated their victory against PSG in the same way that Haaland celebrated his goals against the Parisians in the Champions League and this triggered a message crossing.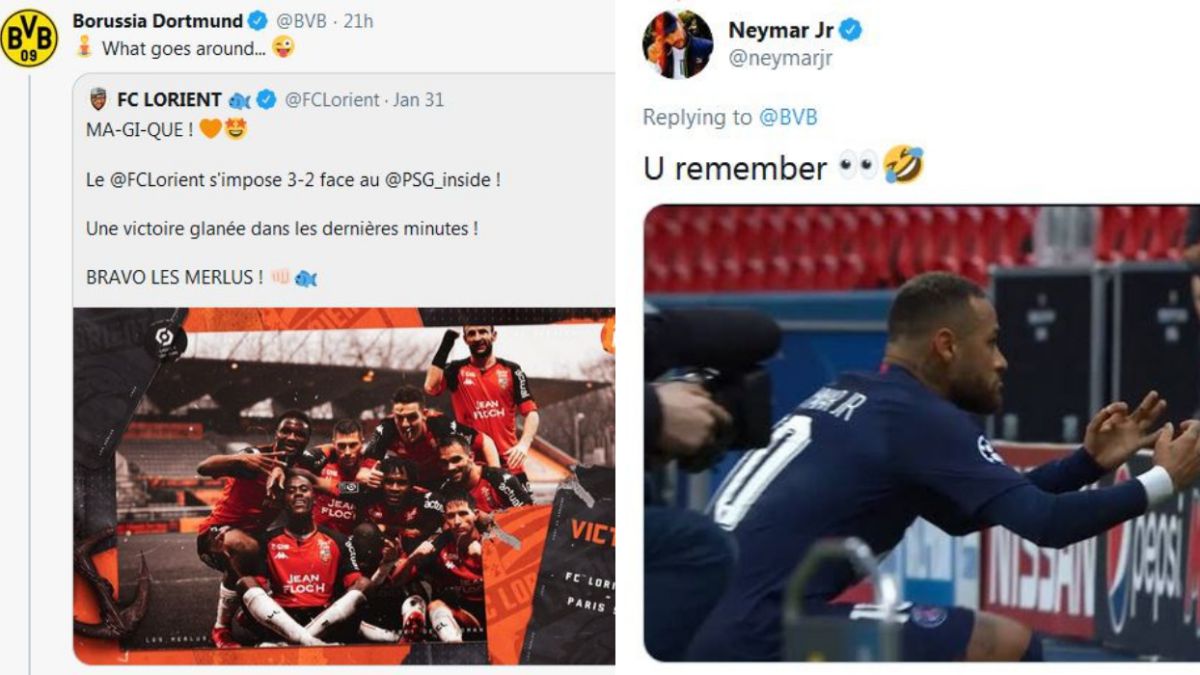 Social networks have become perennial protagonists of our lives and many footballers use them to shake up the news with their opinions and thoughts. Neymar is one of the most active and does not avoid dialectical exchanges in a virtual way. The exchange of messages with Álvaro González after PSG's victory against Olympique de Marseille in the last final of the French Super Cup is the best example of this. Well, this time he was not the one who lit the fuse, although he did take care of fanning the flame.
The Lorient, which came back from 1-2 with which the Parisians led in their visit to the Loire Valley thanks to a final goal by Wissa in the discount (3-2), celebrated such a resounding triumph through Twitter with a photograph that it accompanied the words "MAGIC-QUE (magical)". The snapshot shows Les Merlus celebrating and Wissa, the hero of the clash, celebrating with crossed legs and a meditation position that Borussia Dortmund quickly recognized.
"What goes around ...", appeared in the mention of the borusser group. An English expression that completes (what goes around, comes around) would be something similar to the Spanish 'what is sown is collected'. This comment comes from afar. In the last edition of the Champions League, the Germans met PSG in the round of 16 and in the first leg at Signal Iduna Park, Haaland celebrated his goals in the same way as Wissa. On the return leg, after coming back from the tie, Neymar and his teammates responded by celebrating the move to the quarterfinals in the same way.
For this reason, the Brazilian star did not take long to give his own reply to Dortmund: "Do you remember? (U remember?)". A phrase accompanied by a photograph of him from the aforementioned Champions League match accompanied by an emoji in which he showed himself to be laughing. That 'U remember? "Became viral in seconds, with a multitude of montages for and against a Ney who moves like a fish in water in the digital world.
Photos from as.com