N'Kono, Barça's offer and his teaching with Cristian Álvarez
Espanyol's technical assistant and legendary goalkeeper explains that "he had never had a relationship" like the one between Diego López and Oier.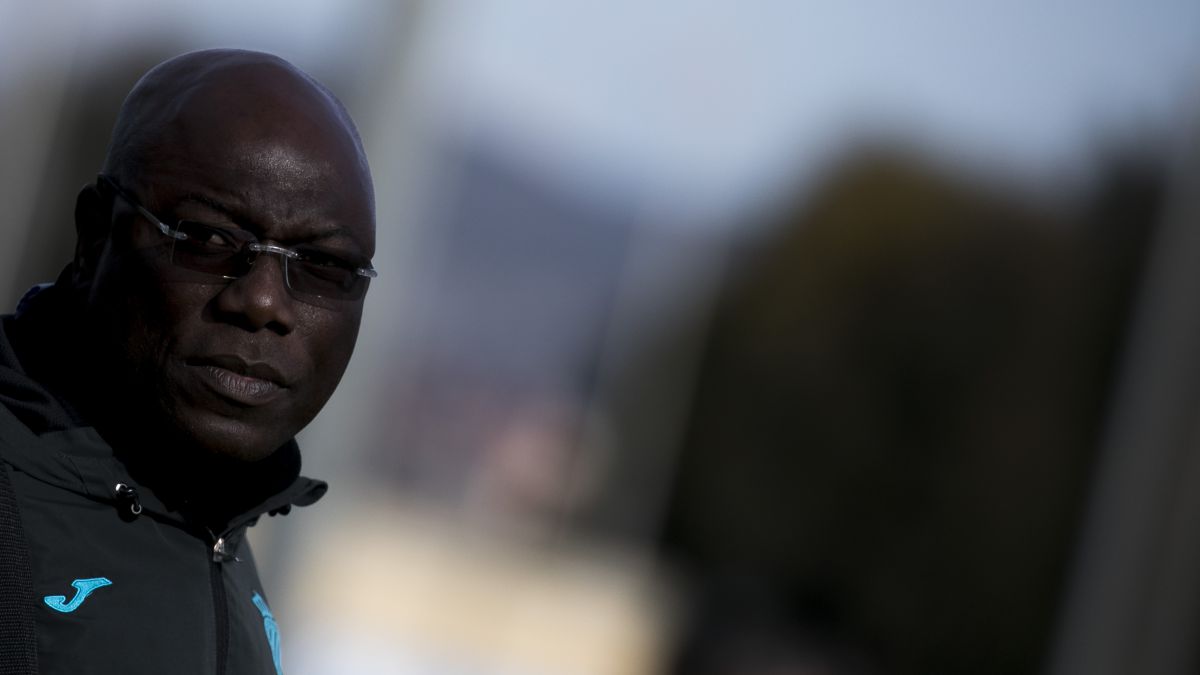 Tommy N'Kono feels "a privileged one within the great perica family", because of the affection that all Espanyol fans have shown him for decades. The current technical assistant of the first team parakeet and legendary goalkeeper was sincere in 'Llobregat Blanc i Blau' (Ràdio Despí), where he explained from its origins, without idols at the goal because football only came to Cameroon on the radio, to faith on the outcome of this season: "We are all confident. The objective is promotion and from there we must not deviate. "
N'Kono recalls that, after the World Cup in Spain-82, the first offer he received was from Racing Santander, where he was about to land. "We did not reach an agreement for a clause of international matches that should play with the national team." Once back in his country, he received three other proposals: "Espanyol, Fluminense and Flamengo. I told my wife that we would go the first one who came. And, luckily, Espanyol arrived ", he exclaims," thanks to Ramón París and President Baró ".
But N'Kono's career could take an unexpected turn before he could even imagine that he would end up being a parakeet myth. "When I was still in Africa, I received an offer from Barça", admits the Cameroonian, who specifies that it was a place for the military in the subsidiary, and points out: "Nobody remembers that in Spain only two foreigners played and it was very difficult to sacrifice one place for a goalkeeper ".
In a jump of two decades, he recalls how he discovered Carlos Kameni and took him to do a test with Espanyol, "but since he did not have the community passport he could not play, and a couple of years later, when he obtained it, he already signed".
His compatriot has been, however, one of the many goalkeepers that N'Kono has had under his discipline in the parakeet club. "The one who has given me the most work is Cristian Álvarez", he affirms without hesitation: "He had to start from scratch to be a First Division goalkeeper. Today he continues to play at a very high level. That he had no tactical concepts? Neither tactical nor technical ", he assumes, although he clarifies that" he had the greatest predispositions ".
N'Kono is currently delighted by the competitiveness between Diego López and Oier Olazabal. "Every weekend Vicente (Moreno) has trouble choosing," he says. And it abounds: "The relationship between the two is something that I had not experienced since I was at Espanyol. It is respectful and helpful in all aspects. "
Y from past and present to future, to close his conversation with his colleagues from 'Llobregat Blanc i Blau'. Of the homegrown players Joan García and Ángel Fortuño, N'Kono expresses: "We have two great goalkeepers for many years if their injuries are respected", to which he adds something nothing trivial: "Their progression is calm, because with Pau and Germán we had precipitation, they had to be used because there was no other possibility. We have to try to make the progression natural, the time will come ", concludes the myth.
Photos from as.com