Montiel: "I dream of doing great things with Rayo: moving up, getting into the Europa League ..."
Joni Montiel (Madrid, 1998) took a great goal out of his hat to pave the comeback in Cornellà and knock on the doors of ownership.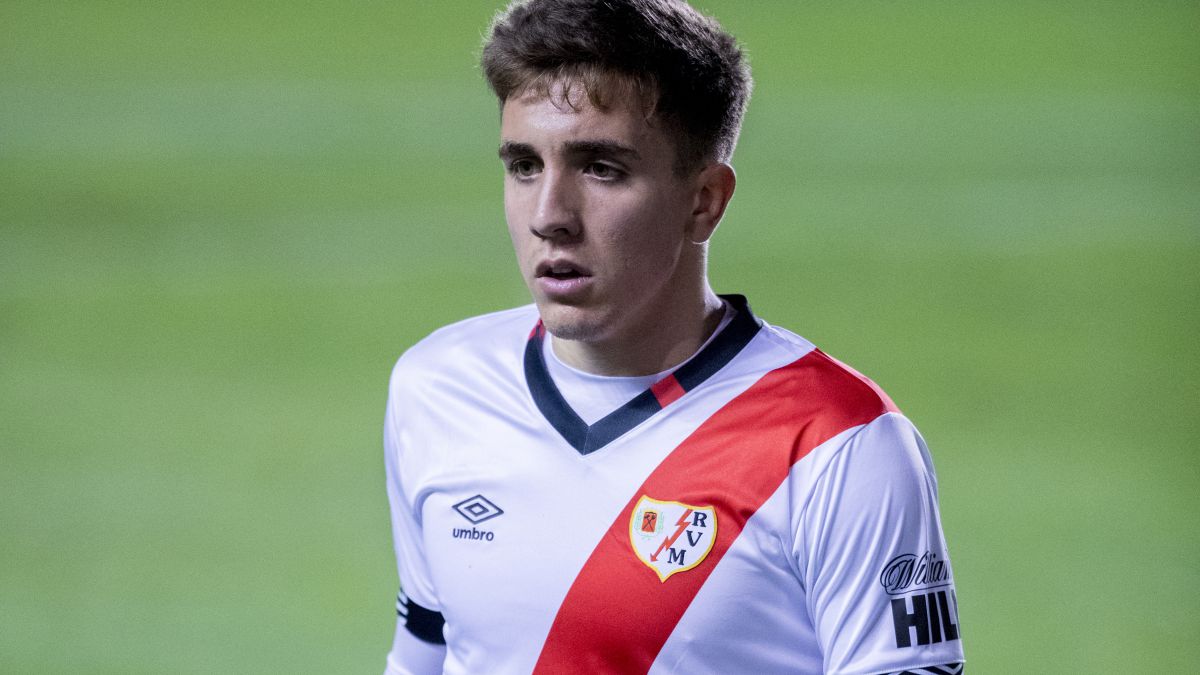 Joni Montiel, 22, uncovered the scent jar to score his first goal of the season against Espanyol and claim, once again, his talent. The same one that made him the youngest player to debut with Rayo in Primera (Bernabéu, December 20, 2015). The one that made him a participant in the historical youth doublet (14-15). The boy from El Pozo del Tío Raimundo has matured, has hardened through assignments and setbacks in his life. After a difficult summer, the long-awaited renovation arrived. Good news for a Rayista and Vallecano to the core, a tireless youth squad who dreams of continuing to grow and do great things with the Strip. The first, get the promotion. The one who lived as a ball boy for the Trejo, Armenteros, Piti ... in 2010-11 and in the heat of a full stadium that he longs today.
— His first goal of the season was a work of art and the key to recovering Espanyol…
— I wanted to premiere and before a rival like that, imagine. Everything went wonderfully. At half-time we talked about correcting things and trying to score quickly to get into the game and everything was done. We had faith that it could be done. The occasion was perfect because the referee sent Embarba out, his pants had torn, and I looked at Lucho (Advíncula) to make a two against one to Melamed. Luckily, he went with him and left the hole free for me to paste. Diego López explained to me later that the ball made him a stranger and he could not calculate the trajectory well.
— And what did Embarba tell you?
— What a great goal, he was a bastard and he was very happy for me. We get along very well and I'm really happy with how everything is going, his great season, and hopefully he can move up like us. We couldn't talk much either, but we did change our shirts.
— Adri was precisely one of those who gave him some advice on his debut at the Bernabéu…
— With me he has always behaved very well and has been pending. That moment was the happiest of my life. I made my debut in First class when I was very young (the most rayista, with 17 years and 108 days). Paco Jémez gave me the opportunity, who is another person to whom I owe a lot. The final result was bulky, but in the first half we did a good job despite having two fewer players. The people of Madrid congratulated us on our performance.
— Going back to First is the goal that everyone has in mind…
— Yes. We have a good run and if we continue in this line we can get hooked on those at the top. We have a great team and, at the very least, we should play the playoff. The direct promotion? It can also be given. Let's fight it.
— He took advantage of that opportunity in Cornellà to apply for eleven…
— All players need confidence and continuity and I, until now, have not had it. I want to continue growing and improving. The only thing I can do is work, train well and, every time I go out, help the team and show that I can be in the eleven.
— A handicap is that Trejo, Pozo…
are in its demarcation
— Unfortunately, in that aspect, I have it more complicated. Chocota is a spectacular player and Pozo, the same. It is complicated, but I can only fight for the position and try to show that I can be there. The decision is made by the coach.
— He had to leave on loan to Toledo (17-18) and Fabril (18-19), what did he learn?
— When I left home I realized that everything is not so beautiful if your people are not next to you. That makes you mature. Toledo's situation was not good, economically and sportingly, but I was happy because I played. The year of A Coruña was wonderful, despite declining. The city, the club… Everything. In addition, they gave me continuity and confidence.
— Until the renovation was closed, you had a difficult summer, did you have a bad time?
— Yes, because I didn't know what was going to happen. They were difficult moments since the circumstances did not exist to continue and, in the end, due to the desire to solve everything, it could be done. I wanted to continue and the club showed it too, although it took a while.
— Do you see yourself in a few years wearing the Strip and the bracelet?
— Being a captain doesn't appeal to me, but I would like to do great things with Rayo. I dream of being promoted to the First Division and getting into the Europa League, like Granada. That would be so nice ...
— Tell me about El Pozo, the neighborhood, the square where you started playing…
— There are my friends, family… There I started to play, on the dirt field behind my school (Trabenco)… That is my life. Due to circumstances, I came to the Ensanche to be closer to the Sports City, but I continue to go to see all my people.
— What has that football taught you in the street?
— Picardy! You learn to be smarter in some actions. And there you see a lot of talent. Over the years you meet people who have a gift and many have been forged in the street.
— You are the only survivor of that historical juvenile doublet, does it strike you that no one else has continued from that great batch?
— It's surprising. The year we did was spectacular and it is rare that there are not at least two or three more players in the first team. There are some in First, Second… Others in Copenhagen like Pep Biel. There was a lot of level.
— How does a youth squad experience the current situation of the quarry?
— It hurts a little. The club has set to work to try to fix things and get it right again. Rayo has always fought because other big clubs did not take away players from the quarry and that is good for the entity. Train good footballers who at any time you can sell and they will help you financially. Something is missing and should be fixed as soon as possible.
— After the first team's announcement, do you feel things have changed?
— The captains are the ones who carry all that the most. The club has given the word that things will change and improve. Time will tell.
— His goal had a very emotional and special dedication…
— Whenever I walk in a field, I remember my father Antonio because he was the one with whom I had the most connection in that regard. He gave me strength, advice ... Everything reminds me a lot of him. I miss him so much.
— And do you remember your first game in Vallecas as a child?
— He was very small. Yes I have cooler when I was ball boy. So, Rayo was in Second and rose with Trejo, Armenteros, Piti ... Then I shared a dressing room with many. It is something spectacular. I could never imagine it.
— Are people missed in the stands?
— Very much. And more us because Vallecas gives us that encouragement that we so need. Always cheer. It's a crazy thing. The atmosphere is spectacular.
— Among your future projects, are you resuming your training as a coach?
— I did level 1, but with the transfers so often I did not continue. Now I want to go to level 2 and take my Bachelor's degree again to access 3. I have also signed up for boxing. I like it and it also suits me physically to improve.
Photos from as.com