Mir: "I wish with all my soul that Márquez arrives in Qatar"
Interview with the MotoGP champion with his sights already set on the season that will start on March 28 in Losail, where he would like to meet again with the 93.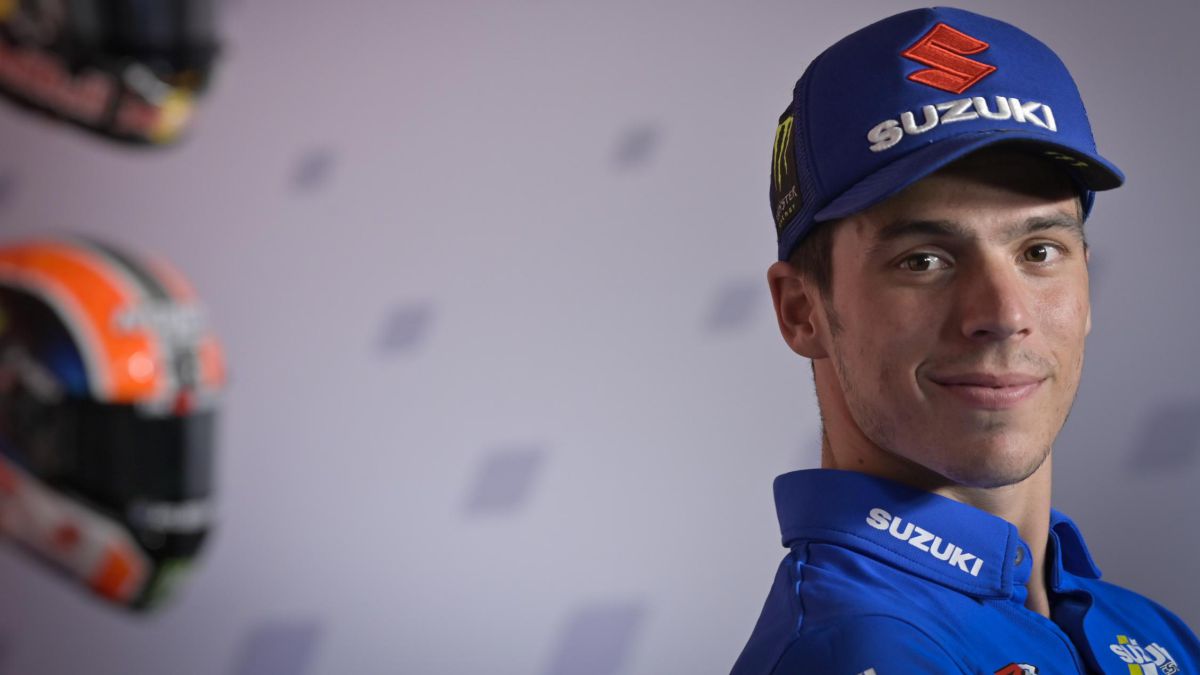 We finished the 2020 MotoGP course at AS interviewing its brand new champion and we started 2021 by questioning Joan Mir again. Now with his sights set on his attempt to revalidate a title that he wants with all his soul to be with Marc Márquez on the track. In addition, he trusts that the absence of Davide Brivio will not be noticed in the Suzuki box, he praises the importance of his surroundings, maintains his characteristic sense of humor and shows that his new condition has not gone to his head.
-Uves and gusts, MotoGP champion.
-VES & GUSTS.
-Speaking recently with his good friend Tito Rabat, he confirmed to me that the title has not gone to his head and that it remains the same as always. Is that so?
-Yes, yes. It's that these things don't make me change. It took me a lot to get here and win and I think the road is not over at all. Every year I want to improve and be better. This year I want to have a better season than last, regardless of the result. I want more and I'm not a conformist guy. I stopped for a week this winter because they forced me, because I would not have stopped training. Every day I want to improve. And to Tito, who is a great friend, I tell him that, if one day I change for whatever, to slap me hard on the ear and send me to training or whatever. Now I'm the one who shot him and I'm on the right track.
-From what you say, would you change for 2021 to win several races and not be a champion to win only one and repeat the title?
-Let's see, what question is that.
-It's based on what you just said.
-Win a race and be a champion I'll sign it right now. I did a lot of podiums.
-I am not underestimating your title. I mean what you told me a moment ago.
-I know. What I'm saying is that I want to be faster. I don't want to start racing from the third or fourth row. I don't think much has been said about how difficult it is to win a championship starting from the third or fourth row.
-And with the Suzuki…
-Yes, and with the Suzuki, or the 'Truzuki', as Tito says.
-Why?
- (laughs). I don't know.
-How much can you miss the figure of Davide Brivio and how is his departure to F1 replaced?
-I hope I don't have to miss it, and I hope not. In truth, I don't care what Davide does, but I appreciate him. He was the one who came for me. We met in Jerez to see if he wanted his bike and this is something that will stay with me for life. He convinced me. I remember he told me: "You forget what the Lorenzo Press says. You forget it, because what counts is what I say ". I read that if Lorenzo or Pedrosa with Suzuki and I could not compare myself with those people, but he had a lot of faith in me, he bet and in the end what he said was done and two years later we were world champions. The story has been very nice and I hope he does very well in F1 but, on the other hand, I trust Suzuki a lot, sincerely.
-Why?
-I think there are very competent people within the team. Sahara (Shinichi, leader of the Suzuki Ecstar) is an extraordinary guy, in his word, very serious and professional, who will know how to get out of this situation. I have two more years with Suzuki and I am not nervous. I trust them.
-His personal equipment is also very important and he looks very well wrapped up by his representative, his physio, his girl, the same Tito we talked about before. How important is that?
-You cannot imagine what I have had to fight in this regard in recent years. He couldn't find the right people. I am not saying this for Paco (his representative) or for Tomás (his coach). I had not quite found that third piece and that gave me headaches. It sounds bad, but when you pay, you can demand. I demand a lot from myself and from the people who are by my side I demand a lot from them and I want them to demand a lot from themselves. Tomás could never do the role of Paco, not the other way around, and of course none of them could do the role that Juan now does, who is the technician of my motorcycles and of daily training. Right now I have found this puzzle that suits me very well, and I add my partner, with whom everything works wonderfully. This creates a very good harmony for me when going to the races.
-Are you prepared for them to say that Mir must prove in 2021 that the 2020 title was not by chance?
- (smiles). Every year I have to prove. If I hadn't won last year, I would also have to show now that I can be competitive.
-True, but right now the bar is higher than ever ...
-Knowing me, with what I like the core and the mud, you know that I love the pressure. That they say that Mir won by chance, well they say so. I will get one hundred percent, I will show my teeth in each race and I will give the maximum with what I have. From there, let each one judge, that's what they are for, motorcycles and sports in general.
-Do you feel ready to revalidate the title?
-Yes.
-Why?
-Because if last year I was able to win with the team we have, if we improve the bike a little bit, I train better and stronger, we can be there.
-Would a title with Márquez on the track be worth more?
-It would be worth more. For me, inside me, I have won when he was not injured, because they did not kidnap him but he was injured giving one hundred percent to win us all and he could not achieve it. I was wrong, the next title would not have more merit but I want it with him on the track. Inside of me I would give it more value.
-What do you know about Marc? Do you think it will arrive in time for the premiere on March 28?
-I want it with all my soul, really. I want it to be, because I imagine how it will be happening. I saw him one day training in Olván (Barcelona), where his brother Álex went to see, and I saw him discouraged. It seems that he is not having a good time, and it is normal. I imagine that, with the pace of life you are used to, stopping in your tracks for so long, spending a year without racing and not knowing yet if you will run again, as it is difficult. I hope that he returns and that he is the same as before, so that he makes it super difficult for all of us and makes us better.
-Do you see him in Qatar?
-I'm counting on him. I really have Marc. It would be a mistake not to.
-Do you already know who your greatest rival will be?
-Counting on Marc, the first one is him, although I have the doubt if he will return from the first moment one hundred percent. That only he can do and I allow myself to doubt. With another person I would not hesitate, because I would not believe that I could arrive and win the first race after what happened, but with him I do have that doubt. Then, surely the Yamaha will be very explosive as in each beginning of the season and those of the official team and those of the satellite will be very fast. And I expect some surprise, but as main rivals, Morbidelli, Maverick, Marc, Quartararo and my partner Rins.
-He has been slow to say the name of Rins, who must have a tremendous desire for him, as he should be, and he has not mentioned Pol with the Honda.
-Ok. Pol may be the surprise, because the Honda…
-And what does it say about Rins? Do you agree that you must feel like it?
-Many, many.
-Finally, he has made his debut racing in cars on the podium in ice races in Andorra. Do you see yourself one day running on four wheels?
-I didn't expect it, but apparently I'm good at cars. We did a test of ten laps, in two sets of five, with people of a high level, and I got second in free practice and in the time trial. In the first race I was third, breaking the gearbox and the second I won. I was scared. I really enjoy it and I think I will race in cars one day. I want to form little by little.
-There is only one rider in all of history who has won the premier class of motorcycles and cars. It's about John Surtees. You have already done half the way ...
-Yes, John Surtees. What happened those times.
-We have to finish now. Thank you very much for your time and good vibes.
-Oysters, look how I'm holding the phone for this interview, with the AS trophy that you gave me in December. (Laughs) .
-Well, I am glad that it serves for something more than to decorate the showcases. Good luck for more.
-Thank you very much.
Photos from as.com