Mir flirts between going to 1 champion or continuing with 36
The MotoGP champion has not yet decided what number he will wear on his Suzuki in 2021. In any case, his goal is to revalidate the title but he sees a clear favorite: Márquez.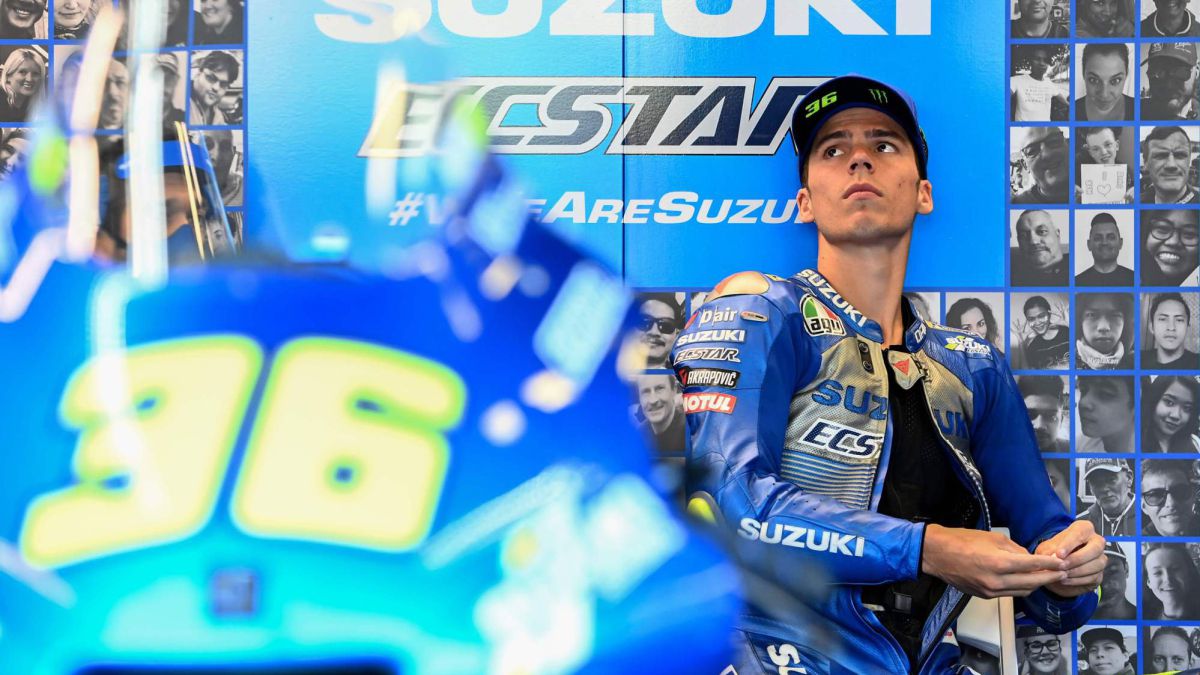 Suzuki is ahead of the competition when it comes to making media available. If on Monday it was Álex Rins who attended them telematically, this time it was Joan Mir, the MotoGP champion, who did it. AS, who had already interviewed him a few days ago, has asked him this time about whether he will carry the 1 champion or the 36 that he has carried in his five previous seasons in the championship and, although the decision has already been made, he flirts for both possibilities. Based on what has been said, bet on 1, although not all ...
-How are you?
-I'm fine. I could have been on vacation for a week, but now I'm doing a pretty good preseason and I'm feeling strong. I'm doing a bit of what I've done all the preseason, which is basing my motorcycle, physio and cardio training, to be fully prepared for the start of the season.
-Based on your experience, how much does it cost you to get back to a pilot after an injury like Marc's?
-It costs a lot, but if I were another rider, the truth would be that I would not doubt that I would start the season regaining my sensations and little by little I would get better. But the only rider who deserves that doubt that he can be there to win is Marc from the first race. That's why I say that after eight titles, he deserves to be the favorite.
-Could we be before a stage of mastery of Joan Mir?
-I hope. It's what I'm fighting for every day. Last year we showed great perseverance, a cool head in many moments. We knew when to tighten and when to loosen. I think I can be a faster driver still, especially in qualifying and also early in the race. All that is going to improve everything a little and that will be the key. I think it had a lot of merit last season to win a title with practically no front row and few second rows. If we improve there, we will win steadily and we will be able to fight the races from the first lap, which I need.
-Did your time at Moto3 help the 2020 MotoGP title?
-One thing that is clear is that I am in MotoGP thanks to my results in Moto3. In Moto2 I exploded very fast with podiums, but I didn't have a great season. Moto3 has been a very important step in my career, I was there for two years and, especially after winning the title there, it gave me experience to win last year's.
-He has said in English that he is not considered the favorite ...
-The only rider that I see more favorite than me at the moment is Marc. I think he is going to come back and I deserve that question about whether he will be competitive from the first race. He has much more experience than me, the package he forms with his team is very competitive and he will be a very difficult opponent to beat, but I will try to be up to the task. He has experience, titles, and speed.
-Have you already decided if it will carry the 1 or the 36 in the Suzuki and what factors have you taken into account to choose?
-The 1 is a number that looks a lot and that you cannot choose. 36 is the number with which I have reached the World Cup, I have won two titles and it is the number to work with, but it is a number that I will always have and I will always be able to choose. I leave it there ...
-How did you hear about Brivio and what do you think?
-This catches me in flip-flops, on vacation in Tenerife. Exactly the only week of vacation that I have, this topic catches me. He calls me and I pick up the phone for him even on vacation. He tells me that this year does not continue and I did not believe it, so I made him a joke and he said something like "Yes, come on ...". He told me that he was not continuing and I was a little shocked by the subject. After we started talking, he told me that he had another project in F1 and that it was a moment that he thought was opportune to do it. He believed that he had left a team in Suzuki that really worked, which I agree with. I think Suzuki is more than capable of handling this situation. I dare not recommend anyone or make any recommendation of this type. But I do believe that within Suzuki there are people who can take care of this to spare and I think they will make the best decision. I trust Suzuki a lot and a lot in Sahara, that of those who will make the decision will be one of the most influenced. I hope we don't miss Davide much.
-Do you know what happened to Crivillé, Roberts, Hayden, Stoner and Lorenzo with the 1 on the bike? They did not revalidate the title with 1 ...
-There is the curse of 1 ... I don't think it influenced my decision much. I like it, because you are already thinking that I am going to choose 1 at all costs and it is good that you have doubts about the subject. I want you to know the answer. (Laughs) .
-What will you miss the most about Brivio?
-I think Davide has a lot of charisma. I will miss quite a few things. I hope I do not miss anything, is what I have clear. The year we live in 2020, being able to celebrate with him and with the team all the good results and victories, we will surely miss him there, because he has been part of this success that Suzuki is having. That will be where we miss him. Hope you do well.
-How can the freezing of engines influence this year?
-Whoever knows how to get the most out of the engine or the factory that has more room to improve the chassis and electronics with the existing engine, will surely be the one that will benefit the most in this regard. Hopefully we have margin. They are working. Yes, I hope I don't see much change, because normally what changes the character of the bike is the engine, but I do expect some improvement. Not only ours, but also from other factories.
-Happy to have the champion bike?
-I'm never happy. I think we do have a good base, but we have a bike with which we haven't achieved any pole positions. So you have to keep working to have a faster bike.
Photos from as.com