Melbourne is confined: the Open continues but without public
The Victorian Government decreed a "harsh confinement" of five days from Friday night for a positive at the airport. The players, from the hotel to the tournament.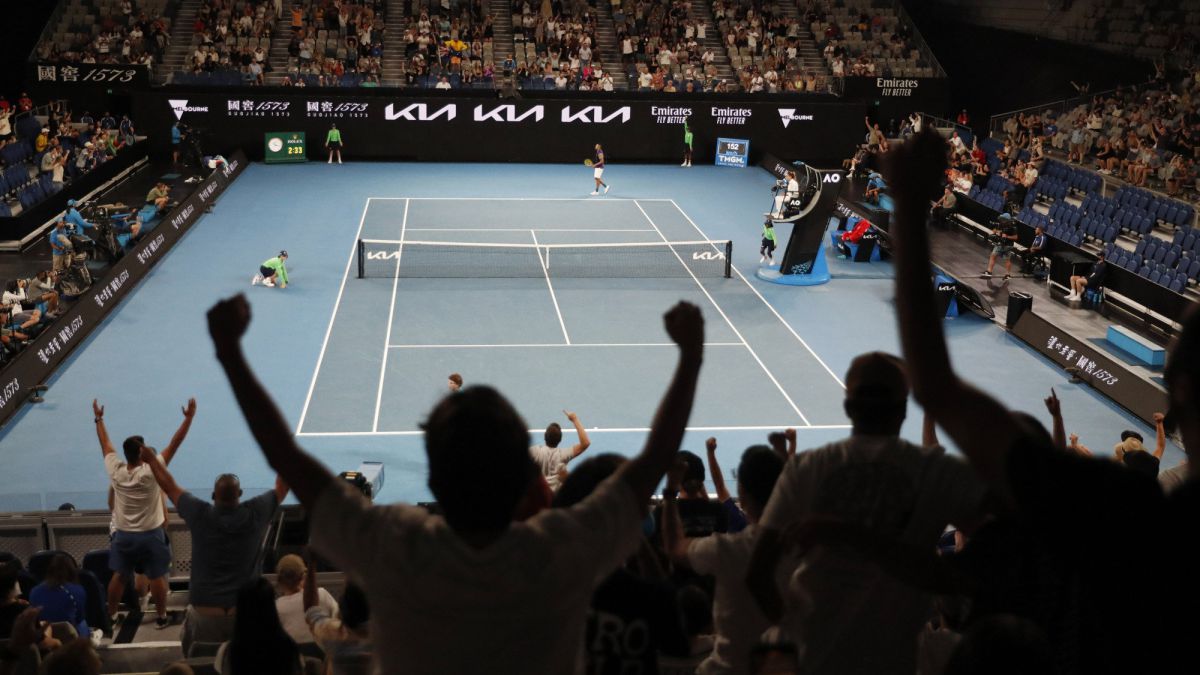 The Australian Government decreed a "hard lockdown", which will take effect at 11:59 p.m. this Friday, Australian time, after the positive for COVID of an employee of the Brunetti's cafeteria at the Melbourne airport, who could have been in contact with hundreds of travelers.
In principle, the Australian Open is not in danger, as confirmed by the organization in a statement ("the game will continue uninterruptedly"), but from the day of this Saturday and, at least, until next Thursday, there will be no spectators in the tournament. As for the players, they will only have permission to go from the hotel to the tournament and vice versa. And security measures will be extreme, such as the use of masks at all times and under all circumstances. More details on the contingency plan will be known soon.
The Australian authorities do not want the situation, which they had exemplarily controlled, to get out of hand after this new case and that of another worker in a quarantine hotel, the Holiday Inn. Public gatherings are prohibited and people cannot move more than 5 km from their home. There are only four reasons to go out: shopping for basic items, caring for someone, essential work, or exercise.The public attendance to the Oceanic Grand Slam had been increasing since Tuesday, after 17,922 had attended the facilities on Monday. On the second day there were 17,381, on Wednesday 19,900 and Thursday 21,010. Therefore, the ceiling of 30,000 daily (25,000 from rooms) has not yet been reached. The scenes of fans celebrating points in the stands without a mask or social distance drew attention around the world, with the high point of the meeting that faced local idol Nick Kyrgios and Frenchman Ugo Humbert at night. Precisely the wayward player closes his afternoon shift at John Cain Arena, his favorite court, against Thiem on Friday in a duel that could last until after midnight. The organization ensures that the public will remain in the sessions this Friday. The stars were delighted
The great tennis stars welcomed the return of the spectators to the games. Serena Williams, one of those who has the most connection with the fans, is clear: "It's good to have people, a lot of people out there. Yes, I think the crowd always motivates me, good or bad. There is always something that can motivate you between the people". After hearing the news of the new confinement, the American said that "social distance is necessary in this situation due to COVID, and this is the sport in which it is best maintained." Garbiñe Muguruza also likes to feel the warmth of the fans: "I love stepping on the pitch and that there is an audience. It is appreciated that they come to see us play after almost a full year without spectators. Without them we lack energy, nerves, emotion. .. ". Now they will return to the situation they experienced at the US Open until next Thursday, if everything goes well and the Spanish regrets it: "It will be hard, but it is the situation we are in. The Victorian Government takes all of this very seriously. The positive is that we are going to be able to play although we will miss the public, but we hope to have them back in a few days. "
Photos from as.com