Mel: "When we were the fashion team no one talked about me"
"Now all eyes are on me, something that I carry naturally," says the Las Palmas coach. Confirm the return of Domínguez to goal.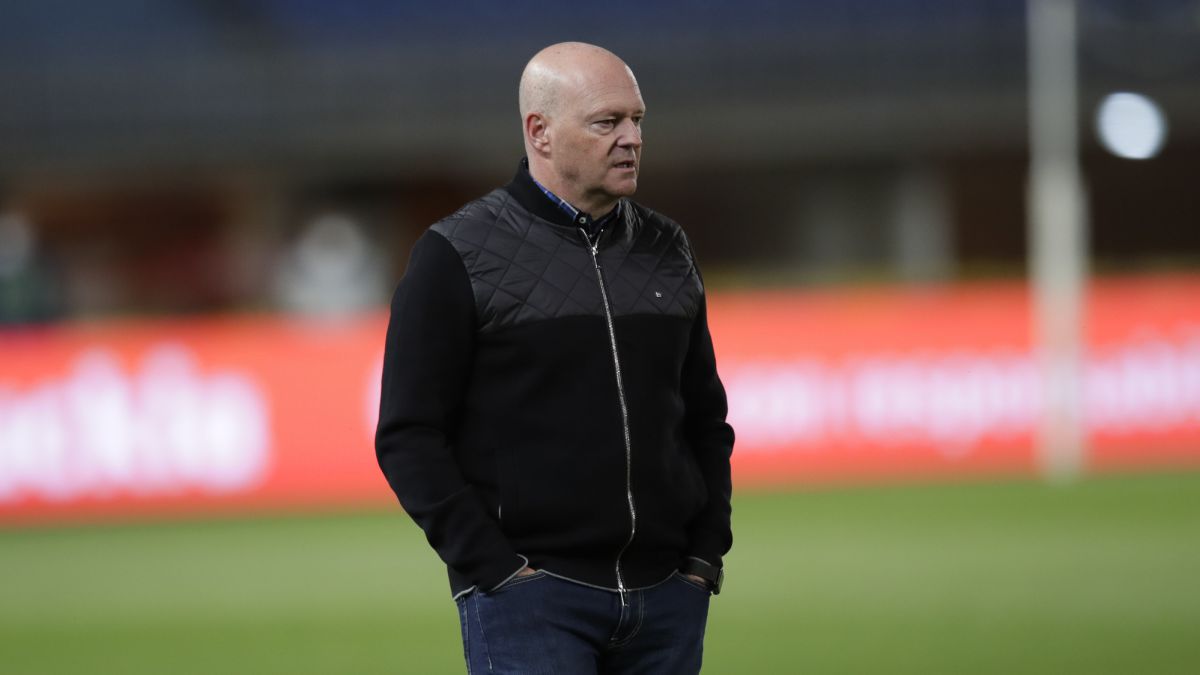 More exposed than ever in the worst moment of his team's season, Pepe Mel has just appeared at the Ciudad Deportiva de Las Palmas. Looking ahead to tomorrow's game against Cartagena, he confirms the return of Álex Domínguez to the goal. "There is no debate," she stated categorically. Likewise, it slides that Jesé will debut: "If nothing strange happens, we want him to be in the field" .
For this duel he will not be able to count on Rober either. "It is taking a world for him to overcome the aftermath of COVID-19. Doctors have already warned that he will be, at least, 15 more days off, "he revealed.
Likewise, in this peculiar way he defined Rubén Castro, a footballer whom he knows so well and who happens to be the main danger of Cartagena: "You can spend 89 minutes in which he does not do and it seems that his team plays with one less , but it is not true. In 30 seconds he makes you a goal. "This is how the coach of Unión Deportiva Las Palmas expressed himself this Friday, as calm as ever despite being in the pillory:
Team mood
Not the same after losing three games in a row. I see the footballers concerned and paying more attention to the coach. Now the key is that we go back to what we did well: kicking the ball, going strong to the second balls, knowing how to combine possession and breaking games well ...
Ways to stop Rubén Castro.
He is a player who can spend 89 minutes in which it seems that he does nothing, that his team plays with one less footballer. But it is not true, because the rival will generate many holes with his movements. In 30 seconds of action he is capable of scoring you. Any of the defenders who will face him tomorrow knows him, and we have also worked and talked about how we can stop him. We have to defend in a very serious way. Cartagena has already shown us that, if we lower the intensity a bit, it can cause us many problems.
Alex Suárez's companion in the center of defense.
Obviously, I'm not going to say anything. We still have one training session, tomorrow's, and a lot can happen. It would be absurd to advance something today. We have to focus on correcting those things that we did well and that we have now lost. We were a very good team at getting the ball back after loss, something that has cost us a lot in the last three games. Those 5-6 seconds right after losing the ball are fundamental, so we have worked hard. When we do it, we are a much more reliable team.
Rivals statements
It is something that is part of the show. For example, this week I have spoken everywhere. We think it's very good that they talk. We are not desperate, but we do have the desire to want to do things well. We respect Cartagena a lot. I insist that if we lower the intensity, it will hurt us a lot. In addition, they have a forward that I know very well (Rubén Castro) .
Differences between one and the other footballers on your team.
We do not have team A and team B. Yes we have designed a team to play a certain thing. For example, it is not the same to play at the top with Rober than with Edu Espiau. They have different qualities, so we can't play the same thing. Sometimes we have been confused with this. In Mallorca, for example, we had the ideal team to play that way. But then Lemos, Kirian, Óscar (Clemente) and Rober fell out. Those who have entered for them are not, for me, worse footballers. But we can't play the same game, so we have to favor their qualities.
Intense week for the coach
I have been a professional coach for many years. Las Palmas beat Espanyol, Mallorca and Leganés and it was the fashionable team in the Second Division, so nothing was said about me. I take it easy. Now that we have lost three games all eyes turn to me, something that I also carry naturally. Now we are all involved in ending this losing streak against Cartagena. If we don't succeed, the storm can turn into a typhoon.
Proper names:
State of Rober and Óscar Clemente after passing the COVID-19.
Óscar is still out, and Rober has not trained for two days. It is having terrible consequences. It feels very tired and won't start. The first thing has to be your health. We have already warned footballers that suffering from COVID-19 can be even worse than breaking a meniscus. It is not only how long you are off, but also how long it takes to recover. It is costing Rober a world, and the doctors have already warned me that he must be, at least, 15 more days off.
Chances of Jesé Rodríguez playing tomorrow.
That's the plan. In fact, the reasonable time that we had set with him has already been reached. The idea is to introduce you tomorrow. If nothing strange happens tomorrow we want him to be in the field. It is something we also need because of Rober's discharge. How long you are on the grass will depend on many factors.
Eric Curbelo Recovery.
He has been training normally for two days, so you don't have to give it more importance. Available tomorrow.
Álex Domínguez:
No debate: tomorrow he will play again. He left the team for an expulsion that was also unfair. He was doing very well.
Cristian Rivera:
He is injured, so he does not work with the group. I can not put a footballer whose status is lower than another who is 100%. He has to earn the right to be on the field and show that he has the same desire to play as his teammates.
Photos from as.com