Medvedev smashes Rublev and is already number three in the world
The Russian clearly surpassed his compatriot, who suffered greatly in the Melbourne heat and with the punishment inflicted by his rival, who has 19 wins.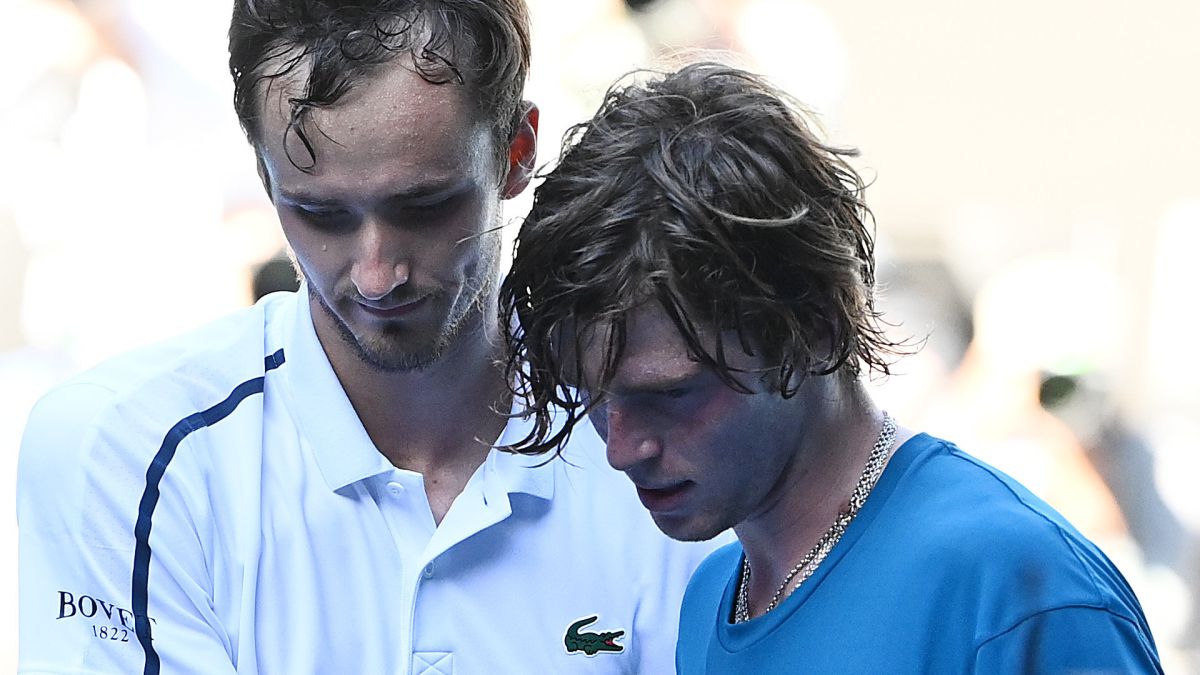 More was expected from the Russian derby in the Australian Open quarterfinals, but Daniil Medvedev did not want it to be the case and imposed the law of the strongest to win comfortably and get into the semifinals of the tournament for the first time. The Muscovite beat his countryman 7-5, 6-3 and 6-0 in two rough hours and will face Rafa Nadal or Stefanos Tsitispas for his second Grand Slam final on Friday. His triumph virtually lifts him to number three in the world ranking, ahead of Dominic Thiem. Among other things he has achieved it because he has 11 wins in a row against top-10 players. On Monday his new position will be official, which could even be the second, above Rafa Nadal, if he wins the title.
Rublev, who has failed to beat Medvedev in his four ATP matches, suffered a lot in the Melbourne heat (above 29 degrees), but above all he could not with the overwhelming potential of his rival, who has 19 consecutive wins since the Masters 1,000 from Paris last year. He only did something head-on in the first set and was wrong to play him so directly. I use practically nothing the cut backhand or left-handers to try to cut his rhythm, and thus it was impossible for him to find a way to hurt him. Tactically, he found no solutions against an opponent who found it too easy to win. With almost no dishevel, the ATP Finals champion accumulated 30 winning shots, 14 of them from direct service, and won 80% of the points with first serves. However, the Russian ended up with discomfort in the quadriceps of his left leg and was treated for it with the match already concluded. "I got cramps at the end, I could barely move my leg when I got to match point, so I'm glad I won that game," Daniil explained, surprised that "Rublev got tired. "I must be one of the first to do it. I think my game is not good for him. I think I have been very good in defense and to beat him between sets is to be very happy," he added. "Whoever wins, the next game is not going to be easy," he said of the duel between Nadal and Tsitsipas, which he planned to see at the hotel.
Calendar and Results.
Photos from as.com