Maverick: "Mir is the favorite and you have to go for him"
The Spaniard is facing his fifth year in the official Yamaha team, the brand wants to "restore his confidence by winning the MotoGP title."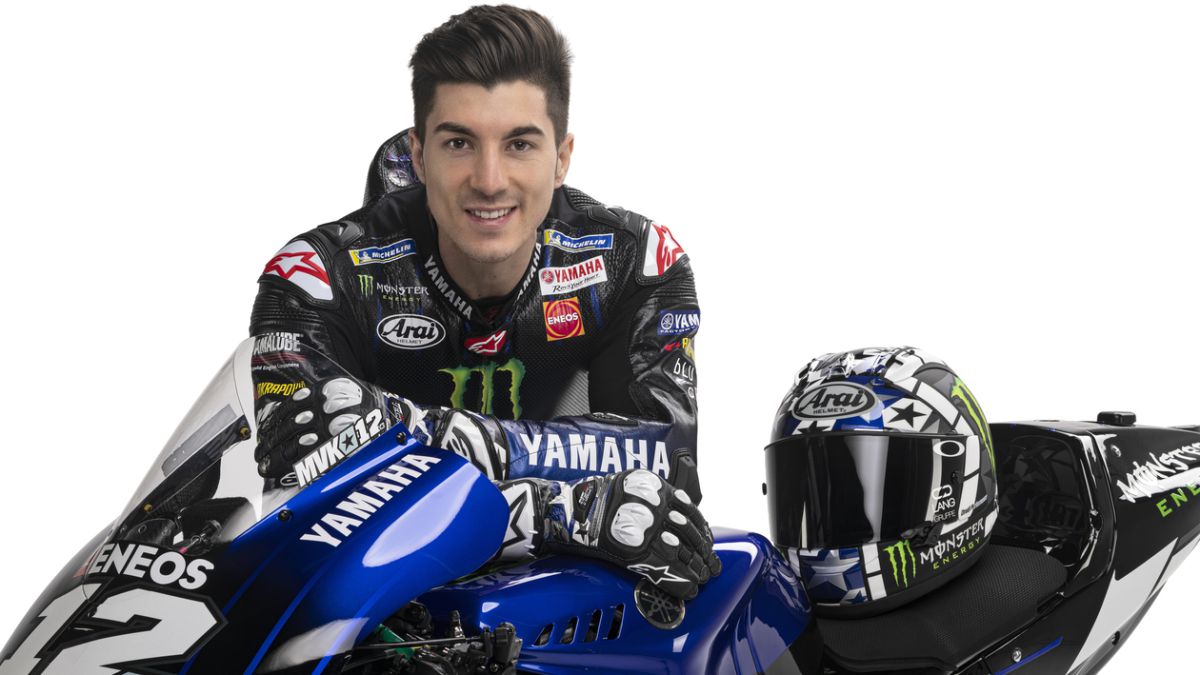 Maverick Viñales changes status this season. On a personal level, because he got married this winter. And on a professional level, because with the departure of Rossi from the official Yamaha box, now the veteran of the team is him at 26 years old. He claims he wants the MotoGP title.
-Yamaha speaks at the presentation about how much they will support you and what they believe in you. Don't you think it took a long time, five years, to realize it?
-Step by step. The first two years were difficult. We started out super well and then everything got worse. In 2018 I did not have a good feeling with the bike and then there were changes in the team that improved a lot, but there is still a long way to go, especially with the mentality of being all one. I'm not just saying it for my part of the box but the whole team has to come together if we want Yamaha to win a title. The whole team has to overturn. The example could not be clearer, because you can see in Suzuki the union that exists in the whole team. Both Lin (Jarvis) and Maio (Meregalli) understand well what happens to me within the team. It does not matter if it is the fifth, the sixth or the seventh year. The important thing is to understand and improve it. The speed, the rhythm, the desire and the motivation are there. We have to work on the details and go for everyone. Last year, when the bike worked, it was a show. You have to make it work in all conditions and on circuits that are not favorable for us.
-You said that Yamaha now has the opportunity to team up and focus more on the details. What was missing so that it was not like this before?
-Last year, for example, when talking to Yamaha we didn't have much opportunity to test more things. We only got one engine and with that one we went directly, without the opportunity to test the one from the previous year. It was decided in advance that it was going to be that engine. What I ask is that they leave us a little more freedom to decide. The unity of the team is very important. Other years we have tried and never succeeded. The incorporation of Esteban (García, his coach) and Julito (Simón, his coach) is essential for what I need within the team, greater support. It is more moral than anything else. It is difficult for someone to tell you how to go fast because you are already at a very high level. It is more to work on the details, to be calm and to be able to express yourself well. With that we can take a leap. And about Yamaha, it is very important that we have a more open mind. If we have to choose something, we choose it, but we do not marry one thing directly.
-There has been a lot of talk in the consistency presentation. Who needs it more, Yamaha, the M1 or you?
-Lacks a lot of consistency. If you look at the 2020 results of the three of us who were riding the same bike, Fabio, Valentino and I, they are super irregular. We went from the first to the tenth, to the fifth, to the eleventh ... That's the difficult thing about Yamaha. You arrive from a weekend in which everything is perfect, they change the circuit and it is like they have changed your bike. You have to win in that consistency and with it everything else will come rolled. You have to find that it goes well on all circuits.
-How important is it to recover the hierarchy within Yamaha, because last year the satellite team beat the official?
-That would have to be asked Maio and Lin. It does seem strange. Petronas was riding a motorcycle very different from ours and at the end of the year we could do practically nothing. It is not an excuse, because we should be the first Yamaha, but there were many changes and different bikes. It is important that both official Yamaha and Petronas go to one and work together. And in the end, the one who is the best wins, but let's build a powerful bike that allows us to have the opportunity to win.
-The objective is the title?
-Right now the goal is to get to Qatar and try everything. Later we will see, because the season is very long. You have to make a good plan and leave the tests in Qatar with things clear.
-What are you going to do to avoid getting nervous or angry, as in the past, if things don't go well?
-Put myself in the place of Yamaha, in that of the technicians. Take off my jumpsuit, put me on the other side and try to understand. It is very important to add this year and not be negative saying that the bike does not work. My priority is for Yamaha to win, because I see the work they have done, what they put in effort and they have allowed me to build my whole team, so I have had a lot of freedom in this team and I want to add. I want to lead Yamaha to be a world champion. I will try to give my maximum and with a good attitude. What I will do differently is pretend I am Yamaha.
-In the presentation he said that Miller is one of the favorites. Why?
-Miller has been improving a lot over the last two years. He's in an official team and the bike works well. He is the one I see who can be stronger, especially in Qatar and on circuits with long straights, but it is very difficult to say who will be the favorite without having done tests. I think Mir starts as a favorite, as the leader, so you have to go for him.
-Mir says that the favorite is Márquez despite the time he has been unemployed.
-Mir is the one who starts as a favorite. We should all look at him and go for him. I already said that Miller will be strong and there will also be strong riders at Yamaha. And I hope Marc returns and is full, because he is one of the favorites and a reference, so his return would be positive.
-What pressure does it mean to be the new Rossi as a reference within Yamaha?
- (laughs). Many gallons you give me. At the moment I am not Rossi. I need a lot of titles to be Valentino, so not that at the moment. I know my role in Yamaha and the weight that I have there and I will try to restore the confidence that they have given me.
Photos from as.com