Mattias Skjelmose, the cyclist who changed football for the bike
Like Remco Evenepoel, the young Danish rider traded the ball for his bike and now shines on the UAE Tour. "It all started when I was shit playing soccer."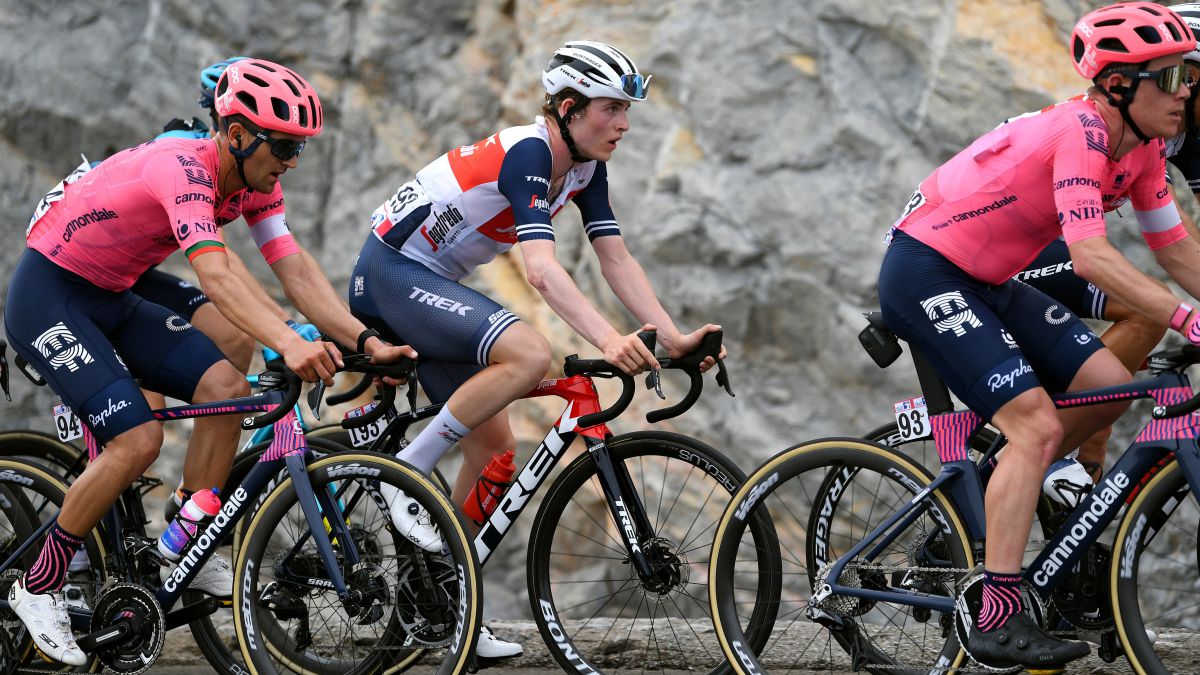 Danish Trek-Segafredo rider Mattias Skjelmose is being one of the big revelations of the UAE Tour. In the absence of the last stage on Saturday, 20-year-old Skjelmose is sixth overall, 2:47 behind Tadej Pogacar after having passed the fan day and the mountain stages in Jebel Hafeet and Jebel Jais with flying colors.
The Trek-Segafredo team wanted to share the Skjelmose story on their website under the title 'Leaving football may have been the best decision Mattias Skjelmose ever made'. A statement that the broker himself justifies very strongly. "My path to cycling started when I felt like shit playing soccer. My parents told me that nothing would happen if I didn't want to continue playing soccer, but that I should choose another sport." Skjelmose is not the only cyclist in the peloton who has changed football for cycling as another runner who has successfully made this change has been the Belgian Remco Evenepoel.
Skjelmose's cycling career began at the age of 16 and by then he was already noted in junior calendar events, achieving good results in the 2018 Paris-Roubaix junior (3rd), in the general of the Course de la Paix ( 2nd) and winning the chrono and the general of the Tour du Pays du Vaud.
With this background Skjelmose made the leap as a Trek-Segafredo stagiaire in August of last year, although it was not until this year that he really began to know the ins and outs of the peloton. "In the Besseges star I felt like I had a lot to learn so the first thing I would like to do is get as much experience and learning as I can. I would like to race a great lap in my second season. Racing at Besseges in early February is The earliest start I've ever done but, in the end, I think it was good for me to have those five days of racing on my legs. I feel like I can improve every day, "he says.
On the Trek-Segafredo Skjelmose continues to learn alongside cyclists like Vincenzo Nibali, Bauke Mollema and his compatriot Mads Pedersen. "They are fantastic boys and great leaders. They know how to communicate what they need and that makes it easier to work for them. It is very special to race with guys I have admired for years," says the cyclist, who also highlights the advice he has given. Alex Kirsch, while also highlighting his taste for time trial. "I like to talk about wheels, improve aerodynamics, nutrition and improve training. I love the technical side of the sport. That is why I have so much interest in Formula 1 and those little details" .
Skjelmose also shows his character by continuing to train in Denmark as other riders seek warmer venues. "I've grown up here, my friends live here and I love the environment. I also like being close to my family. Training in sub-zero winter or rain prepares you for many things and I think it's good. It makes you a little stronger. If the weather sucks, I think 90% of the runners would stay home and 9% would take a short course. That's why it motivates me to be in that 1% who do the full training despite it. " Quite a sample of character from another of the young pearls to follow in cycling.
Photos from as.com