Márquez: "They told me to forget about the Qatar tests"
"My next dream is to get to the first race. In March I will have a new check-up and the doctor decides what I can do or not," says the Repsol Honda man.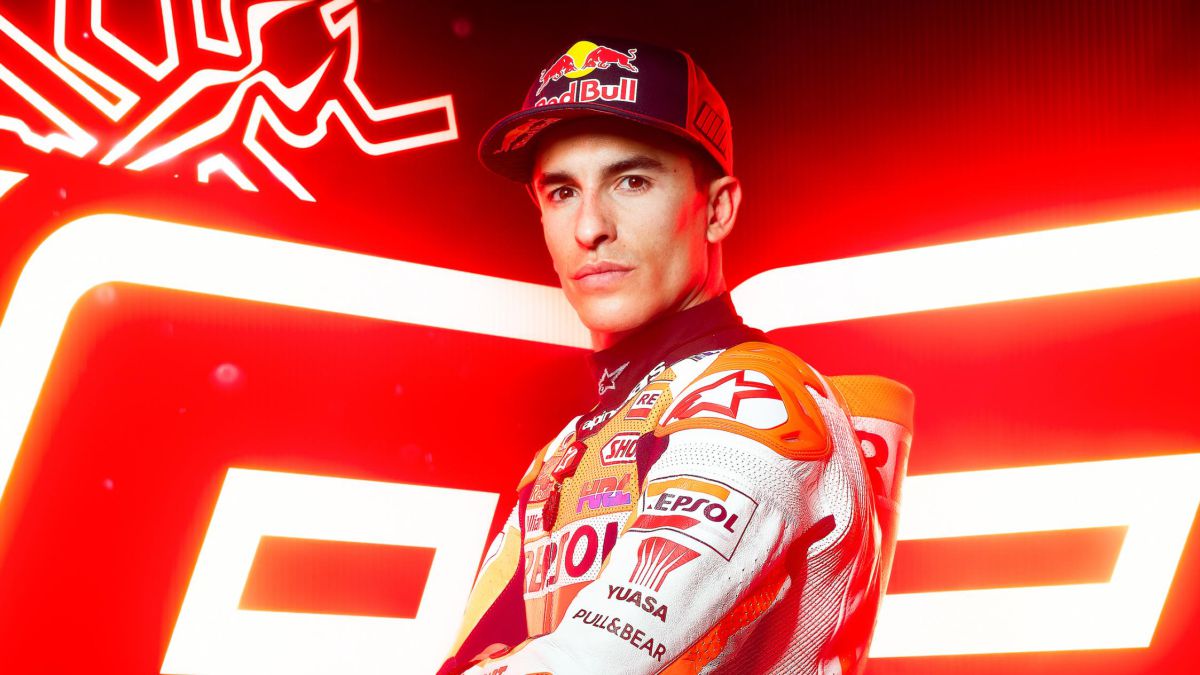 Marc Márquez looks good despite his circumstances. In the Repsol Honda presentation video, he acknowledged that he still has no date for returning to the tracks, as he continues to recover from the fracture in the humerus of the right arm that has led him to undergo surgery three times, but he begins to see the light end of the tunnel. Doctors have already told him to forget to take part in the March tests in Qatar, but he still doesn't lose his smile.
-Have you played a motorcycle yet?
-I have not touched a motorcycle. In the presentation I was the one in the photos, but not the one in the video. When the bike moved, it could not, it is prohibited. For the first time yesterday I touched a road bike, but it was very smooth, for half an hour. It was the deadline that the doctor told me and when they give me the ok, I do it.
-How likely is it that I can reach Qatar?
-I cannot say exact deadlines, because I would be lying. The review we did in February went very well. The bone is consolidating well, which is the priority now and the most important thing. We have started to increase recovery a little, which is also important, because there are muscles that I have not worked since July, especially in the shoulder. I am always optimistic and my goal was to get to the Qatar test. In the review they told me to forget it. My next dream is to get to the Qatar race. In March I will have a new check-up and it will first of all look at how the bone is. There the doctor decides what I can do or not, or if we stick to the same plan. From there, my schedule will begin to be planned. But from the doctor's ok, I need a few days to get my arm physically fit. At the body level I have it, because I have already trained cardio. But that on a physical level it is in acceptable conditions to ride a MotoGP. In my first race, whenever I go, my preseason will begin. From there, let's see how long it takes to get to an optimal level.
-What has failed to make this injury last so long?
-The error? What happened? It happened that a week I got on a motorcycle that I didn't play. But it was not necessary to get on after two and a half weeks in Brno. The same would have happened, because the bone consolidation would still have been zero. They are experiences and mistakes, we make the decision together. The mistake belongs to everyone. It is not worth putting the spotlight on a person. They talked about the doctors, this and that. Yes, they gave me good feedback, feedback that I could do it, but how many times has that risk been taken? Sometimes it works out well, and when it works out, everyone comes out clean. And when it goes wrong, you have to know how to learn from it, learn from the mistake. What I have learned is that to return as soon as possible and this and that ... Sometimes it is better to have two or three opinions, sit calmly and from there to value everything, especially with more opinions. This is a point that, if in the future I find myself in the same situation again, and hopefully not, we are going to do it.
-How much weight are you lifting right now with each arm?
- (smiles). Now I have almost all the mobility of the shoulder, but strength, little, I have little. I cannot say an exact percentage, because we are not working one arm in the same way as the other. I do not exceed two or three kilos with my right arm in any exercise, because the doctor has said so. It is not that I feel that way, because I feel that I can go further, but the doctor together with the physio, Carlos, have planned it that way and we follow the established plan. With the other arm I throw what is normally thrown. I must be within twenty percent of the arm, more or less.
-What do you think of statements like that of Dr. Costa in which he said that a disaster had been made with his arm?
-Obviously, I do not share those statements. I have a very good relationship with Dr. Costa and I really appreciate everything he has done for motorcycling, but I don't share it. People have talked many things without knowing why each thing was done. An example: Dr. Costa said to put a nail in, but he couldn't, because my shoulder was operated on. He already had a tendon that was not well and he got a plate, because he could not put a nail. Dr. Mir and his entire team thought about it and it was perfectly set. The error came when forcing it too much. From there, a second operation was done when the plate was broken at home, with the bad luck that there was infection. If there had been no infection, he would be cured already. There was an infection, many things were valued and many opinions were requested, because it was a critical moment. Within all those opinions, we sat down with Emilio, Alberto and everyone around me, and we decided what was best for my head and my arm. That is why I went to Madrid to have surgery, at the Ruber, with Dr. Samuel Antuña and his entire team, who did a great job. Surely, if I have an injury tomorrow, I will surely go to Dr. Mir, who is my trusted doctor. But when something has been operated on twice, your head also needs a change. But it is not a full stop, it is a full stop. If I hurt him at home tomorrow, the first one I call is Dr. Mir and his team, because he is my trusted doctor and the ones who have saved me many and many times from many injuries and made me run after a few days .
-Has the radial nerve been affected?
-The nerve, luckily, has always been good. There has never been a problem with him. The problem was pseudoratrosis, the bone had just welded and then there was the infection and it was moving a little. Logically, during all this time I have done many tests to try to find out if there was an infection or not, and it was such a mild infection that it did not show up in the analyzes. Nothing came out. Many people wondered why wait for a third operation until December. It was because the doctors asked me to do so. I would have had surgery before, but all the doctors asked me to wait, because I said that this would heal and that I needed their time. We gave him his time. Luckily the nerve was fine. We gave him his time and the operation went well. It was hard, because they put a graft on my hip and they also opened my knee to put a vascularized graft, because in this way they made sure that there was much less chance that the outbreak of the infection would return.
-Will he be the battling Marc of always when he returns?
-When I return to the track, I will not be the Marc from before on the first day. This is impossible. You are not going to come and get on the bike, after eight or nine months, and go fast from the first lap. Everything has a process. I'll start and my first goal is to have fun on the bike again. When you have fun, you will start going fast. You will have the first fall and from there to go back to being the Marc of before. If not, all this work doesn't make sense.
-Do you have the pressure of having to do it the same as always when you return?
-You put pressure on yourself. Nor do I intend to arrive and put the pressure on myself to win the first race, because it will not be realistic. The first objective will be to get back on a motorcycle. Then have fun again. And from there, gradually return to being the Marc of before and get a good level, to fight for podiums and for victories. How long will this take or not? I don't know, but it's the pressure I put on myself. Both Honda and the sponsors, but especially Honda, has respected me a lot in 2020 and continues to respect me a lot. I have spoken with them and I have to take the time that my body needs, without falling asleep. But we have four years of contract and the objective is to try to win four of four. But if you can't, because this year we are like this, win the next three. It is the goal, the mentality and the peace of mind that Honda gives me.
-Mir says you are the favorite. What do you think?
-Well, that the rivals see you as a favorite for the title being like that is to be appreciated. (Smile). But being realistic, the favorite for the title has to be another or other drivers. I could put many names on the table watching last year's races, but one of those who is forced to be is Joan Mir, who has been the champion. You have to defend it. If not, it would be a bad year for them. At the moment it is not my war to be thinking if I am the favorite or not. My war is to get on a motorcycle and from there to see if I can get there as soon as possible.
-Downtime has made you think about things that matter more than racing.
-You spend many hours at home and all things go through your head. One of the things that I have learned in 2020 is that there are many races, but there is one body. This concept was not in my head and it is something I have learned. This does not mean that you will not take the same risk. If I did not accept that risk, I would not ride a motorcycle again. I'm dying to get on the bike again to enter career mode and pilot mode.
-How have you overcome the bad times experienced in this time?
-Emotionally, with seven months you go through bumps and everything. And more with everything that is falling in the world with the pandemic, that no one could come home. It's complicated. One of the things that has helped me the most has been being at home with my brother. I have disconnected from racing, but no. I have lived it in a different way, together with the team, together with Alex, so as not to disconnect from the world of motorcycles and continue with the same tension.
Photos from as.com