Manchester United run over Real
Painful win in Turin (0-4) that practically eliminated the San Sebastian team from the Europa League.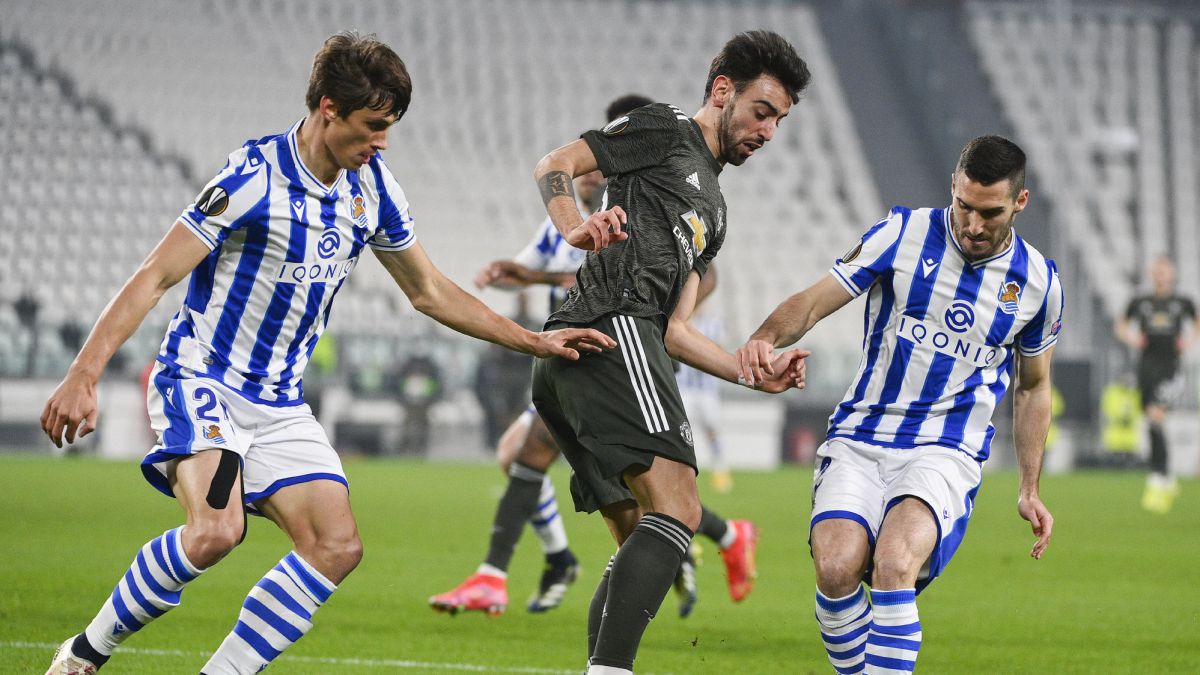 Real Sociedad was hit by a Manchester United hurricane at the Juventus Stadium in Turin and is practically eliminated from the Europa League. The San Sebastian team received a painful and severe thrashing (0-4) that is like a reality check, because it shows them that they are still far from the competitive level and, above all, the physicality of teams like the British to dream of doing something great in European competition. Except for the first five minutes, in which they had two actions of real danger, the rest of the game was always at the mercy of the Red Devils, who devoured the txuri-urdin like a lion its prey in the African savannah. He conceded four goals, but it could have been many more in what could have been a truly scandalous win, but thank goodness Alex Remiro was inspired under the sticks to save another four heads-up. Only a miracle can prevent the European elimination of Real, who still have to go to Old Trafford to close this tie on Thursday of next week.
It was Isak and Januzaj who first broke up hostilities in the party. The Swede and the Belgian created two clear scoring chances almost out of nowhere that were close to overtaking Real. It seemed that the film was going to be more favorable for San Sebastian interests. But it was a mirage. Soon Manchester brought him back to harsh reality and showed him what powerful teams do in Europe. They were not better tactically, but they were better physically, an aspect with which they were literally passed over. Every ball behind the back of the Real defense was a clear chance to score. Luckily Remiro was superb and saved two shots inside the small area by Rashford and another by McTominay. But the physical power of the English team went to more, while the positional game and touch of the Real one collapsed. Too bad Remiro couldn't stop Manchester's fourth approach. He made a mistake in his departure, the centrals did not help him and Bruno Fernandes showed why he is one of the fashionable players in the Premier League. La Real came to rest on their feet, feeling inferior, but with some hope.
But after the break it fell apart like a house of cards. It seemed like he was reacting with some timid approach, but again it was pure mirage. Manchester continued to press with a prodigious physical level, with an exquisite quality and with superb kickback power. A bad center from Zaldua became 0-2, also from Bruno Fernandes. In two touches they were planted in Remiro's speech. That killed the Real, and with it his illusions. And Hurricane United arrived. Rashford and James scored to make it 0-4, but it could easily have been many more. La Real had no answer, she was completely out of the question. Luckily Remiro stopped again. Zaldua and Aritz Elustondo were injured, the latter in the warm-up. You lose more than the tie in Turin. La Real is touched in what is their biggest win in Europe at home. This is the txuri-urdin reality. So far this project has given him, as Manchester has shown. You will have to learn. There is no choice. But first we will have to pass the Old Trafford process. Because thinking about qualifying is more than a pipe dream.
Bailiff: "The tie is lost"
The Real Sociedad coach, Imanol Alguacil, did not put any but to the hard defeat of his team against a "Manchester United Champions" and acknowledged that the tie "is lost." "They are a Champions rival and have shown why they are second in the Premier League. They are there to win the Champions League, they are an incredible team and although we have had options, we have not been successful." He did not consider that the Real had disappointed expectations because he was facing "one of the best teams in the world" and he claimed the right to dream on the eve of this meeting since his squad had been solvent during the previous months.
"Before we did things well in Europe, in a very tough group, the team also competed well in the Super Cup and does it every day in LaLiga", Imanol recalled that, despite the defeat, he stressed that "the match dignifies to the Real "although now his players are suffering.
"The dressing room is hurt, the result is hard but some results, although it hurts, it has to make us learn. The squad is very young and this will make them take a step forward," said the realistic coach, who denied being disappointed. "We have played from you to you, we were the usual team but with as much defensive and offensive level as Manchester United has, we knew it could happen, even so we wanted to face it in this way," the Sheriff assumed with pride.-EFE
Solskjaer: "It was about finding ourselves"
Manchester United manager Ole Gunnar Solskjaer believes that the tie is almost decided for his team and hopes that the 0-4 against Real Sociedad will serve as a "boost" in their fight for the leadership of the Premier League. "It was about finding ourselves, after a significant load of matches and some adverse results. This will give us confidence because I see my team improving every day," said Ole Gunnar, who highlighted the great performance against San Sebastian. "I am very satisfied with the game of my team today. He has maintained his position at all times, was always where he had to be on the field and played a complete game during the 90 minutes," the Norwegian coach said proudly after the match.
Ole Gunnar does not want to be carried away by euphoria or think about what the draw may bring when the second leg remains to be played, with the semifinals to a tie, a round from which they were dropped by Sevilla last season, as he recalled. He was concerned about the physical condition of some of his players such as Scott, DonnyVan de Beek or Edinson Cavani, the latter two were not called up, and said "he is not sure" if he will be able to count on any of them in future commitments.-EFE
Photos from as.com