The last operation for the first team was Mendy's, on June 12, 2019. The coronavirus crisis freezes operations. And in the background, the reform of the Bernabéu.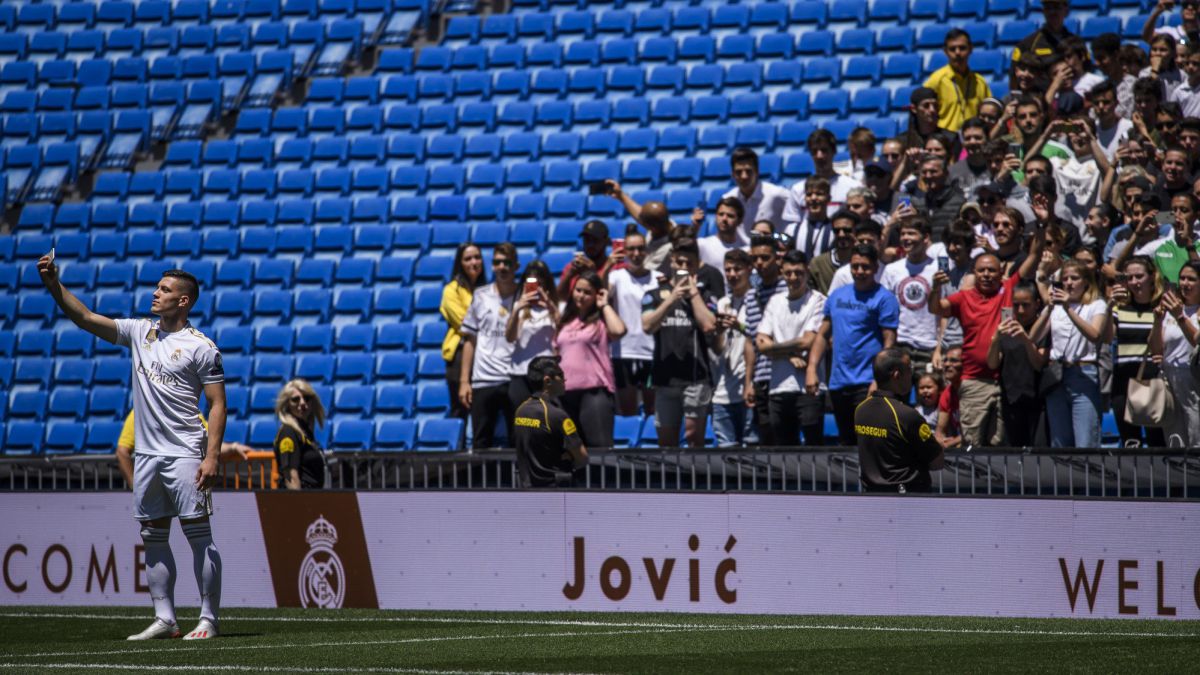 The winter market closed last night, with Real Madrid without having hired a new face and having completed three operations, all to place their own footballers in someone else's home: they transferred Jovic to Eintracht, Odegaard to Arsenal and facilitated the breakdown of the loan from Kubo to Villarreal to send him to Getafe. The transfer window will not open again until the summer of 2021, still without a date confirmed by FIFA, but it can already be taken for granted that Real Madrid will reach two years without making a single transfer for the first team. The last one that closed was that of Mendy, announced on June 12, 2019, from Lyon in exchange for 48 million.It was, in fact, a busy summer for Madrid in the shopping area, in need of major structural reforms after a terrible 2018-19 season, in which three different tenants passed by the bench (Lopetegui, Solari and Zidane). The Madrid investment in that summer window of 2019 was close to 300 million: fixed amounts were paid (leaving aside the amounts for objectives) 100 million for Hazard, 60 for Jovic, 50 for Militao, 48 for Mendy and 40 for Rodrygo. A total of 298 million in five names that, for the most part, have not caught on: only Mendy is the undisputed holder; Hazard too, but because of the confidence that Zidane has in him, not because of accumulated merits; Rodrygo entered and left the eleven several times, now he is recovering from a serious injury; Militao counts less and less and against Levante again he disappointed; and Jovic has directly had to leave due to the lack of opportunities.
It was an important investment to rejuvenate and energize the team that, so far, has not paid off. In January 2020, the club did close an operation, that of Reinier, from Flamengo in exchange for 30 million ... to play for Castilla. The Brazilian was never in the plans for the first team due to bureaucratic reasons: the three extra-community positions were already full (Militao, Vinicius and Rodrygo) and he went directly to the subsidiary that Raúl directs, although the pandemic shortened his season: he could only play three games with Castilla, in which he scored two goals and gave an assist. Last summer he closed his loan to Dortmund for two seasons, although things are not going as he expected: he has only played 136 minutes and studied the possibility of a change of scene, but finally he stayed to fight for the position, taking advantage of the departure of Favre and the arrival of a new coach, Edin Terzic.
The crisis and the reform of the Bernabéu
The consequences of the COVID-19 pandemic have had a lot to do with this tendency to freeze by Madrid in the market. Last summer only one new face came to the team, that of Odegaard, back after his assignment at Real Sociedad; Circumstances have led him to request Arsenal to leave, due to Zizou's lack of confidence. Despite the financial straits, Madrid managed to close the 2019-20 financial year with a profit of 313,000 euros and with 125 million in the box as of June 30 of last year. A cash flow, yes, that will have already disappeared, dedicated to the payment of the salaries of the workforce, with which a salary cut is being negotiated man to man. Not in vain, Madrid anticipates in its budget for 2020-21 a loss of 91.1 million ... 444 444
And on the horizon looms the reform of the Bernabéu, for which the club has borrowed 575 million (minimum). A project with which he aspires to bring the income, when the fans return to the field, up to one billion per season. You won't start repaying the loan until June 2023; thereafter, and until 2049, the club will leave each summer with a commitment to pay 29.5 million to JP Morgan and Bank of America. An amount that Madrid will not be able to count on to return to the path of transfers, a path that no longer travels, when at the beginning of the century he was responsible for leading it with the large operations of Figo, Zidane, Ronaldo ... 444 444

Photos from as.com