Machís: "We are going to make it very difficult for Naples"
Darwin Machís, one of the flags of EuroGranada, attends AS on the eve of the historic tie against Naples. And he warns: "They would be wrong if they underestimate us."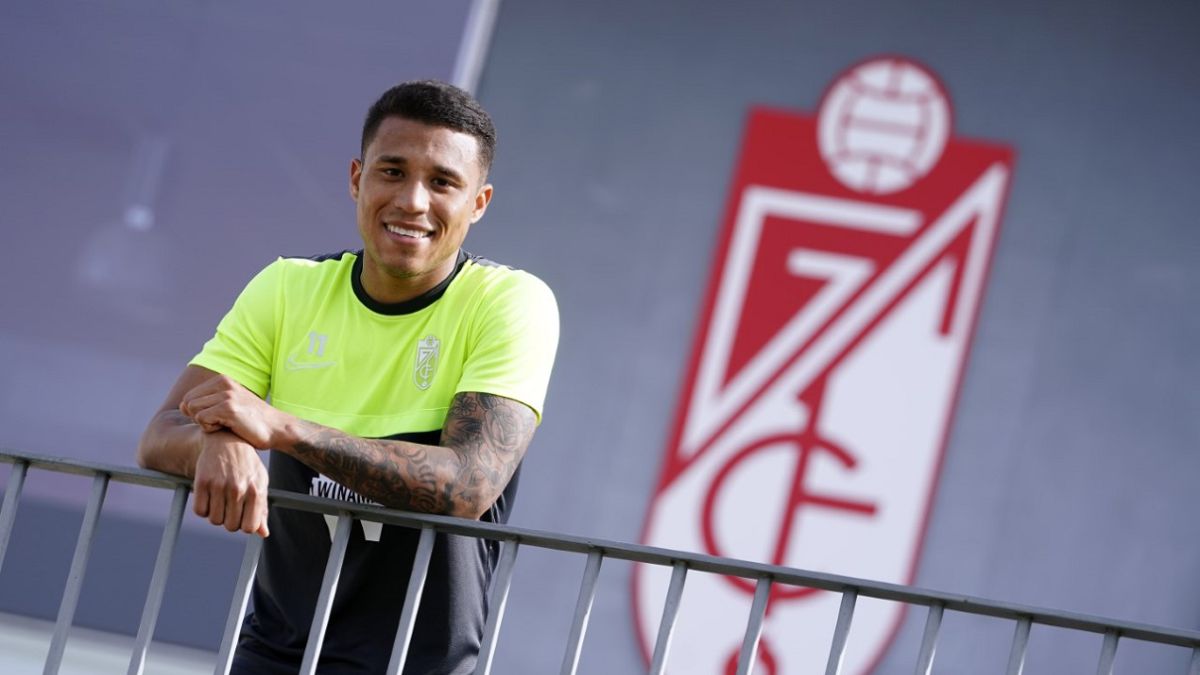 Darwin Machís landed in Granada a little over a year and a half ago to be one of the champions of a project that has not stopped growing and that tomorrow has a new appointment with history. Machís is challenged. And this Granada of the eternal struggle is not satisfied. In Los Cármenes they want to continue nurturing this wonderful dream.
How are Granada preparing for this historic duel against Naples?
We are facing a very exciting and very important tie for us. We have been on for many minutes, a lot of physical effort, we have had injuries, positive for COVID, but it is no excuse. We try to finish each game and make the best possible recovery to play the next one at a good level. It is a game that makes us very excited against a great rival. We are going to try to compete at the highest level and fight to the end.
Despite the numerous casualties, the objective is to go to the last 16.
Let's go with everything. Our wish is to pass the tie.
Did you expect the team to have such a remarkable debut also in the Europa League?
All this is a consequence of the good work we have done in the League. We were given the prize of playing this important tournament and now we face a great rival. It is a great challenge for us. We have to keep believing to keep thinking about big things. Since we have done all this wonderful work, making history with this club, we have the feeling of happiness that our sacrifice has led us to achieve these important things.
Do you see a roof over this Granada?
I couldn't tell. What is true is that every day we work with the utmost enthusiasm to continue growing and taking important steps.
Naples also travel with the casualties of Manolas, Hirving Lozano, Mertens, Ospina ... What worries the rival the most?
We look at the good players of the rival, in this case of Naples. But we are not concerned about anything. We also have nothing to lose. Facing the best teams in Europe is a prize that we have won and we are very excited to show our faces and play a good tie. I would give everything to make history again this season with Granada. As a child I dreamed of ever being able to play this type of competition. Since we have it here and we have it in our hands, we have to give up what we do not have to continue taking steps and becoming great all of us in this club.
Would Naples be very wrong if it underestimates them because they are a rival that does not have experience in Europe?
I think they would be wrong and, like us, I imagine that they too have been following us in every game. We are going to make the tie very complicated.
These last two seasons have been the best in the club's history. To which of the two do you give greater merit?
I would not know how to choose. It would put the two on the same level. After the great effort we made to get into Europe, it is something wonderful. Nobody expected that we would be competing at a high level in all three competitions. I can only congratulate the coaching staff, all my teammates for the great effort and for the unity we have to play all competitions. We were eliminated in the Copa del Rey showing our face and now we have the Europa League and we have to do our best and continue to give a good level in the League as well.
They had Barcelona on the canvas until 92 '. At that level they can knock down any opponent.
Of course. The elimination against Barcelona left us very annoyed for several days. We played a great game and a huge physical waste but it got out of hand. Against these teams we cannot give any advantage because what happened to us could happen.
What percentage of merit does Diego Martínez have in all this?
Has a lot. He is a coach who, since he was here, has always tried to get the most out of all his players and keep them fully engaged. I am grateful to be working with him and with his coaching staff.
Can you imagine the future without Diego Martínez in Granada?
This is football. He's doing his job well and I don't know if he can get out or not. We don't think about that right now. We are only enjoying the great moment that we are living and that is what should matter to us.
In recent interviews with AS, Soldado and his compatriot Rondón raved about Machís.
For me it is very important that both Roberto and Solomon have those words towards me. They are two great players, with very successful careers in football. Having Soldier here at Granada as a partner is very exciting. It makes me very happy to have players with so much experience by my side and who have been in so many clubs. The same happens with Rondón. It is a pride to share a wardrobe with both of you.
What has Machís found in Granada to have achieved such a high performance?
Perhaps the confidence that the coaching staff has given me and the peace of mind that I have here with my teammates. It is true that I have been in several teams and I did not feel as comfortable as here at Granada. I am working one hundred percent every day. We are very calm, focused on what we have to do. It is very important for me to feel that trust towards me and I will try to do my best to restore that trust on the field.
His teammate Yangel Herrera is also giving an important performance.
He is a great player. He is showing that he can be a great in European football. I'm really glad he's doing well too. Her future? That is an issue between him and the club and they are out of my hands.
How have you seen Rui Silva after the confirmation of his departure from Granada in June?
Rui Silva has been showing a very high level for several years. I am very happy that he is doing well. We would like him to stay in Granada, but they are decisions of each player and wherever he is, I wish him the best.
Machís started playing futsal. How was the switch to football?
My family has a futsal school in Venezuela and I was always there, from school I was going to train and everything went very fast. They began to see me football clubs and at 16-17 I started to practice football eleven. I was in the Mineros de Guayana team for one year. I made my professional debut, I was the top scorer in the Venezuelan Cup and made the leap to Europe with Udinese. When I signed the contract with Udinese, I was expected to come on loan to Granada.
And looking a little higher, with the national team await the qualifying rounds for the Qatar World Cup and the America's Cup this summer.
There are some very nice tournaments with the national team. I want to make history with the national team and see if we show a high level as well and we are given the much-desired opportunity to go to a World Cup for the first time.
The victory against Chile (2-1) has brought them closer to the goal.
Now in March there are some important games coming. We have to add yes or yes to get into the fight. It motivates me that people see me as one of the current references of the team. There are great players, it is a source of pride and it fills me with desire to continue improving and growing. They deserve to have a very good selection and to be able to feel proud of us. The World Cup is a dream, they have been waiting many years for such a feat to be accomplished and we are going to fight it until the end to make history and qualify for the World Cup.
How do you feel when you are positioned as a future club a priori with higher expectations and aspirations?
I take those comments very calmly. We are followed by a lot of Venezuelans and they see the level we are achieving and they would like to see us in big teams, but we are playing games and playing in one of the best leagues in the world. We are in a great club. Doing things well can lead to other things, but that is decided in another way.
It is to be hoped that his level this season has put him in the crosshairs of many clubs.
I don't know. I walk away from that a bit, my representative will know more. I am dedicated to preparing myself to be well in the games and I do not want to know anything about those things right now. You have to be well, focused on what you are doing right now and there will be time to talk about other things.
And as for the League, is Machís one of those who looks to sixth place or one of those who remains faithful to the prudent discourse of permanence?
The important thing is that we do not pressure ourselves. We have enough with the three competitions. The classification does not attract much attention to me, the important thing is that we are doing well. We have to continue competing at a good level and see where we can get at the end of the season.
Good luck
Thank you so much.
Photos from as.com