Lyon sleeps leader of Ligue 1 and puts pressure on PSG
Rudi Garcia's team beat Strasbourg 3-0, which in the first half were left with ten players and practically did not oppose during the 90 minutes.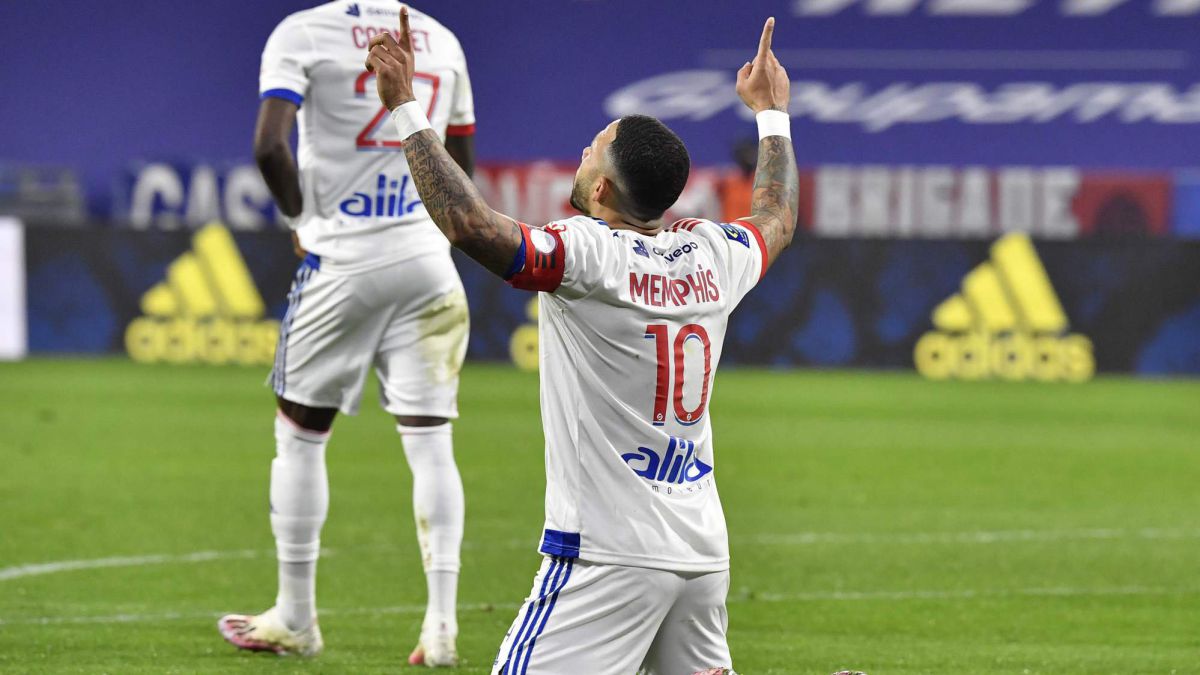 The Olympique de Lyon adds and continues in Ligue 1. It is difficult to find a team in European football that does not play in European competition and has players of the quality of Aouar, Paquetá and Memphis in its eleven and Guimaraes or Caqueret on the bench . Today, they beat a weak Strasbourg 3-0, who noticed excessively being left with ten players in the 15th minute due to the expulsion of Thomasson.
Lyon had a golden opportunity to sleep today as the solo leader of Ligue 1. Despite doubts about the game, Rudi Garcia's team is immersed in the fight for the championship after many years in ostracism and technical He repeated the 4-3-1-2 that he had won against Dijon during the week. The main novelty was the ownership of Thiago Mendes in the center of the field, seating Guimaraes.
Lyon could not have a more placid first half like today. It was thanks to the two gifts from Strasbourg, first through Thomasson's self-expulsion after protesting a very clear foul on Thiago Mendes and, second, through a back pass from Prcic that Memphis Depay took advantage of with a brilliant definition against Kawashima. With one more player and result in favor, Rudi Garcia's men slept the game in the center of the field with very long possessions and empowering Memphis and Paquetá.
Precisely Memphis started the play of 2-0: the Dutchman dragged a mark with a support away from the area, released Thiago Mendes in the frontal, who found Toko-Ekambi in depth. The former Villarreal hit the ball with extraordinary quality and increased Lyon's income on the scoreboard. A deserved 2-0 as seen during the first 45 minutes.
Lyon relaxed in the second half, the result of having the match controlled with one more player. Strasbourg timidly let go in attack, but Laurey's men hardly bothered Lopes, save for a shot from Zohi with the left in the opening bars of the second act. The match calmed down the rhythm quite a bit and the little fluidity of both teams with the ball in each attack hardly generated dangerous occasions.
Memphis Depay again demonstrated in the 67th minute why he is one of the best players in Ligue 1. The Dutchman, who played a very complete game, scored one of the day's goals from a free kick, signing a double that places him with 13 goals to just two of Mbappé, top scorer. The young Da Silva made his debut in the final stretch, but with 3-0 the game had practically no dynamism.
Lens and Stade Rennes extend their bid for Europe
Lens and Stade Rennes extended their bid for Europe after drawing without goals at the Bollaert Delelis stadium, in the match of the twenty-third day of Ligue 1. Franck Haise's Lens lost a good chance to overtake his rival in the table, reach fifth place and place himself in the continental competition position. He was unable to beat the Senegalese Alfred Gomis and accentuate the bump in Rennes, who have not won for three games. Even so, Julien Stephan's team was successful in their visit to Lens and remains in fifth position, two points ahead of their rival and three points ahead of Metz, who on Sunday visit Saint Etienne. -EFE
Photos from as.com