Life is beautiful with Beirán
His imperial performance in the second half, key in the comeback of Gran Canaria. Baxi Manresa ends up in the last quarter.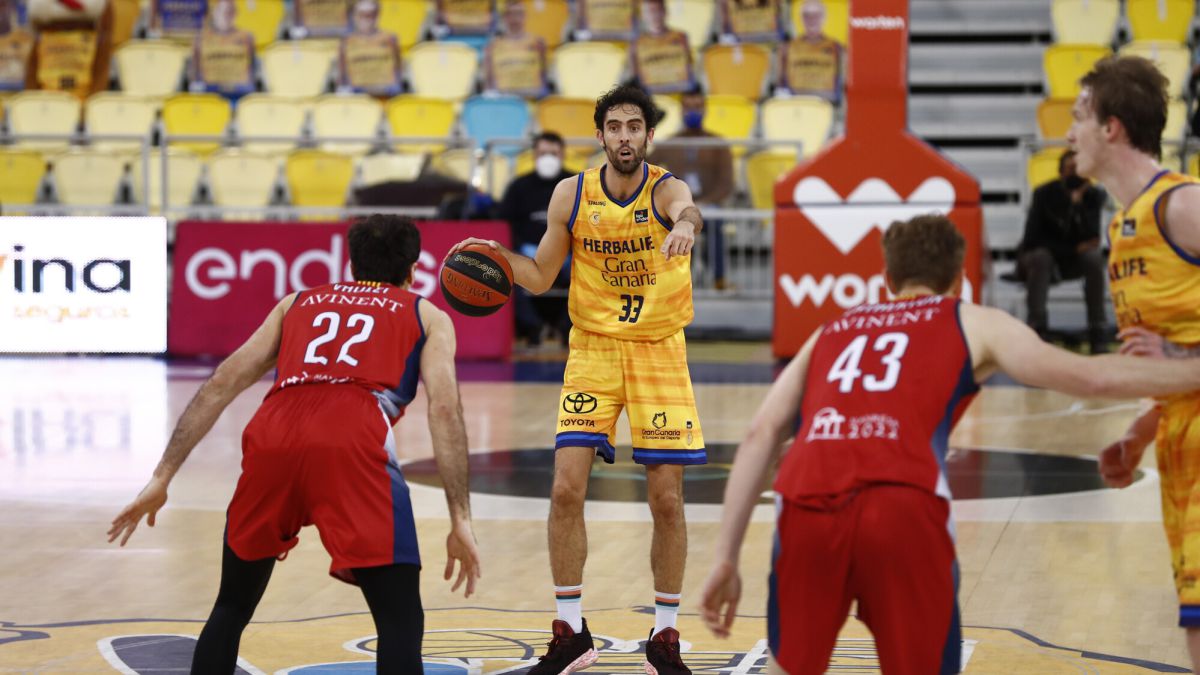 Herbalife waited for its moment, and when it arrived, Baxi Manresa could do nothing. It happens that the local formation did not assume command of the scoreboard until the beginning of the last quarter, that 60-59 of Shurna that was its first advantage of the game, to never release it again. On the back of Beirán, stellar performance of the World Champion, whom Fisac came to have removed from the team for reasons never fully clarified ("We do not understand in the same way what a captain of Gran Canaria should be," said the coach) , Granca certified its eighth victory of the course against an impassive Manresa, who when he realized he already had the game lost after a more than deficient last period.
Gran Canaria did not find answers in the first quarter, turned at all times into the perfect punching bag of a Baxi Manresa who was huge at times. Hinrichs' initial triple was the prelude to a 0-8 partial in favor of the Catalan team, which saw Herbalife closing the gap after a triple by Beirán: 5-8. However, this local reaction was totally insufficient, as the hosts of Pedro Martínez, again through Hinrichs, very soon achieved their first +10 of the match: 5-15.
Granca was not disputed about its intensity when undertaking the comeback, but at each attempt it was met with a forceful Manresan response. If Albicy cut distances from the triple, 10-15, Sima burst the insular ring to keep his team ahead with great comfort, 10-19. Shortly after, the maximum distance of the match for the visitors arrived after a basket by Dani García, 12-23, a figure that remained at the end of the opening act: 14-25.
Removed after the vital European victory in Andorra, Herbalife did not lose faith even when, after a triple by García himself, he was 14 points down on the scoreboard at dawn of the second quarter: 14-28. The locals needed to hold on to a burning nail that would give them back the hope of winning a stake, for now, it seemed too far. Unpublished then, Kilpatrick emerged with all the might in the world. Seven points in a row by the North American guard, which also preceded a triple by Shurna, another shot by Stevic and a free kick again by Kilpatrick, announced that, again, he had started: 31-31. It was time to start over.
Baxi Manresa continued to answer, and if Okoye tied at 34 from 6.75, Rafa Martínez plugged in an act from the same distance to give his team another advantage before adding his 9th point, 37-41 before the break, in another clear demonstration that age is just a number when ambition and you win in equal measure.
The appearance of Javi Beirán
With Tabu leading his offensive, Martínez's boys continued to dominate the game. A triple from Slaughter brought Gran Canaria closer, 46-51, but two triples from the point guard and Rafa Martínez threw the visitors again: 46-67. Herbalife seemed to collapse, but suddenly Beirán entered the scene. With four points and an intermediate assist to Shurna he brought his own to four before Kilpatrick sealed a 10-0 run and left the score in a fist: 56-58.
If it was Beirán before, now it is Shurna's turn. It so happens that a suspension of the power forward gave Gran Canaria its first advantage of the match, 60-59, seasoned this basket with a subsequent triple that to his team tasted glorious.
They seemed to like Herbalife a lot, and on top of that, Slaughter hit a final possession triple, the kind that does so much damage and also gave his team the first break of the game: 70-63. Later, five points in a row from Beirán, including a triple for 75-65, began to dye this match yellow.
A 2 + 1 that Hinrichs took from Costello to 77-69 fueled Baxi Manresa's hopes of a seemingly impossible comeback. Beirán returned to reassure his team, 80-71, but four points from Tabu, 80-77, shook up the last seconds of the game, in which Gran Canaria gathered serenity to certify its eighth victory of the course against a combative Baxi Manresa, who when he wanted to react it was too late.
Photos from as.com