Leganés is already recognized in the Garitano mirror
Leganés come back from Barreiro's initial goal to break a five-game winless streak. Sabin (two) and Pardo, the local scorers.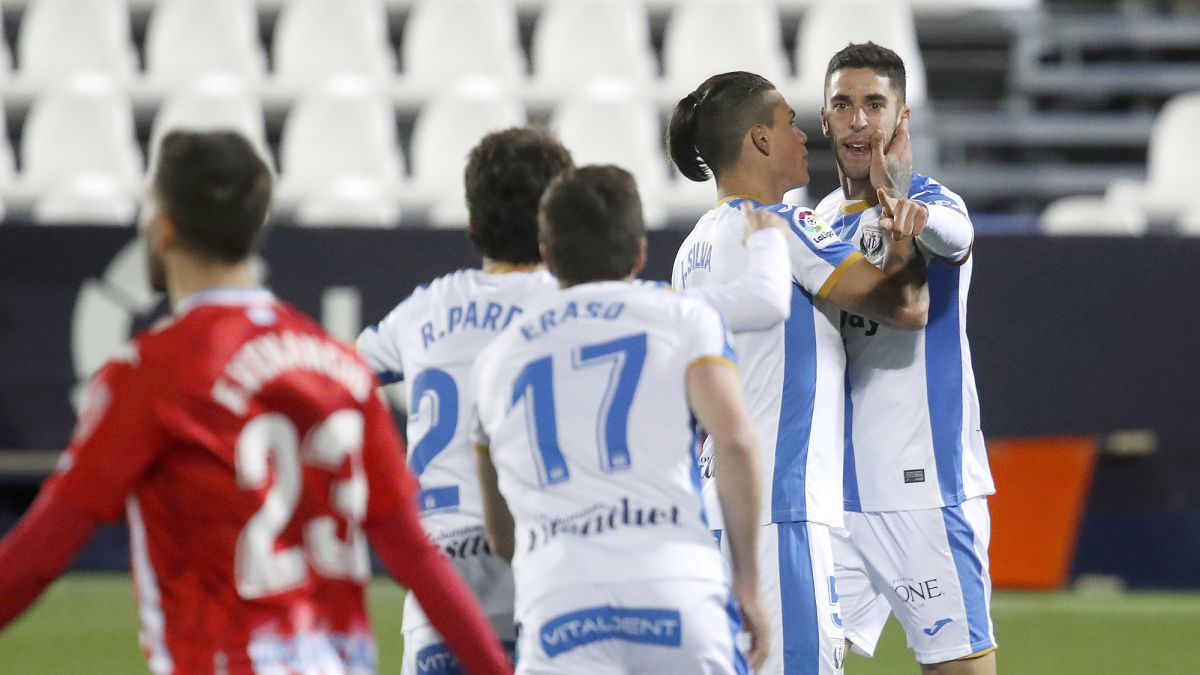 Garitano returned to Butarque 989 days later as Leganés coach as if nothing had changed. That meadow in which he sowed dreams is still territory for his martial law. He fulfilled his redebut with the first comeback of the course against a Lugo who bothered at the start. Barreiro overtook the Galicians, but in a waste of ambition, the locals turned him around to break a five-game winless streak. Sabin Merino (double) and Rubén Pardo certified a triumph that injects tons of hope into the spirit of the cucumber.
The invitations to the party for the return of Garitano said that it was he, Asier, who would focus the gaze, but in these the party began and a beardless boy sneaked into the merriment of seeing the returned messiah. Hugo Rama is one of those boys (24 years old) in whom the curly rebellion of his hair is transmitted to his electric and cheeky style. And so, disturbing someone else's land, he became emboldened in two starts that, just after 240 seconds, had already distressed Leganés.
Two dry auctions from his mouse factory made the host of the celebration swallow hard until the third time the charm fell. Of course, this was the work of a perfect slate that Barreiro ended up finishing with a vaporous marking from Perea. Minute 4 and Lega was already losing 0-1. Bad business for a Garitano who clung to the motto that made Butarque great ('The Heart of a City') to beat with hoarse orders in the chest of his eleven boys.
Shouting of constant reconstruction that worked in the first cucumber attack, a play on the wing that Eraso left Sabin meek to shoot (9 '). Goal. Golazo vindictive of the author, but especially of the assistant, one of those defenestrated by Martí. A new battle began and there the locals recognized themselves in the mirror of a not so distant past. Band play, intensity, fast circulation and direct football. Thus came the foul on Arnáiz that Rubén Pardo converted into an impeccable goal. It was the first time that Leganés had come back this season.
A adrenaline-marinated football match that continued in a bichromatic restart: blue and white cucumber. And that Nafti had shaken the tree with a double change that was shipwrecked at the beginning, when a long and chewed action from Lega ended with Seoane taking the rogue hook of Arnáiz. Missing again, but this within the area. Penalty that Sabin calmly transformed without his goal diminishing the ambition of a Lega who, instead of crouching, sought more in the jugular of a sentenced rival in which only a Barreiro snatch (Cuellar's paradon) threatened to revive himself. His 3-2 goal came in a cucumber mistake in 94 ', with no time for any reaction. Arnáiz's injury (muscular) put the only blur on Garitano's triumphant return to Butarque.
____________________________________________________________________________
Nafti: "Bad against new coaches? That's bullshit "What reading do you get from the game? The team has entered well. He rewarded us with the strategy goal. Then we have punished ourselves without detracting from the rival. Two losses in our field lead us to a draw and 2-1. I think that in the first half the rival had a little more muscle. They have been very precise and we have lacked defensive intensity behind. In the second half we wanted to change a bit, but they punished us with that penalty very early. Then we tried to shake up the party. Things happen. We were close to 4-1 and in the end we made it 2-3. We have tried to find a crazy match. Too bad Manu missed a chance. They have also had the stick ... from both sides with some disorder, but they have players who make a difference. But I want to highlight the effort of my people, who have not lowered their arms to a great team. What will Appiah bring? His speed and self-confidence will do us good. We will have one more weapon when it comes to hurting rivals. Does it affect you a lot that the rivals change coaches? Lugo has already suffered it three times. That's bullshit. It is a coincidence. Nothing else. For the first time they have scored two goals in the first half. Has it been very strange? It is difficult to play against a Leganés and they do not harass you and do not give you chances. It is impossible even. I always find it strange to conceal goals. But today two goals have come, one from a foul and the other from a penalty. It is impossible not to come here and not have opportunities. But more than the goals, it is the situations that seem the strangest to me, playing with the idea and back, something crazy. It is what we have tried to do in the end, because the result required it. But it is difficult to make transitions in front of this team.How are barriers to specialists worked? It's very complicated. Against Ponferradina we are working on putting a player on the goal line… but it's complicated. Messi nailed it yesterday with something like that. Messi's hitting was perfect. It is difficult to defend something like that. With those kinds of situations, you don't see so many actions like that. Yesterday against Cádiz we saw another by Luis Suárez. This is difficult to control.
Photos from as.com