Laso: "If I say I'm not happy, you would think I'm an asshole"
"My feeling is always good because I always think that the favorite is Madrid," he says without clarifying whether those who are between cottons will play.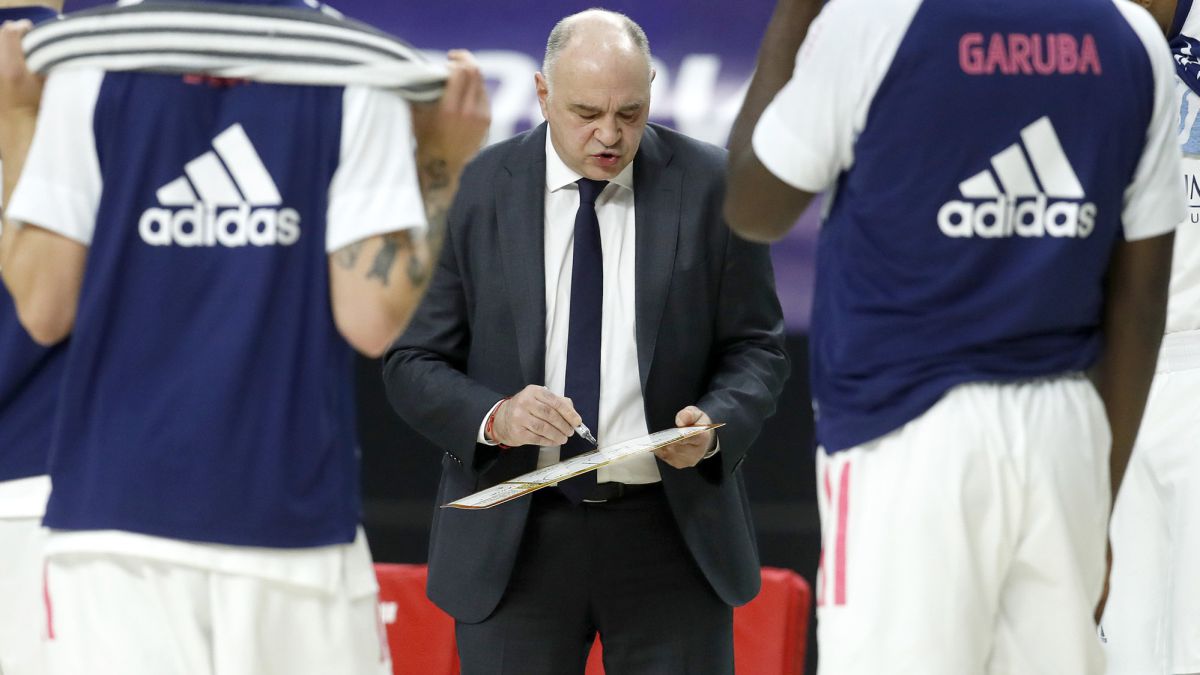 The Real Madrid coach, Pablo Laso, explained that his "feeling is always good" in each tournament he faces because he always thinks that "the favorite" is his team, before a Copa del Rey in which they will debut against a rival " predictable in quotes "like Valencia Basket, in the sense that" they have been playing very well for years and the work of Jaume (Ponsarnau) is magnificent ".
"My feeling is always good because I always think that the favorite is Real Madrid. When the rest say that the favorite is someone else, I don't care and it doesn't change much. I feel that way. I have the feeling that my team is always there prepared and competitive. The ability of my players to be competitive every day is something that makes me proud, "Laso said to the press.
"If I said that I am not happy with my team you would think that I am an asshole," added the coach when assessing the performance of his team this season. "But I am demanding with the team and with myself and I believe that we must continue to be competitive every day. There is no doubt that it is being a very strange season for everyone and I praise the behavior of the boys because it is being magnificent" , reiterated.
As for his rival this Thursday at the WiZink Center, he acknowledged that he has "a lot of respect" for him. "Valencia is a 'predictable' team, in quotation marks, because they have been playing very well for years and Jaume's work is magnificent. It is a team that plays inside ball situations very well, has good shooters, pivots who can play inside and out. they can open up, the defensive work is very constant ... Jaume has a great team and is making it very competitive. I have a very good feeling about what Valencia is doing, "he praised.
Regarding the internal duel between Walter Tavares and Bojan Dubljevic, he indicated that the fact that Valencia "have pivots who can shoot is something important", but that it should not "obsess" them either. "A week ago, Costello, Gran Canaria's '5', shot 12 triples and I know how many he made (4). These are aspects of the game that Valencia uses very well, but talking only about the Edy-Dubljevic duel seems very little, "he reflected.
Reviewing the physical condition of his squad, the Vitorian advanced that the only safe loss is Jeff Taylor. "But honestly I cannot say who is going to play tomorrow because I have many players who are between cottons with different situations. I am positive and I think that they are all available, but until tomorrow I can not say," he summarized.
In this sense, Real Madrid recovers Nico Laprovittola after having overcome COVID. "Nico has tested negative, with which he can play. Obviously after having passed the disease he is probably not as he would like, but I see him well and in principle I count on him," he commented on the Argentine.
In addition, Laso regretted the lack of public the next few days in Madrid. "The Cup is a basketball party, but this year it will be different, sure. The other day I was talking to a friend from Vitoria who told me: 'Damn, man, it doesn't seem like it's going to be the Cup. We have a situation in which the basketball party does not exist, but there is no doubt that in the end it is a tournament. It is not what we like, but we cannot give it more importance, "he asked.
Photos from as.com