Laso and his 734 parties: "Reaching this figure speaks well of work"
He will become the coach with the most matches in Madrid's history on Thursday, beating Lolo Sainz who says about him: "He has kept the philosophy and what the club demands."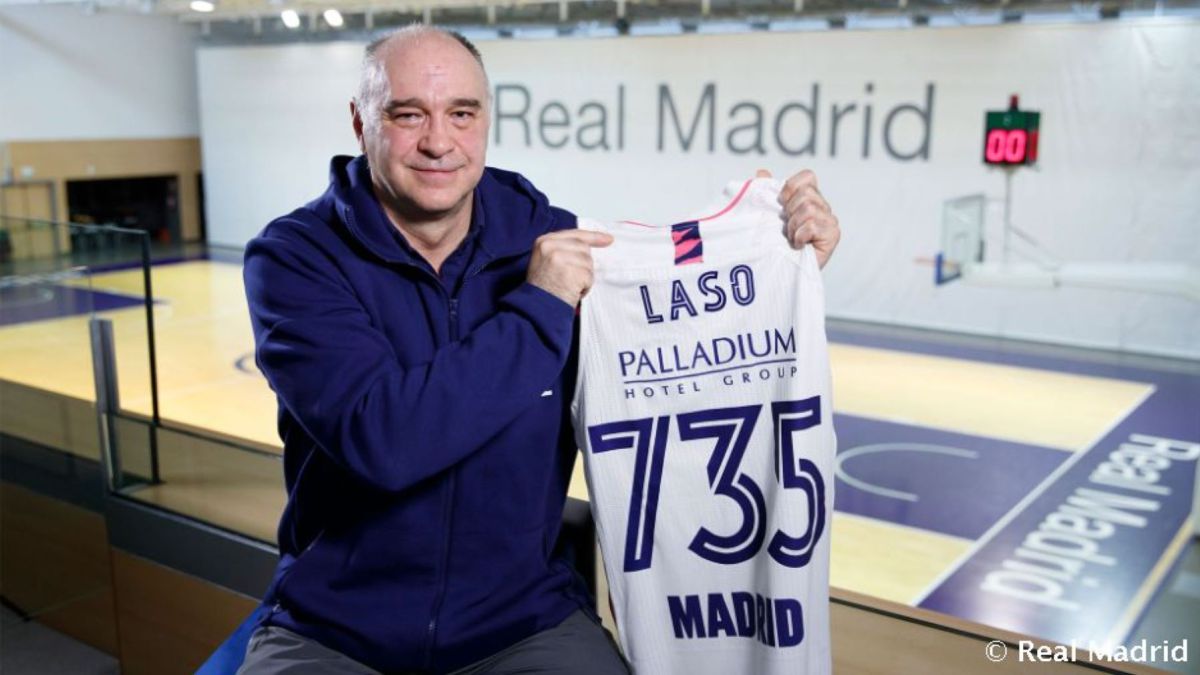 Pablo Laso will become this Thursday against Valencia Basket the coach who has led the most games at Real Madrid in its history. The Vitorian, who came to the white bench in the summer of 2011 and has already lifted 20 titles (2 Euroleague, 1 Intercontinental Cup, 5 Leagues, 6 King's Cups and 6 Super Cups), will direct his match number 735, one more than Lolo Sainz (734) 31 years ago.
"Reaching a figure like this speaks very well of the work we do. I am very proud to coach this team but I have great professionals by my side. The whole club is pushing for this to happen and I am lucky to be at Real Madrid. The team is the one that is in the day to day but without the fans, managers and everyone pushing this would not be possible, "commented Pablo Laso on RealMadrid.com and RealMadrid TV.
"There is not just one secret to staying for so long in a club that Real Madrid demands. Daily work, normality, an idea of the team, of the game, of how to do things that is punctuated by situations such as injuries, signings, etc. Results are important and this team always wants to aspire to win everything. But that day to day is what makes you competitive and is what everyone values ".
Laso considers that he is only "one more link in the chain." "From the president's effort so that we have good facilities, good players, that the players want to come to Real Madrid, have a good work group ... These are the things that make Real Madrid at the highest level. And that happens for being able every day to give the maximum for a club that also helps you move forward. The coach is forced to improve every day. I have been a player and I have always had the idea of being better every day, not settling, and It is something that I try to transmit to the group. Madrid must always be better, the players also and of course the coach. Training Real Madrid forces me to do that. "
The coach does not like to compare himself with Lolo Sainz and Pedro Ferrándiz, "two references" for him and for the history of Real Madrid. "The trajectory of both is more than recognized and without them neither would be here. I am very happy because it means the recognition of a job well done." Laso also believes that they are "different times." "I was lucky to coincide with Lolo in the election. He trained me there but it was a different situation. There were fewer games and more time to recover and to train, but there is something that unites us and that is being at Real Madrid, that It forces us to do things very well and to want to be better. He was a great transmitter of that in time and for me he has been a mirror. It is difficult to compare times. Now the difficulty is enormous and the calendar urges us. Lolo had in his moment the same pressure and demand and transmitted it very well. "
Laso also praised the figure of Florentino Pérez because "as president he is the engine of everything." "If there was not a president who pushed us, it would not have been possible to have these successes. I always tell the anecdote of when we won the Copa del Rey in Barcelona and he congratulated me, the one that we had bundled, told me to enjoy it, he was very happy but "Now we had to win the League. That level of demand is what the fans want. We are lucky that it is the first that pushes us all and makes this possible. I only have words of gratitude." And also to the hobby. "It is very demanding, but it is with effort. He wants his team to fight and work. All the fans want their team to win and Real Madrid wants to see their team and recognize it. For us they are very important and now in this situation we miss them more ".
Lolo Sainz points out that Laso has taken ten seasons to achieve what he did in 14. "The coach has to manage to make a team and fulfill the philosophy of the club. Laso has fulfilled expectations very well. who has achieved a marvelous record of victories. Laso has maintained the philosophy of the game and what the club demands. Madrid is a very difficult club and Pablo has accepted that maximum demand very well and has transmitted it to the players. "
Llull: "Laso changed the history and the mentality of this team"
On such a special day in the history of the white team, the three players with whom he has met all these years wanted to talk about the Vitorian. The first, Captain Felipe Reyes. "We have improved a lot since his arrival. As a team he has given us to be stronger, more competitive, to have the possibility to fight for all the titles and a large part of the success is thanks to him. We have to thank him because he is largely to blame. It is very It is difficult for a coach to be able to lead a team like Real Madrid for so many years. If he has been in for so many years it is because he has done things well and the work he is doing is to be commended. "
Sergio Llull believes that Laso "changed the history and the mentality of the team." He came to Real Madrid after a time without winning titles and he brought that fresh air we needed. During these 10 years we have been able to get many titles. He has been a very good coach. important not only for us but also for the club. He trusted me a lot playing base, he has taught me to read the games better and he has been a very important figure in my growth as a player. He changed the mentality of the team, the history, because When he arrived, he gave us the confidence we needed to take a leap in quality. His career speaks for itself and I hope we can enjoy many more years of him. "
Y Carroll described the Madrid decade with Laso on the bench as "fantastic". "He has been very successful, if not, he would not be here for so many years. It is an incredible achievement and he must be proud of what he has done. I have been lucky to be with him in all these games. We came together and we have had a decade Fantastic. I liked his style from the beginning, with a lot of rhythm, a fun game. Laso has made me a better player by giving me confidence in important moments and then he has given me the opportunity to win titles with Real Madrid. There are already 20. But no it would be possible if it weren't for him and the teams we've had ".
Finally, Rudy stressed that Laso is capable of bringing out the best in each player. "The previous dynamic has changed. He knew the club very well because he had been a player here and knew the repercussion that always comes from playing for this team. He took it on as a challenge in his career and has shown it by winning titles and continuing with this. Dynamic. Instilling that mentality in the players and demonstrating their ability to face each season with a different team. He has been helping me mentally. I have been with him for 10 years and I have always tried to give him what he asked me on court. Virtue de Laso is to get the best out of each player. He is a very close coach ".
Mateo: "He has been able to maintain positive chemistry for many years"
Chus Mateo, Paco Redondo and Lolo Calín make up his coaching staff and are three authorized voices to speak of the Vitorian coach. Mateo underlines: "If I had to highlight something about Laso that was different from other coaches I have worked with, it would be the management of the dressing room and how he is able to maintain a positive chemistry for so many years. There is one thing about him that catches my attention and that is the spirit with which he faces difficult moments. He has an optimism that helps a lot to get out of the potholes. "
Para Redondo "having a coach of this level is a daily master's degree, an accumulation of experiences in the management of the group". "You realize that all this period of success that Real Madrid is experiencing is no coincidence. In some match situations he has a brilliant moment and is able to change it. He never takes you the easy way, takes it on in a more complex way and gives it his personal touch. These things make him different ". And Calín affirms: "He always manages to ensure that everyone has their place, leaves a lot of freedom to work and that generates absolute confidence. It makes you feel that what you contribute is as important as anyone else's. "
Photos from as.com