Kyrie blows up, Nets roar
The Nets improve and show their most destructive version. Harden was the base, Durant flew and Kyrie exploded. Kawhi couldn't handle the trio. The big three, now, is scary.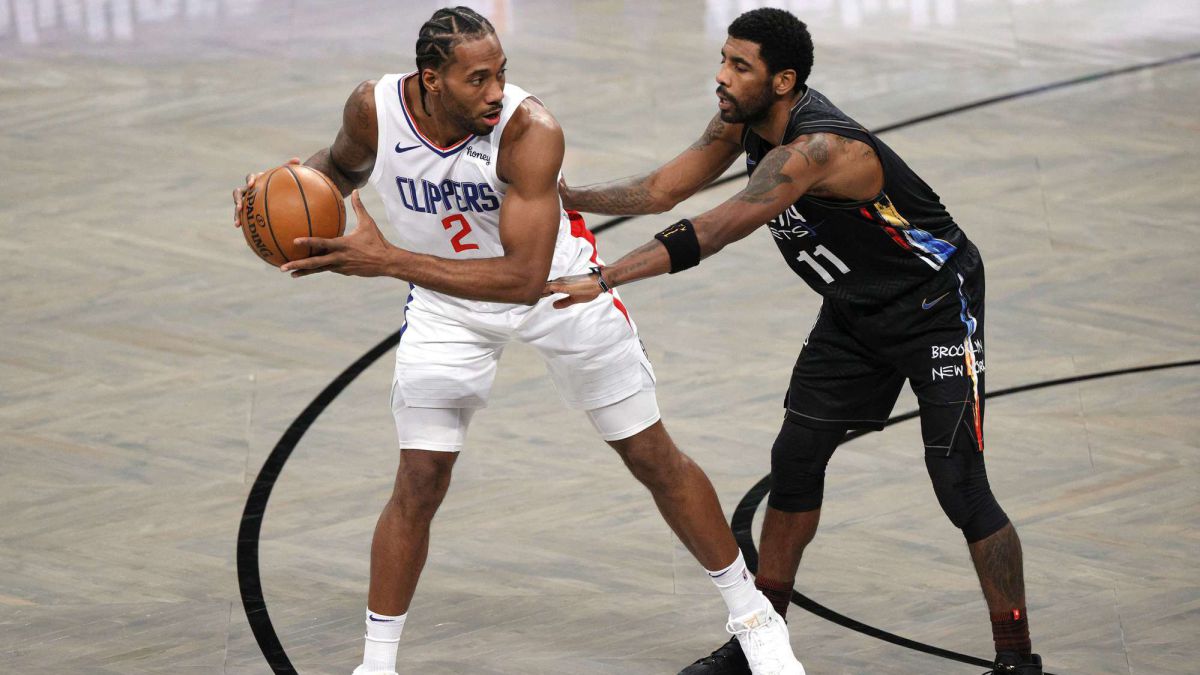 So, this way, the Nets are candidates for everything. To the ring and to conquer the world if necessary. Great game of the big three in Brooklyn, which has shown that the enormous amount of talent of its members is worth to face the Clippers (and it looks like everyone else), one of the most fit teams of the competition that led the West until tonight, a position that has yielded to some Jazz whose good run seems eternal. Extraordinary encounter from Kyrie Irving, good minutes from James Harden, impressive strokes from Kevin Durant and even, in the last quarter, something akin to good defense. We have seen all that in a crazy game, one of those confrontations that does help us, even slightly, to draw conclusions (some) and see where a certain franchise is at and, above all, how far it can go. And playing like this, the Nets can go much further than predicted by those who joined the boat of dismal failure. But, of course, there is a long way to go to a destination that everyone in Brooklyn wants but that, from the bench to the last member of the big three, knows that it is not so easy because of something that in the NBA, sooner or later, everyone understands. Winning is not easy: it never is.
And the Clippers, hey, they played well. They were simply worse than their rival. The Angelenos came to Brooklyn with three consecutive victories behind them and 10 in the last 11 games, something that had allowed them to overtake the Lakers in the West and begin to present a candidacy that some had forgotten (for whatever reason), after last year's playoff debacle. The team led by Tyronn Lue has improved with their new coach, manages breaks better (those of Kawhi and Paul George, mainly), keeps the squad focused, has improved chemistry and has everyone focused. Their two stars have improved in most of their statistical sections, especially in shooting, they are much more effective than last year and they are, or so it seems, happy. And they make up for the obvious absence of a game generator, perhaps the part that still needs to be covered, something that will have to be done from the offices.Emboldened at the start, the Clippers went 4-14 right after they started, leading 24-32 at the end of the first quarter with 12 points without a miss on Kawhi's shot (4 of 4 on field goals and same numbers from the line of personal). In the second, the Nets woke up: they pushed back, adjusted positions and tried to stop rival penetrations alternating Jeff Green with DeAndre Jordan to protect the rim, something that worked with the Angelenos inside men, whom they left dry: Serge Ibaka finished with 9 + 10, but with 3 of 11 in field goals; and Zubac, with 2 points in 16 minutes, didn't even smell the ball. In that period the Nets also had the help of Joe Harris (13 points with 3 of 7 in triples in the conclusion), a correct man who complies all the time and produces statistics until the last period, who usually plays whole ... practically without touching a ball that others are distributed. And we already know who those others are. The stars, you know, are always ahead.
The explosion of Kyrie
The second part was clearly and entirely of Irving. The point guard had already set a great first half, to which he went with 15 points and 7 of 13 in shots, but he definitely woke up in the last 24 minutes: 24 points, 4 rebounds and 1 assists, 8 of 10 in field shots and, beware, a spectacular 5 out of 5 in triples. The celebrated star scored 14 points in the third quarter, in which he was the only Nets player not to sit down, and 10 more in the last, a figure he shared with Harden and added 9 points by Durant. In total, 29 of the 36 of the Nets in this period, in an explosion of talent led by Irving and that not a team with the defensive capacity of the Clippers could stop. In those last 12 minutes, the local team shot with 64.7% in field shots, 62.5% in triples and closed the game from the person, with an excellent success (9 of 11), in addition to having good moments of defensive effort (a small miracle) that allowed the balance to tip after leading the baton in a few final minutes in which the Clippers tried, but Brooklyn escaped every time it seemed to succumb to rival comeback connate.
With less than 6 minutes to go, the Clippers were still ahead (97-102). At 99-102, Irving first scored a triple and then landed an impossible penetration that gave command to a Nets who would no longer lose it. A triple immediately afterwards was also his, for 107-102. Ultimately, it was the silent star who sentenced a team that kept trying (118-117 with 24 seconds to go), but could not beat their rivals despite the numbers of their stars, especially Kawhi: 33 points , 5 rebounds, 5 assists, 4 steals and 2 blocks, a very complete off-road performance that was left without a prize that would have been objectively deserved but that succumbed to a talent greater than his own and, ultimately, that of any other team in the league. League. Paul George accompanied with 26 + 4 + 6 + 2, Nicolás Batum continues to show an excellent level (21 + 6, with 7 of 10 in field goals and 5 of 8 in triples) and Marcus Morris (16) had moments of good to bright, with large shooting percentages (6 of 10 and 3 of 6) .
And on the Nets, everything. James Harden continues to act as a playmaker, an intermediate solution so that he does not take too many shots and there are three stars who, as much as people say, are not playing with three balls. The guard went to 23 points, 11 rebounds and 14 assists, a statistical section in which he has exceeded double digits in four of the five games he has played since his transfer from the Rockets. Durant scored 28 points and grabbed 9 rebounds, with a series of shots also dreamy: 11 of 13, with a triple attempt without failure. And Kyrie, you know, 39 + 5 + 2, with 1 steal and two blocks, 15 of 23 in field goals and 6 of 8 in triples. This time, the Nets didn't get caught up in the end like in the madness of the Wizards, and they stoically endured closing the game like experts in clutch time that they are: without nerves and with temperance. The cool head, and the hot wrist. More brain than they are credited with and a quality that no one has ever denied them. Be careful that, in that team in which everything can go well or everything wrong, there is a mere possibility that the first variable is fulfilled. Thus, things can turn out well. Be careful with the Nets, who have not been valued enough. And of course, they can implode. But we can't forget that they are very, very, very good.
Photos from as.com