Koeman: "The shouts between Piqué and Griezmann? I like ..."
"Haaland? I have to wait to see who is going to be the president, that we sit down and talk about the future of Barça," said the Dutch coach.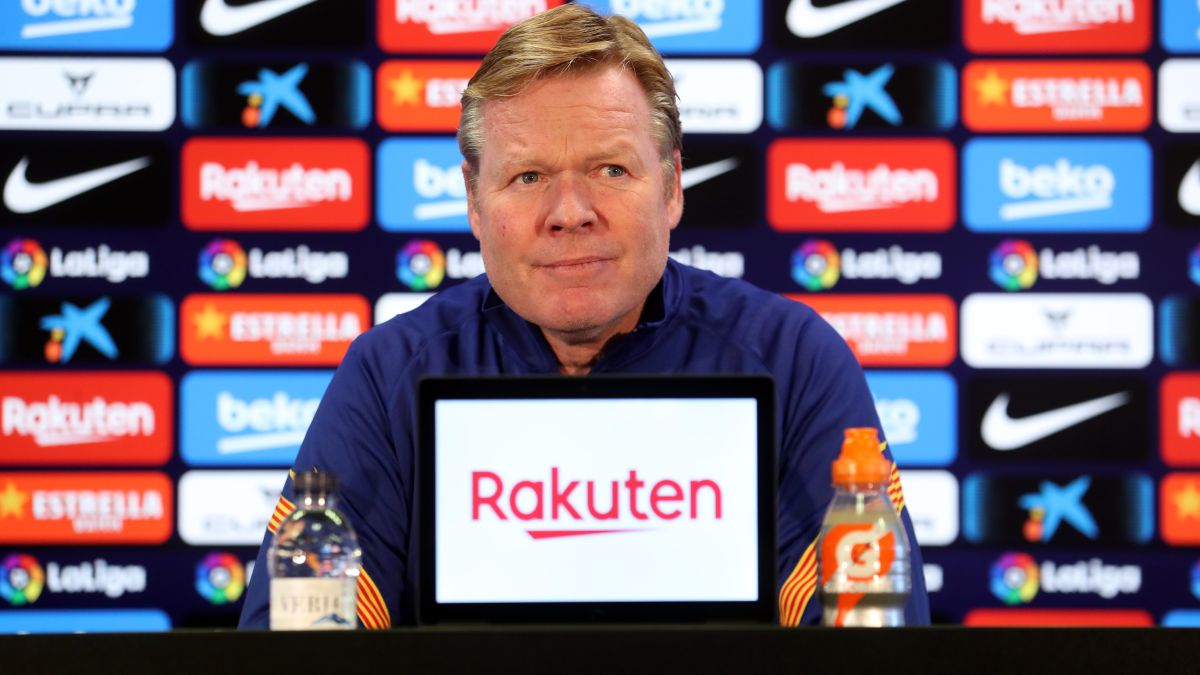 Ronald Koeman appeared in the preview of the match that Barça will play against Cádiz tomorrow Sunday (2:00 pm). The coach assessed how the team is doing after falling against PSG in the Champions League (1-4) and analyzed the match against the cadistas. These are his impressions.
How is the team for their return to LaLiga against the last team that beat them after the defeat of the Champions League?
After a defeat it is good to have a match right away to show that we can be better. We have a good track record in LaLiga. We accept what happened to us, but we have to react.
What message did you send to the staff?
The world does not end after a defeat. We have to analyze our failures and improve things. Talk and train. We lost too many balls, we have to put more intensity. I hope they come out strong to win the match to regain confidence.
What is the priority objective now?
We are in all three competitions. In the Champions League it is very complicated, in the Cup we will lack luck and effectiveness, but we can come back. I think we can get through. In LaLiga we depend on the team that goes up. I am not negative. We are Barça and we have good players and we have to put things in their place.
Is the Cup the main objective?
The main objective is the next match. Before Sevilla you have to play three games. Tomorrow's is very important, especially because of what happened. And then Elche on Wednesday at home. The goal is to win every game.
Would you ask Haaland for reinforcement?
I have my ideas for the future, but we have to wait to see who will be the president and talk about the future.
Have a problem with large teams?
We won against Juve and lost at home. We lost to Paris but we can beat them away. It's hard to say that. The data from the other day is not very exaggerated either. They were much more effective. I don't think we can't compete. We have always been close. We can beat anyone. With casualties it is more difficult.
Have you raised locker room morale?
I don't mind harsh comments towards us, it's your job. Mine is to prepare the team. Try to improve and encourage and bring out the pride of a Barcelona player.
Has LaLiga's level dropped?
No. It is a specific moment that serves several reasons. The deduction is too easy and Real Madrid and Atlético are missing. No conclusions of this kind can be drawn.
How is Piqué after PSG?
Okay. We did well for him to play 65 minutes. He has had no problems afterwards. It is available.
Were the players sunk as Laporta said?
This is normal. On Friday there was a lower atmosphere and that is good. It is normal for it to affect. If it doesn't affect, we don't deserve to be here. Today I have seen them better and with enthusiasm.
In what style do you think Barça can compete at the highest level again? 444 444The physical part will be very important due to the intensity of the rivals and the calendar. We bet more on football quality and we have to reconcile the two things.
Is there a problem defending the set piece?
We analyze many things, such as the fault of 1-3. You have to be more focused because we don't have the strength or the height. No needless mistakes to be made.
How do you assess the screams between Piqué and Griezmann?
During a game there is a lot of tension and things happen. It is good to have people who react if you are not happy, there is no time to ask for things please. I have no problem with things happening during the game, I like it, something else is afterwards. I don't like players who are quiet. These are moments of high tension in a match.
Does Sergiño Dest have physical problems?
The injuries may have influenced you because you are not regular. He is 19 years old and needs to improve his concentration and aggressiveness. I have talked to him, but he is young and wants to learn. He is before the grand step of his career.
Photos from as.com