Karatsev, historic: first rookie in Grand Slam semifinals at the Open Era
The 27-year-old Russian and 114th in the world, who came from the previous one, beat Dimitrov in four sets, who played the last two with a back injury.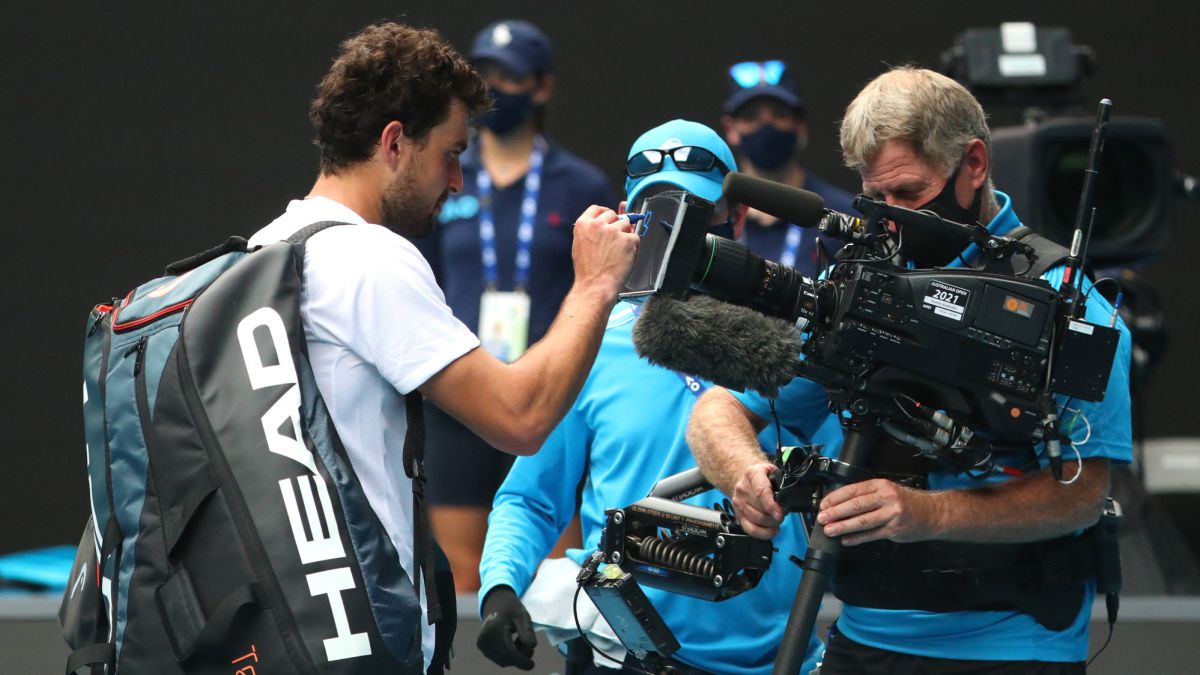 With a bit of luck this time around, although the enormous merits that have brought him so far cannot be discounted, Alsan Karatsev qualified for the semifinals of the Australian Open after beating Grigor Dimitrov, who played the last two, in four sets clearly impaired by an injury in the dorsal area of the back: 2-6, 6-4, 6-1 and 6-2 in 2h: 32.
The 27-year-old 114th Russian in the world is the first player to reach the penultimate round of a Grand Slam as a rookie in the entire Open Era (since 1968). He is also the fifth player to go this far since the previous one after John McEnroe, Bob Giltinan, Filip Dewulf and Vladimir Voltchkov (see table), the second to do so in Melbourne, after Giltinan in 1977. It has been 20 years since he has done so well. in a big event a tennis player with such low ranking, from the Serbian Goran Ivanisevic at Wimbledon 2001, who at that time was 142nd. Only eight Russians had qualified for the penultimate match of a Slam: Safin (7), Kalefnikov (6), Davydenko (4), Medvedev and Metreveli (3), Youzhny (2) and Chesnokov and Volkov (1). Andrey Rublev could join that list here, if he beats compatriot Medvedev in the quarterfinals. Either way, it is already certain that there will be two players from this country in the semifinals of 2021.
These are some of the figures that illustrate the feat of Karatsev, who against Dimitrov had the audacity not to leave the game after a first set in which he showed the defects for which he had probably not stood out until now on the circuit: many unforced errors (19 in that quarter for a total of 44), 45% of first serves inside and problems to hit with precision from the right if forced. In the second set, Dimitrov had break options in Karatsev's first three serves and did not take advantage of any until the third, when his rival had already broken him. With 4-4 on the scoreboard, the Bulgarian was disastrous, with two double faults and errors that left the Russian on a flat plate. That was the turning point of the match, because Alsan released his nerves, minimized the mistakes and attacked. His reaction also coincided with Dimitrov's physical downturn, who tried unsuccessfully to solve his back problems, which he had already treated before, and had no choice but to deliver the victory to the great revelation of the championship.
Karatsev climbs 72 places in the ranking
"This is an incredible feeling, because it is the first time I have played a Grand Slam. It has been difficult for me to contain my nerves and the heat has been too much for me," said Karatsev, a shy and simple guy that he is no longer afraid of anyone. "I prefer not to think about the next opponent, I go game by game. I am really surprised by what I have done, although he has a lot of work behind him." Alsan, who has eliminated Mager (96th), Gerasimov (79th), Schwarztman (9th), Auger-Aliassime (19th) and Dimitrov (21st) in Melbourne Park, says that training with Medvedev and Rublev in the ATP Cup was good for him. "good" and also living in that tennis "atmosphere". With his triumph, he has risen 72 places in the ranking, to 42. His life has totally changed at an Australian Open that, whatever happens now, he will never forget.
Calendar and Results.
Photos from as.com