Jovic's problem is called André Silva
The Portuguese forward has been named the best player of the month in the entire Bundesliga. The Hütter system prevents the presence of two forwards.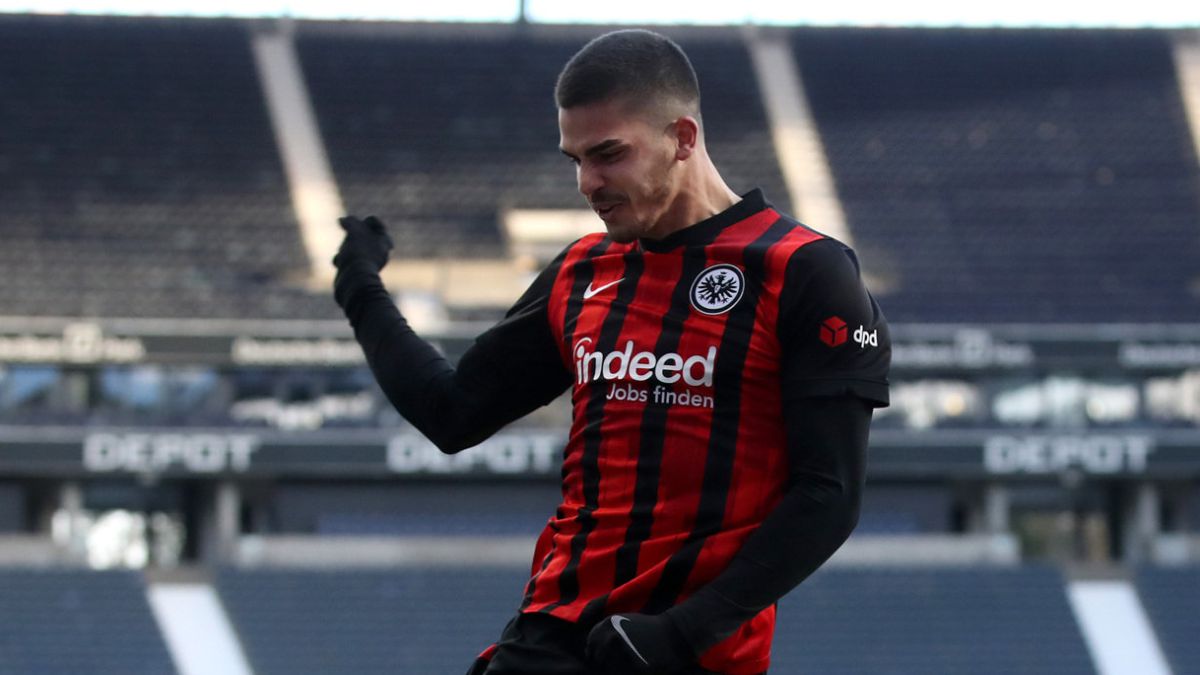 Luka Jovic has yet to start with Eintracht Frankfurt after his return. He arrived as one of the star signings of the winter market and with the aim of adding minutes to return to Real Madrid in June. However, he has encountered the substitution barrier and it is not precisely because of performance. He already scored a double in his first game despite only playing half an hour. In the third, he also saw goal. However, the opportunity does not come. And it is that your problem has a name and surname.
His name is André Silva. The Portuguese forward has been named the best player of the month for January in the entire Bundesliga. He is backed by seven goals in six games. At this level, it seems unthinkable that Hütter will seat him on the bench to bring Jovic in. In addition, the Eintracht flies. He is third in the standings, five points behind Leipzig, ten points behind Bayern and with an advantage of three over the Europa League area. He has five victories in the last six games and, what's more, all of them have been by more than one goal difference. Given the circumstances, a dark horizon looms. How can Jovic get to the starting eleven?
The most solid way is to move André Silva from the eleven. If he did not achieve it after his three goals in small moments, neither will he now that he has lost importance in the area and his impact has faded. Another alternative is to find a hole in the diagram. Hütter plays with a kind of 3-4-2-1, very mobile, but with two creative references behind the striker. It seems complicated that Jovic can enter that line of accompaniment of the forward, despite the fact that on occasions he has shown to play better with another '9'. Varying the system does not seem like a possibility. Eintracht's run is fantastic and the team is aiming for qualification for the Champions League. You know, what works ...
André Silva, world impact
Leaving aside Robert Lewandowski's galactic numbers, André Silva would lead the Bundesliga scorers' ranking, with 18 goals and two assists in the 21 games played. The striker, after passing through Milan without pain or glory, has taken a step forward. Eintracht paid only three million for it and now aspires to get more than 30 despite the economic crisis due to the pandemic. Of course, suitors will not be lacking. In recent weeks, rumors have exploded and Atlético de Madrid and Manchester United are closely following in their footsteps.
Moreover, after learning about the loss of Diego Costa, the Transfermarkt portal reported that Atlético knocked on his door to join him this winter. Despite already speaking with Luka Jovic, Eintracht's response was negative. Even the player echoed this news, for which he was flattered: "It is a pride that Atleti is looking at me, but now I only think of Eintracht. It is a sign that the work is paying off." The rojiblanca entity looks at him, since the '9' exceeds his best scoring streak and is only two goals away from the record of goals in a season that he achieved with Porto. In his day he signed 21. Today, he has 19.
Graphic via SofaScore.
Almost one goal per game is plenty of guarantee to earn undisputed status. Six times named 'Man of the Match', he is in perfect harmony with Kostic, a left dagger, and Younes. Also with Kamada, one of the revelations of the German championship. At the moment, no striker in the five major leagues has reached their figures in 2021. Eintracht is vertical on the sides and maintains the magic on the inside with those two playmaker figures. It is Hütter's idea, for which he dies. André Silva likes to leave the area to associate, generate, but also finish. That's why it fits perfectly into the idea of the technician. Jovic can also respond to that profile, but is it part of the coach's plans to turn his initial idea around, especially when it already borders on the honor roll?Hütter is aware of the problem
Of course, the name of Luka Jovic causes a stir among fans and the media, something that does not make his manager, Hütter too funny: "He is a world-class forward because he has extraordinary skills. I am not holding him back because I want to keep him. But we've already talked to him and we need to know exactly when the right time is coming. I won't let anyone tell me when to play. "
Days later, he made a comparison of his forwards: "As we are playing right now, the joy of one is the pain of the other. I see in each one's eyes how they feel. But I am responsible for the team continuing scoring and winning. Therefore, I can perfectly assume that Luka is not entirely happy because he would have liked to have more minutes on the pitch. " This weekend, against Bayern, it will be a new opportunity to claim the former Madrid player. Of course, the best player in the Bundesliga in January aims to make things very difficult for him. Time keeps running and Jovic still can't find his place. Because, remember, your problem has a name and surname.
Photos from as.com