JIM, optimistic with Cristian: "He is already training normally and his evolution has been very good"
The coach hopes to have the goalkeeper on Monday against Alcorcón: "It is a very compact team and we must give the game a lot of speed to create spaces."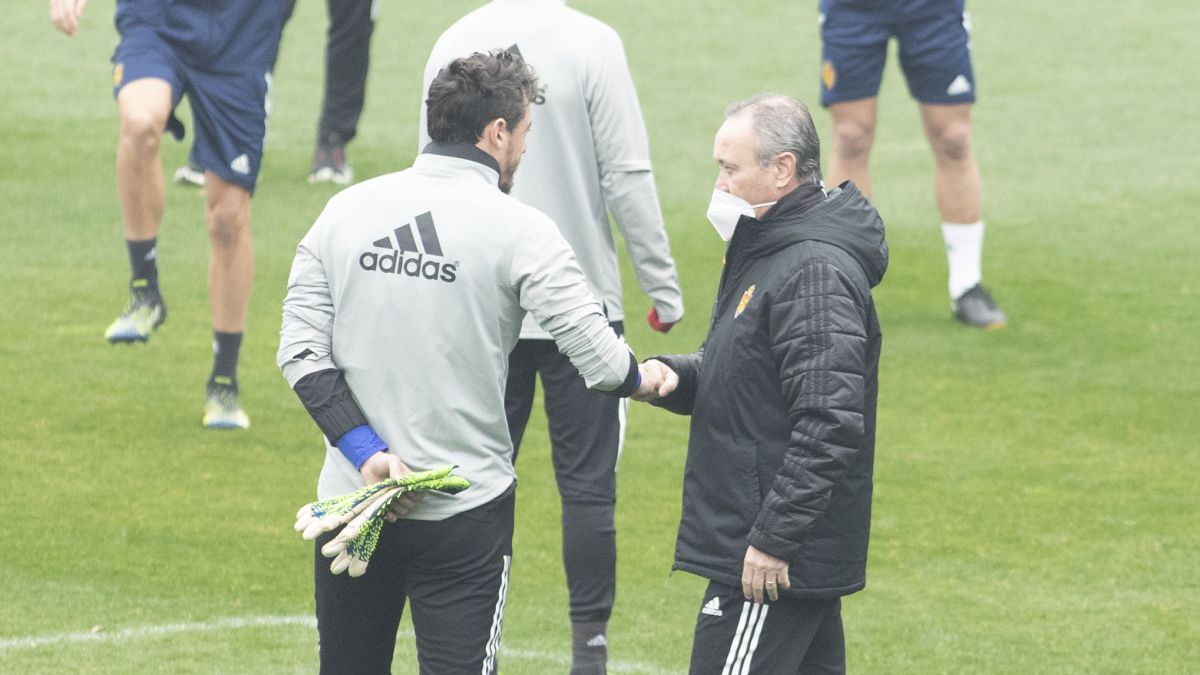 Juan Ignacio Martínez hopes to recover Cristian Álvarez for this Monday's match against a direct rival like Alcorcón, a match that qualifies as final: "Right now the three points in each match day are vital because it has already been seen how condensed it is the bottom of the rankings ". The coach has also pointed out that Sanabria has exercised on the sidelines as a precaution as a result of some discomfort in the calf and explains that he wants to recover the best James: "He has a prodigious left foot, he is a different player from many teammates and he can give us a lot of play in the center of the field. "
— How is the team after such a long week between one game and another?
— The truth is that it is a bit unusual. It is positive by having more training days, but what the player wants is to compete and gets tired of so many training days. We face another three-point final for the two teams, as it is also a great final for Alcorcón.
— Are you going to repeat the line-up for the third consecutive game?
— They are always possibilities. I always say that what is working must be modified as little as possible. The performance of the players is being good, but we still have the last training session, we are having very good feelings and we will wait. What we do need is that the eleven who play at the start face the game with the maximum guarantees.
— Is Cristian Álvarez able to reappear?
— He is already training normally. His evolution has been very good this week and if tomorrow he meets all expectations, he can enter the call to play.
— Sanabria has withdrawn from training this morning. What's the matter?
— He has a discomfort, he is the twin and as a precaution yesterday he did one part less and today we have removed him immediately so that he does not do the hardest part of the training.
— How is Narváez doing after missing the penalty the other day? Is he going to keep throwing them?
— These are circumstances that occur. They should always be a goal, but nowadays they are studied a lot with videos. This morning, for example, he shot three and put them in. In principle, if you are confident, you can throw them perfectly.
— Before these two outings he said they needed to win away from home to play more calmly at La Romareda. What does Zaragoza expect in that sense?
— Those four dots that we have brought us are very good, but nothing for relaxation. It is true that we have a good dynamic in La Romareda that I hope does not break. Maximum respect for the rival. We recently played against them, we played a good game and yet we were eliminated. An hour and a half gives for many things, they have made several incorporations in the winter market that they are playing and are coming off a victory against Logroñés. You have to take maximum precautions in all aspects, but be once again the Real Zaragoza that we all want. We want to win because it cannot be otherwise. Right now the three points in each day are vital because it has already been seen how condensed the lower part of the classification is.
— How can knowing all the results of direct rivals affect the player?
— When you watch the games, you always think that one result or another benefits you, but in the end we depend on Real Zaragoza. What we have to do is win games because we have a high point and we are in debt with many points. It is true that we have taken small steps and that the fact of playing on Monday adds a little more pressure to you. Now what interests us is to be mentally very strong, to be aware of the commitment that the team is having and respect the rival, since Alcorcón, despite the classification, is a very compact team that leaves very few options in the offensive aspect of the rivals and also arrives in good dynamics after that last victory.
— What game is Real Zaragoza going to play?
— From the first day I said that we were going to look for the rivals at their goal. Alcorcón is a team that shows much more direct attack and second play and that in its retreats, as I said before, it is very compact and leaves very little space. He will give us the ball many times to steal from us and go against us. We must know how to play with all those parameters that are going to be given in the game and, above all, give the game a lot of speed to generate those spaces. I hope a rival grown with those three points and that is going to make things very difficult for us.
— James has started the last two games and has performed well. Do you expect him to regain the level he offered in his first season at Zaragoza? 444 444
— That's where we are. He has a prodigious left foot, he is a different player from many teammates and he can give us a lot of play in the center of the field. He had a very good season when he arrived in Zaragoza and of course we want to recover his essence. He has had a handicap with those injuries and now that he has recovered and has joined the team, giving us many things will be beneficial for the team and for their individual performance.
— What is Adrián lacking to be a starter?
— They are circumstances. He is an important player in both aspects, especially at the dressing room level. He is a leader who generates a lot of energy for us and a player who is capable of giving you the last pass and who has a lot of arrival at the rival area. He does many things on the field and is a footballer who of course can play at the start or in a substitution.
Photos from as.com