Januzaj reconnects with his past
The Belgian winger will face the 'Red Devils' for the first time in the Europa League and with the great opportunity to vindicate himself against the team that signed him at 16.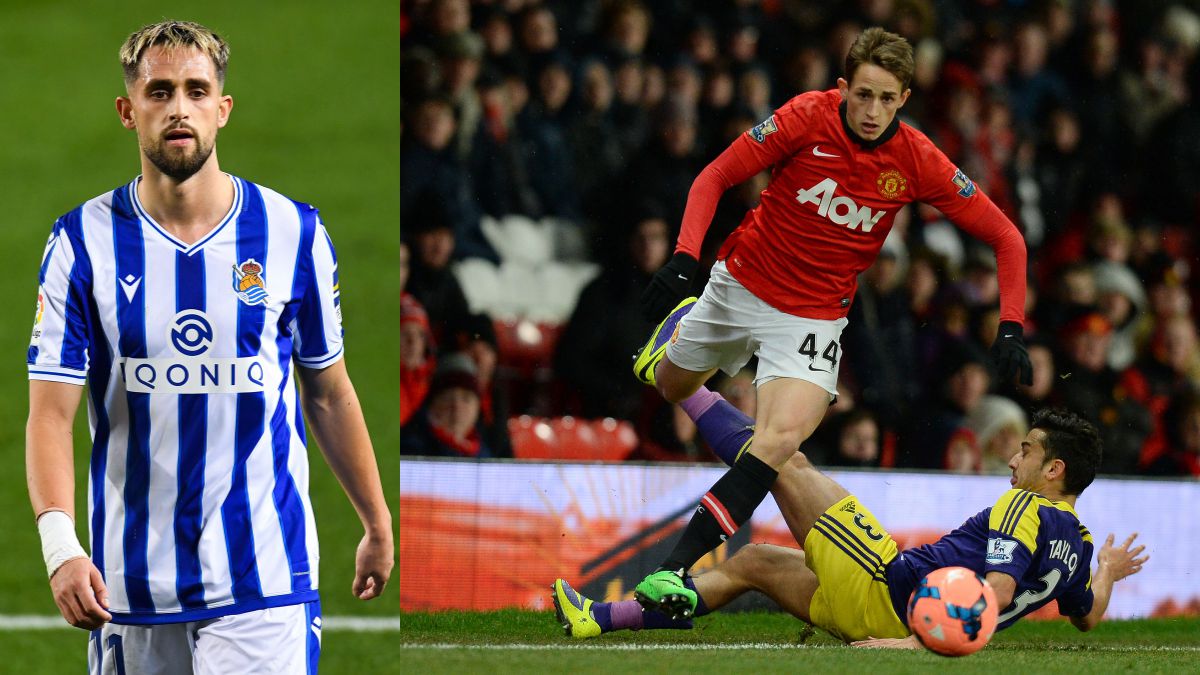 Real Sociedad and Manchester United will face off in one of the most desirable knock-outs of the 1/16 final of the UEFA Europa League. Imanol's team comes after two victories in LaLiga and wanting to get the most important victory at European level of their more than desirable project. The tie will be special for the realistic team, but there is one footballer in particular who has the appointment marked on the calendar: Adnan Januzaj.
The skilled Belgian player is not having an easy season at Real. An injury kept him away from the pitch for about a month and it cost him to become an important man in the San Sebastian team's scheme again. However, he faces the match against Manchester United in his best moment of the season: he has started the last two games (two victories) and participated giving an assist in the 4-1 game against Cádiz.
Adnan Januzaj landed at Real Sociedad in July 2017 from Manchester United for around € 11 million. It was precisely in the British group where he failed to stand out and meet very high expectations after surprising everyone with his performances as a youth. Questioned by ESPN about his time in England, the Belgian was clear: "I don't have to show anyone anything, I know my qualities. I don't have to show anyone how good I am, I just have to believe in myself. I'm very happy to go back there to see a lot of people again. But once I'm on the pitch, there won't be any friends because obviously I'm playing for another club now and I also want to win the game. "
A bittersweet journey through Manchester
From an Albanian-Kosovar family, Januzaj was born and raised in Brussels and at the age of ten he joined the Anderlecht youth academy. His innate talent and ability to overflow and create danger caught the attention of Manchester United scouts, who ended up signing him in 2011 when he was just 16 years old. The Belgian went straight to the U23 team of the 'Red Devils' in the 2012/2013 season, with only 17 years old, and stood out well above the rest. Sir Alex Ferguson introduced him to first-team dynamics, although his debut would come on August 11 under David Moyes. The Scottish coach gave him great prominence and played 35 games (more than 2,000 minutes) in the 2013/2014 season when he was only 18 years old.
Its growth was being very outstanding despite its irregular sections, but the arrival of Louis Van Gaal stopped its progression in its tracks. The Dutchman relegated him to the bench, brought him back to the U23 team and played less than 1,000 minutes in the Premier League for two years. Januzaj spoke on ESPN about his relationship with Van Gaal: "When Van Gaal arrived, he was playing a game of six. It was difficult and I thought 'what am I doing here?' The first season with Moyes he was having minutes of play to show me. At Manchester United the most disappointing thing was that he wasn't playing much. "
In the 2015/2016 season he went on loan to Borussia Dortmund, but his adventure in Germany was not good at all (12 games and 3 as a starter) and he returned to Manchester United in the winter market. In the summer of 2016 he went on loan again, this time to Sunderland, where he met again with Moyes. However, things did not go as expected by all parties. His coach gave him a wake-up call, ensuring that, despite his talent, he had to "improve a lot" to play for Sunderland and United. His period at Tyne and Wear ended with 28 games played and a single goal. The next thing he did was sign for the Royal Society.
Adnan Januzaj closed his time in Manchester with 63 games in which he scored five goals and provided six assists. At 26, he is in one of the best moments of his career. His maturity and the continuity he is having at Real Sociedad have made him grow and find his place in football. It will be precisely against his former team that he will want to make the difference again. Europe awaits 'Janu'.
Photos from as.com