Jaime returns to the Selection for the Polish bubble
The Unicaja guard was key in qualifying for the 2019 World Cup. Joel Parra (Joventut), new on the list. Rest for the 'veterans' Beirán and Rabaseda.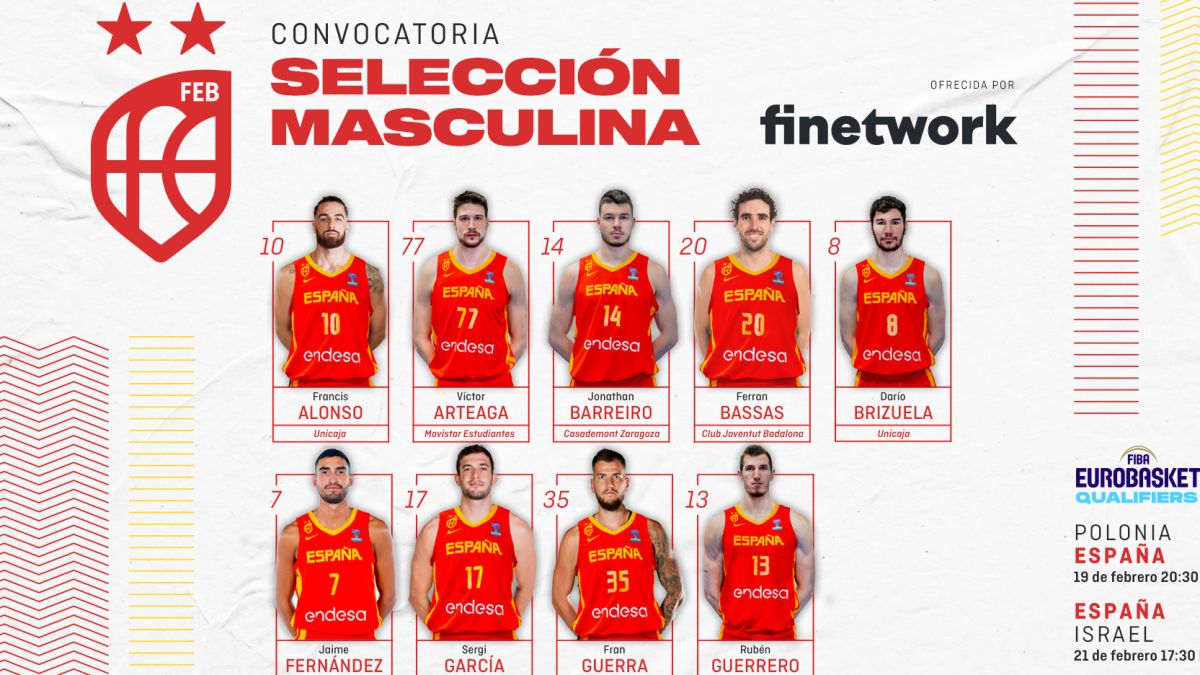 Jaime Fernández (4-6-1993) is the best news on Sergio Scariolo's National Team list with a view to the last two qualifying matches for the 20222 Eurobasket that Spain will play in the Gliwice bubble (Poland) on 19 and February 21. Despite being already classified, Scariolo has thrown some classics and, among them, Jaime Fernández, who had been several calls off due to a long time off due to his operation on the tendons. Jaime was one of the leaders of the Windows National Team that qualified for the World Cup in China and was left out in the last cut towards the gold of Wukesong. Much loved in FEB and by Sergio Scariolo, his return is the happy news of a list in which Joel Parra, forward of Joventut, is the newest face. There is also Miquel Salvó (Burgos), who was on the previous pre-list but did not debut. Veterans rest. Colom, because he is already playing with a Euroleague team (Red Star) after his strange situation in Valencia. Beirán and Rabaseda rest. Sergi García also returns.
The complete list is made up of: Ferran Bassas (Joventut), Sergi García (Morabanc), Jaime Fernández (Unicaja), Darío Brizuela (Unicaja), López Arostegui (Joventut), Francis Alonso (Unicaja), Joel Parra (Joventut), Oriol Paulí (Morabanc), Jonathan Barreiro (Casademont), Víctor Arteaga (Students), Rubén Guerrero (Unicaja), Miquel Salvó (Burgos) and Fran Guerra (Tenerife). Scariolo has chosen 13 players whose average age, it seems almost calculated, is 25 years. Very young Selection, then, the one that travels to Poland.
Spain attends this Gliwice window-bubble already classified for the Eurobasket of 2022, but with the challenge of improving its classification and reaching, at least, second place. They have lost two games, one against Poland in Zaragoza; and another against Israel already in bubble mode, in Valencia. They have only beaten weak Romania in Cluj and Valencia and will play second place in group A against Poland on Friday 19 (20:30). The National Team will close the qualifying phase on Sunday 21 at 17:30 against Israel, virtual group champion.
Photos from as.com