Imanol: "The goal at Old Trafford is to win and wash the image"
In the run-up to the second leg against United, the Real coach sincerely assures that "with the heart there is no possibility of passing, it is almost impossible."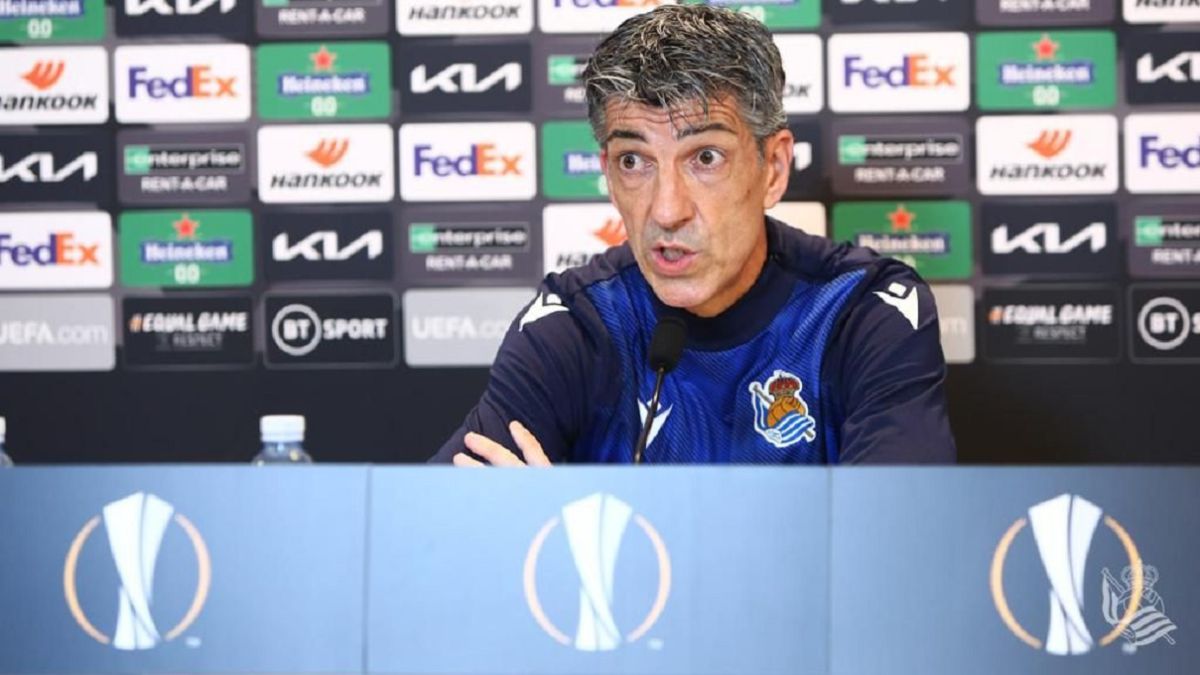 Imanol Alguacil, Real Sociedad coach, appeared this morning in the run-up to the second leg of the Europa League round of 32 at Old Trafford against Manchester United, after a clear 0-4 in the first leg.
-Doubts about how to face the second leg. "I have doubts. Because the truth is that we know what mistakes we made the other day and if we correct them, we can be close. But the truth is that the power shown in Turin was spectacular. Anyway, we will have to see it. we were right in the approach and in the players we took out in the starting eleven ".
-Target in Manchester. "To win. I want victory. And to show that, although at times we were far from them, it is clear. But we are not that far away, and to show that we are closer to them. And of course to win the game" .
-He does not expect relaxation from Manchester. "It's Manchester, just like Real for me all the games are important, for them have no doubts that all the games in the history they have are vital. I have no doubt how Manchester will come out, which is to win, and if they can to be again by a landslide, to repeat it again. We want to show that, although it was seen that it is above us, Manchester is not as much above Real as it was seen in Turin, that is our goal ".
-Possibilities pass. "(Sighs). I would tell you that there is not, because of the potential that is in front of us, I don't know if there will be any team that has come back from a tie, which is the best Manchester in the last ten years and because of the level of difference that there is with us But it is true that in Turin from minute 15 to I felt that we could draw. After 0-2 I already saw that the team fell apart and they passed us over. But in those minutes I did feel that the team was transmitting me. But the small details of having a clear offensive option with Isak and not scoring it becomes their second goal. With the heart seeing the level of Manchester today is almost impossible, what I do trust is that this team is capable to compete at Old Trafford, win the game and wash the image so that it will serve us well for the future ".
-A small possibility. "You have to keep your feet on the ground and know which teams we are up against. You already saw the potential it has on a physical level, and technically they are the best. Our goal is going to be to win the game and be competitive, scoring that first goal That could make them doubt. And even so it will be very difficult for them to doubt, but the objective is to be competitive and show ourselves that we are not that far, not as far as they showed in Turin. "
-Large differences. "Technically they are just as good as us, but physically they are much more powerful, and today we cannot compare ourselves at the level of players with Manchester. For us it was not a step, it was a huge leap. You looked at our bench and we had Some players hadn't even played in Second B. We must be aware that we cannot compare ourselves with Manchester. Then it can be said that if we were brave or daring. We tried not to lose our identity, and that led us to lose 0- 4, although I think it was excessive. Now we enter into the debate of whether to change or give continuity to try to improve and be closer to how they play. Based on how the players are, we will see if we do one thing and another, but knowing the potential they have ".
-Manchester also motivated. "From them I expect the best version, because it is a historical one and I have no doubts, that they will go out to win the game, and if he can score another win, I have it very clear. His coach told me that he is the best Manchester by far, I am clear about how they are going to come out, which is the same as we would do if we were in their situation ".
-It is clear that he does not intend to pass. "What has crossed my mind is that the post-match was the longest because it was the longest and most profound analysis because it was the moment, I think we did a lot of things well, but for very few minutes, and I think that we did a lot of things wrong. I have made the players see that, after the Alava, and the only thing I have thought is to wash the image and be competitive, which will be very complicated. near the jump that I speak to you before the first leg ".
-Changes because the tie is almost impossible. "You win they all have, that you have no doubts. That is not lacking in the team. And a lot of character. And when you lose it is because I have not been successful as a coach, that is very clear to us. Attitude is never lacking. When you lose it is because of me guilt, and I criticize myself. It's a lot of minutes, and for some Manchester and Alavés it has been a great wear and tear ".
-Holder for the previous one. "They washed the image. That would be my headline in the preview of the Real match in Manchester" .
-Goalkeeper. "If I remove Alex, I kill him. Because I don't forgive him even after playing a game. I like that the next day he is training. If there is something wrong with not training with the players who are not playing. The first thing is results and objectives, but then the growth and development of players who will be the future of Real. And so many games do not allow me to train with them as I would like ".
Shades that I would put. "It would affect the same idea without knowing the result, but it would make the players see where the risks were. After seeing it it is easier. But without knowing the result it would affect the same idea, because that is what has led us to being with the big boys and competing in this type of playoff. Because by doing things better we could have avoided so many chances that they did to us, and we would have been closer to competing against them than not winning, which is a very difficult opponent. "

Photos from as.com