Imanol: "We are going to Turin as if there were no other game"
The Real Sociedad coach does not want to make any "excuse" for having to play the first leg away from Anoeta, "maximum respect" for Manchester, but he is convinced that he can qualify.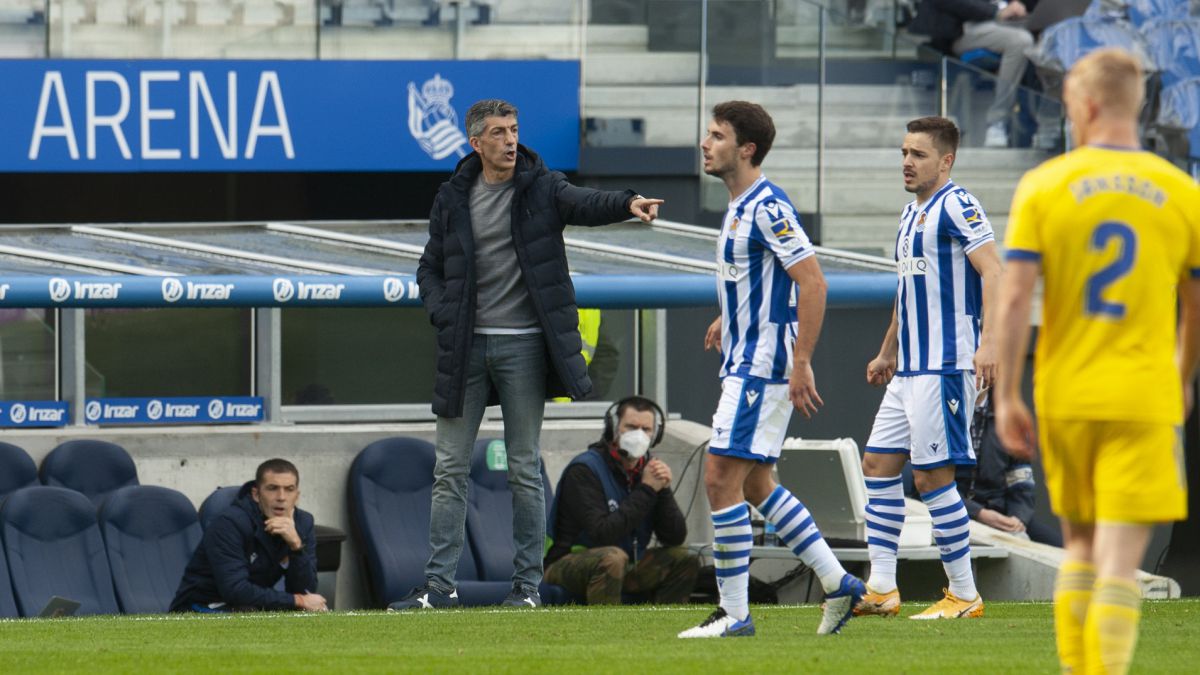 Before the last session prior to the trip to Turin, Imanol Alguacil, Real Sociedad coach, appeared in Zubieta to analyze the first leg of the Europa League round of 32 against Manchester United.
-Reasons to be optimistic. "With Manchester in front of us we may be delusional thinking that we can pass. But what the real process is illusion, and that the team has earned by overcoming the group of death by playing great games. And although I think Manchester is not a one step further, it is a leap, we are convinced that we are going to go all out. But we must be aware of the potential that lies ahead, a great team with terrible potential. It is a great tie in which the Real team, we hope they are still alive after the first game ".
-Take the turn at Old Trafford. "At first it should not change our idea, then the game will tell us if we have to be more or less prudent. But at first we are clear about what the team is going to do. I am not worried about the field, we will visit it and There are no excuses, it is funny to play at home in Turin, but there are no excuses. I don't like people who make excuses in other foci other than the game. And I have it super clear, from the day they told us you played in Turin, we are very focused. And we are going to go as if there were no other game, as if it were a final. "
-Favoritism. "I respect Manchester United a lot. Maximo. Because of their history and the squad they have. But the answer is clear to me, you know me, I don't need to answer it" .
-Without many lights. "There is no doubt that there is a different player who is Bruno Fernández. But we cannot stay with a single name, having Rashford, Cavani ... they are all of such great potential and quality ... just putting the focus on Bruno, there is no way to stop Manchester if he has his day. What concerns me most is my team c and as long as we have done what we are capable of doing, we always compete and we are capable of winning. "
-Keys against Manchester. "Our idea is clear. But then the rival makes you carry that idea forward or not. We want to go for the game, we will see how it happens. But we are two brave and determined teams, who like to have the ball and who press up. That's why I think it's going to be a great game, because of the quality of both teams. Let's see if it falls on our side. "
-Playing against Manchester with the Royal arms. "It is what I would like, let's see if we are capable, they can handle several registers, like us. They have a lot of quality and enormous physical potential, and people with a lot of speed. But I understand that we have it too. I would like to to face if b teams or with our weapons, would be the best sign. "
-What they take from Anoeta to Turin. "We take the illusion, the desire and the ambition. Since I took over the team, I have dreamed of lifting a title. When you accept this challenge, you only want to return that confidence with something great. And that is a title. Let's see if I am capable. "
-Negative precedents for United against Spanish teams. "What happens is that it was another Manchester when it was eliminated by those Spanish teams. This year's has nothing to do with it. It is much more prepared and more competitive. We are all very focused that we are facing a rival with a lot of potential. And that's how we dealt with it ".
-Playing on neutral ground only one of the two games. "It may be that there is a small advantage, but that's it. I don't want to look for excuses and I do face it as another challenge. Common sense would tell us that the normal thing is that everything is played on neutral ground, it is not like that and nothing happens. To face it with the same enthusiasm, knowing that it is one more challenge ".
-Elimination decided. "I think it's going to be about goals. And let's hope it stays alive for us in Turin, it would be a good sign, but it will be with some advantage for us, of course.
-Silva and Monreal. "Their participation is vital on a day-to-day basis, because it helps us so that the youth of the subsidiary continue to grow. More than in this type of game, they are key in our daily work. That is why I am so happy to have them."
-Message to the fans. "The most painful thing about having to play in Turin is not having our fans, not being able to enjoy this moment with our fans. That really annoys me and makes me sad. I hope we can give them a nice tie and that they are proud of us, because we are going to go with everything to get through this tie ".
Photos from as.com