Ibaka, Kawhi and a perfect reunion in Los Angeles
The Spanish-Congolese fits into the Clippers and his connection with the franchise player translates into one of the most dominant in the competition.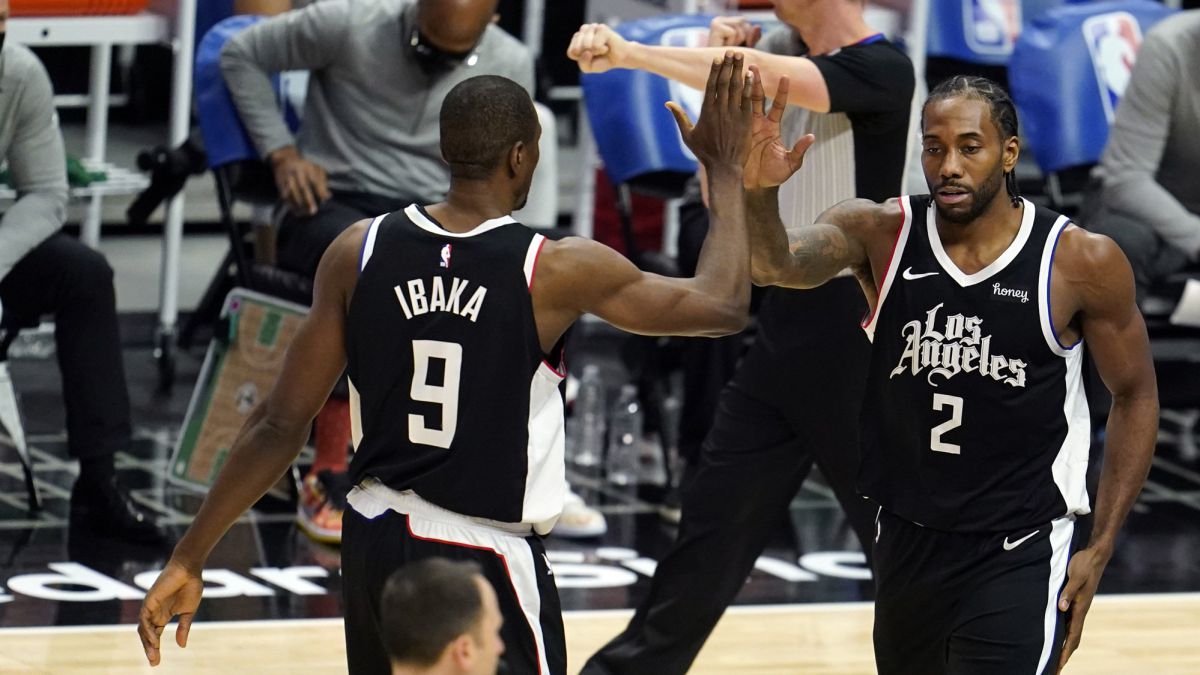 Serge Ibaka reluctantly left Toronto. "The last three and a half years have been fantastic. I felt very loved there. I am a person who finds it difficult to move when he feels good in a place," he confessed in his first appearance as a Clippers player. He was leaving behind the glory, the historic ring of 2019 and the best numbers of his career (15.4 points per game and 8.2 rebounds), to embark on the always dangerous journey of free agency. Even for him, who started out as one of the most sought-after players on the market. In the end, 19 million euros led him to unpack in Los Angeles, at least, during this season. For the next time, you will have a player option that will lead you to reach that figure. Many ventured and, as soon as the movement was confirmed, they described it as theft: a contract below the benefits that the player could offer. Little by little, time is proving them right.
The Clippers are third in the West, with 70.8% of victories, after falling before a full nursing Celtics, worse with their main leader very healthy: Jayson Tatum, after an inactivity of five games, has another five averaging 26 , 6 points, 7.6 rebounds, 4.6 assists and a remarkable nine in the plus minus. Superstar, in all its meanings. A blur that adds to that of Brooklyn (120-24), but should not be confused: the Los Angeles franchise has signed a January to frame, in which it only reaped four losses and twelve victories, with a seven-game streak without doubling the knee. Improvement and great contrast with the start of the season, where he concentrated, in the first six games, 57% of his total defeats.
Serge Ibaka personifies evolution. In his first two games with the new jersey, he was only able to add 14 points and 7 rebounds; now, it averages 12.1 and 6.7, respectively. Also, with a plus minus plus - excuse the mess - than positive (6.6) and with eleven double-digit operations in the result (including one +24, one +20 or two +18). He came to Los Angeles with the difficult task of removing Ivan Zubac from the starting position, and he has done it bluntly: the Croatian center had only started three games as a substitute in the last two seasons and now there are already 26. Ibaka has started in the 23 games he has played, accumulating an average of 24.7 minutes. Kawhi Leonard has benefited, especially, who is registering his third best scoring mark (26.3) and the first in terms of assists (5.3). The franchise player, who seems to have put all the rumors about his privileges and hostilities in the storage room, is more of a leader than last season: with Tyronn Lue there is no load management and, without a proven game director, he assumes part of that responsibility .
A powerful friendship
Distressed as he arrived in Los Angeles, nothing could be more useful to Ibaka than some link to his most recent past. "Having Kawhi here has influenced, we are good friends," he confessed as soon as he landed. "Brother, are you coming or not?" Leonard had written to him a couple of days before. In Toronto they wove a strong bond off the court ... but also on the inside; now the Clippers profit from it.
Without Ibaka short, Kawhi's field goal shooting percentage drops 10%. Serge has become the franchise player's most reliable partner; at least, in specific plays, like the pick and roll. Montrezl Harrell, more than endorsed by his Best Sixth Man last season, is a high-carat complement, but less malleable in this type of context. According to data provided by journalist Michael Pina, from Sports Illustrated, last season, Kawhi Leonard generated 0.97 points per possession and finished 32.8% of his plays, the highest of his career, through pick balls. and roll; This course, the frequency of his plays that end through the aforementioned mechanism is reduced by 22.7%, but his production increases by a considerable 1.27 points per possession. More efficiency. That is what Serge's presence with Leonard translates into.
In the pick and pop, more of the same. If Kawhi decides to go for such an alternative, he finds an Ibaka who is at his best from long range: a terrifying (for rivals) 40%. More alternatives, that also translates into. Shifts to slower markers or opening to open handles after the roll. Unlimited possibilities.
In the most individual section, Ibaka leads the team in rebounds (6.7) and blocks (1.3), and is the third player with the most defensive responsibility in victories (with 0.7 defensive win shares, only behind the Kawhi himself and Paul George). To this, historical records are added: against Cleveland, he became one of the 20 players in NBA history with at least 1,700 blocked shots and 10,000 points and, against the Golden State Warriors, he joined Dwight Howard as the only two active NBA players with at least 6,000 rebounds and 1,500 blocks. One more year, making a difference in a contender for the ring. One more year, working in the shade. Now, in that of some Clippers who, being almost as favorites as last year, make much less noise. Silently perfect.
Photos from as.com