Djokovic defends the title won the last two years in Australia against a Medvedev who has 20 wins and is looking for the first in his second final.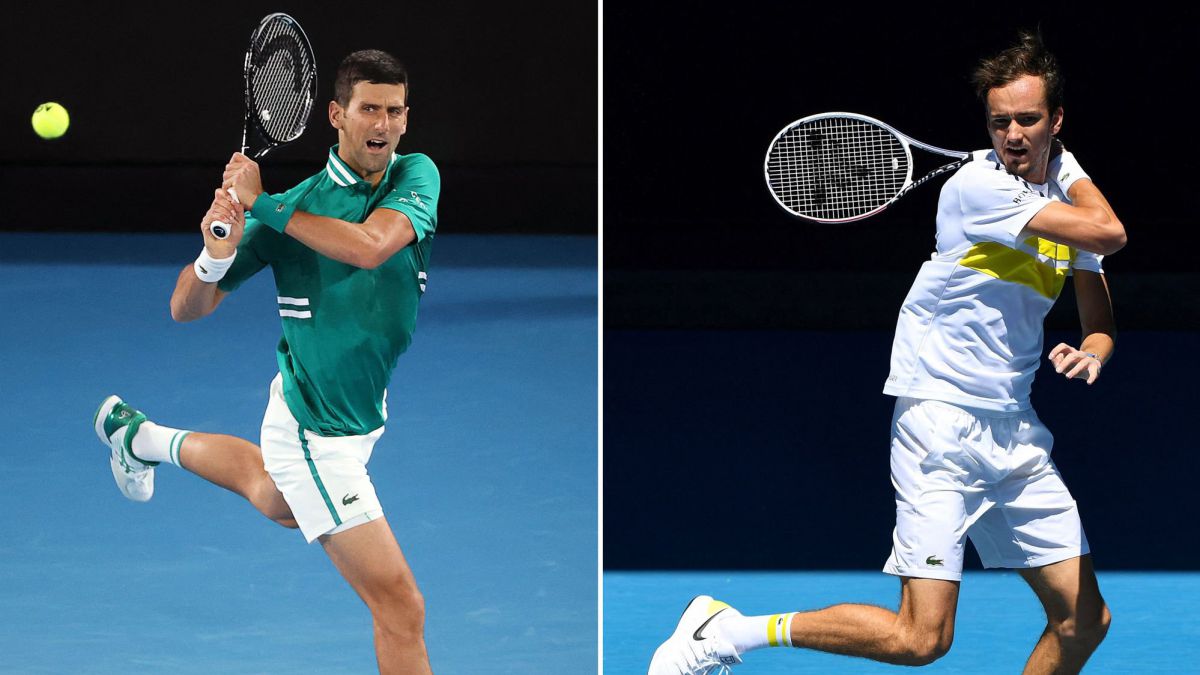 "I'm not a gambling website, I don't know what to say. Medvedev could win, it would be good for him and for tennis, "said Stefanos Tsitsipas after losing in the semifinals on Friday against the Russian who will face Novak Djokovic today (09:30) in the Australian Open final. Those words did not make the Serbian amused, that an interview with former tennis player Mats Wilander for Eurosport, launched a warning to young people who, like the Greek, Alexander Zverev and Medvedev himself, intend to overthrow the Big Three, the legendary group that shares with Roger Federer and Rafa Nadal: "There has been a lot of talk about the new generations that are coming and that they are going to get rid of the three of us, but in reality that is not happening yet, although we can talk about it all day. With my respect to all those guys, they still have a lot of work to do. I'm not going to stay here and give myself up. I'm going to get their ass shaking. "
Nole will try to defend the honor of the old guard at 33 years old and at the same time cut the advantage that his teammates and rivals have over him in terms of Grand Slam titles, who accumulate 20 compared to his 17. A success would make him the second on the list of players who have won the same major the most times. He would add nine in Australia, behind Nadal's 13 at Roland Garros and above Federer's eight at Wimbledon. Medvedev aims to debut his record at 25 in his second major final, after the battle in the fall against Nadal at the US Open 2019. At the Rod Laver Arena, some 7,400 spectators will witness a duel between history and future. Djokovic arrives after living in the tournament "a roller coaster", as he describes a journey in which he has had to overcome complicated games and marked by an abdominal injury that was about to cause his retirement in the third round match against Taylor Fritz . Medvedev's path was more stable. He only got tangled up by losing two sets to Filip Krajinovic in a clash he had dominated. Otherwise, he passed over his rivals, including Tsitsipas, and has been four hours and 25 minutes less on track than the Balkan.
"He is the rival to beat," said this about him. "He's playing extremely high quality and on a 20-game winning streak," he argued. The one from Belgrade did not allude to a fact that is undoubtedly the one that plays more against their interests. The good old Daniil, a cold guy like his native Moscow, although he has long lived in warm Monte Carlo, has 11 consecutive victories against top-10 players, including Nadal and Djokovic himself, whom he has already beaten three times. Not for that, he has lost respect for him: "When Novak says that he is not going to give anything to anyone, I believe him. I like him, I appreciate him as a tennis player and as a person. So I don't take his words as negative and I don't need them to motivate me, because the possibility of winning a Grand Slam against him is motivation enough. To do this you need to show your best tennis and be in your best physical and mental shape for maybe four or five hours. "
Number two
The other incentive for the Muscovite is to be for the first time number two in the ranking ahead of Nadal, which he would achieve if he lifts the cup in Melbourne Park. One is assured by Djokovic until April, with the record of 311 weeks virtually achieved (it will be official on March 8). He has never lost a final in the first major of the course (8-0) and accumulates 28 among all the greats, like Rafa. A great show is coming, a duel between those who, perhaps, are the best executors of the backhand hit today. Both great receivers and magnificent servers, with outstanding defensive ability and great mental strength. Who gives more?
Calendar and Results.
Photos from as.com