History of a curious rejection: Butler and his possible no to the All-Star
According to journalist Ethan J. Skolnick, the forward refused to replace Durant in the All-Star game. The reason, the absence of Bam Adebayo.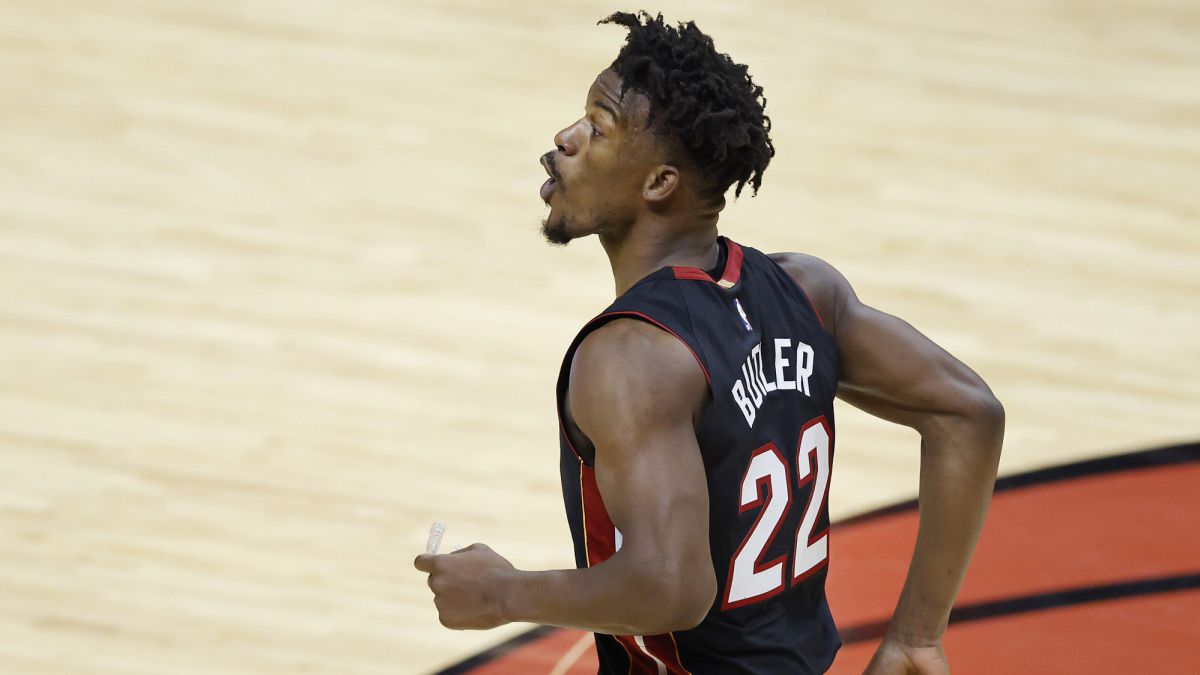 Miami Heat smiles again. The team led by Erik Spoelstra came to this season with many arguments: a young squad but with a present, one of the strongest cultures in the competition and, above all, a runner-up under his arm. Only a few almighty Lakers could stop them in Orlando: Indiana Pacers (4-0), Milwaukee Bucks (4-1) and Boston Celtics (4-2) succumbed to a team that, by game and squad, presented its candidacy to be in the arena of aspirants for a long time. And so they came to this course: with the aim of showing that what happened at Disneyland was not a fairy tale. Giant killers, in this case. With the goal of showing that his story was real and with many pages ahead.
Ink spilled out abruptly. The casualties, some due to injuries and others due to health protocols related to the pandemic, were primed with the South Beach team. During the first eight games, they interspersed losses with victories in a precise way, without altering, at any time, the series. An improper irregularity of an aspiring champion; although not so rare in the current season. From there, many more defeats than victories: in January, ten falls and five wins. Of the fifteen meetings, in a dozen (only two victories) Jimmy Butler, his franchise player, was absent. With him, the tables turned. He started a continuous ascent that, to this day, materializes in a streak of five consecutive victories. The last, very prestigious and with a lot of Butler. Against the Utah Jazz, the fittest team in the competition and the undisputed leader in the overall ranking (26-7), the forward finished with 33 points, 10 rebounds and 8 assists. Since his return, Miami is on a 10-5 record (he has reversed it, wow) and, after a lot of rowing, in fifth position in the East. Where it was expected.
Butler, despite his prolonged absence, is in exceptional shape. He is at his highest rebounding and assists career (7.8 in both cases) and, far from being a coincidence, he intends to be, even more, a player who multiplies the possibilities of his team. "I love that my teammates have opportunities to score, I love when they can. They ask me to try to impact the game in many ways. I think I'm a decent player so I can rebound, pass the ball and even score. a little, "he declared after showing off in front of the Jazz. A few words from which, false modesty aside, a great camaraderie emerges. A desire for camaraderie that, according to American journalist Ethan J. Skolnick (5 Reasons Sports), specialized in the Heat, goes far beyond the courts: "For those who wonder why Jimmy was not named to the All Star team when (Kevin) Durant came out and (Domantas) Sabonis came in, I can tell you that the NBA wanted to name him (Butler), but he wasn't going to go unless it was Bam (Adebayo), "he reveals on the Five on the Floor podcast.
In 2018, All Star with 0 minutes on the track
A surprising fact on which Butler has not commented; but that, in any case, agrees with recent statements by the player himself and antecedents from other editions. "I'm not the one who should talk about who should go to the All Star. I wish Bam had made it. As for me, I'm great," he said after meeting the alternates of the All-Star game, without the replacement of Durant in sight. Despite the great records since his return, Jimmy's name has not been one of those that has resonated the most among the absences for the All Star Game. Sabonis himself, who finally replaced the injured Durant, Devin Booker, who also ended up entering for Antony Davis, Mike Conley, Jeremi Grant, Trae Young or DeMar DeRozan were ahead of him. For this reason, Skolnick's assertion is certainly still unexpected. In any case, and if there is no other physical accident that will shake the tree again, it is clear that the Miami forward will not add his sixth All Star this year. In the fourth (2018), despite having attended the appointment , did not add a single minute on the track. "I was tired. This season with the Timberwolves is very, very important to me. I have to make sure I'm ready when I get back," he claimed at the time. A peculiar relationship.
Photos from as.com