Higgins, godson of Jordan and MVP: "We had a champion mentality"
The guard, who achieved his first title with Barça, has signed a spectacular Cup: 19 points in the three games. He arrived in Barcelona in 2019 with Mirotic and Davies.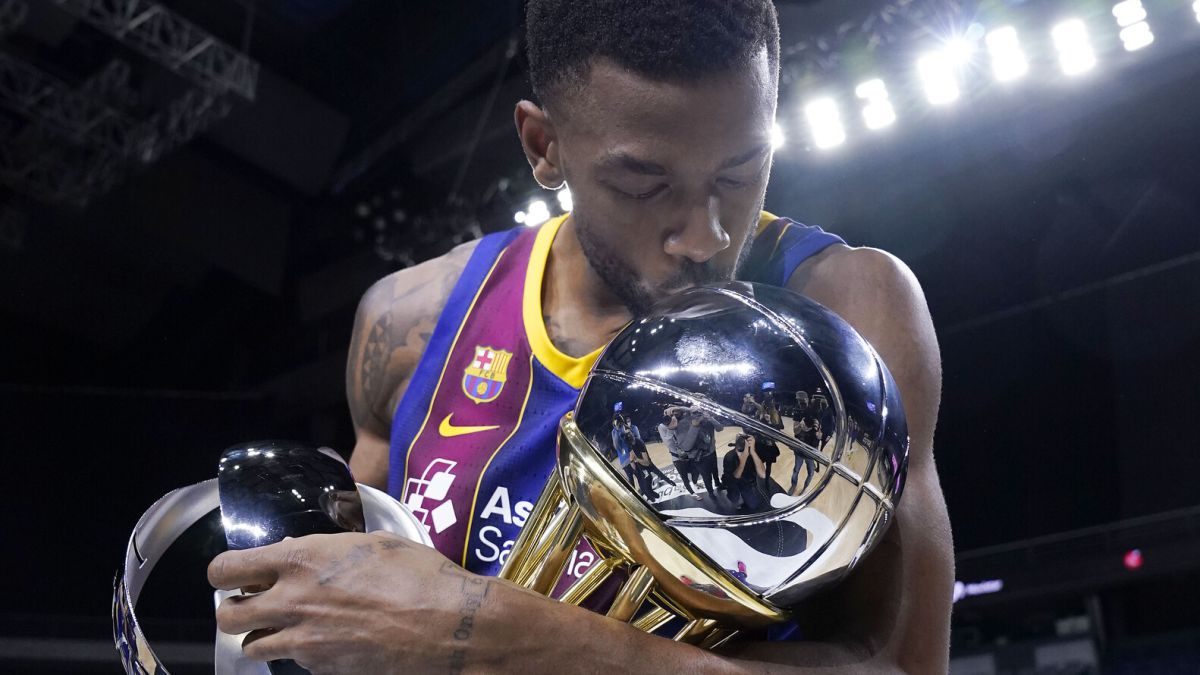 Cory Higgins has signed a spectacular Cup: 19 points, 2.7 rebounds, 1.3 assists and a PIR of 17.7. Deserved MVP. The guard arrived at Barça in the summer of 2019 (along with Nikola Mirotic, Brandon Davies and Malcolm Delaney) after winning the Euroleague with CSKA in the Final in Vitoria. At that time, for many he was the best American in all of Europe and in this Cup he has been one of the architects of the Barça title, the first for him with the Barça team. "We knew that to win the mentality was going to be very important. We wanted to play like this throughout the Cup and it has been shown in the last two games. We had a champion mentality and I am very proud of the team," he said at the press conference.
Higgins revealed that they only had one thing clear before the final against Madrid ("We should be better than in the previous game") and that the MVP "is not important" for him. "It doesn't mean much to me. The award should go to my teammates, to my coach and to the rest of the coaching staff."The Californian, who arrived in the summer of 2019, feels like home. "From the first day this has been a family. That is very important, because to win you have to be united. This year everything has been a process, but this has only just begun and now our goal is to continue on the right path ".
Higgins is used to rubbing shoulders with the greatest. He is the son of former player Rod Higgins, who was at Olympiacos in 1993 and had a career in the NBA before and after (812 games) of his time in Greece. There he played in seven franchises, including the Warriors. Precisely, in California, in 1989, his son Cory was born. But he was also in Chicago, where he met (and met) the greatest. Michael Jordan was three years younger than him and in his rookie year, Rod took him home. The two forged a great friendship. Hence, Jordan is Cory Higgins' godfather. "The greatest impact that Michael has had on me is that I am calmer, more discreet and more selective with my relationships," acknowledged the guard in his presentation with Barça.
When Rod retired he became Don Nelson's assistant on the Warriors. Later, in the same franchise, he would move into the offices as general manager in 2004. Three years after that, Jordan convinced him to join him in Charlotte Bobcats (now Hornets). There he spent seven courses as manager and president of operations. His friend Jordan was the owner and he was one of the people in charge of the squad.
The two decided that Cory Higgins would leave Charlotte after 44 meetings in two years. It was the end of 2012. Rod had initially been accused of mediating for his son, but reality proved that he was not. Because Higgins has made a career in Europe. And what a career. First he went to Russia (Zenit), then to Turkey and returned to Russia (CSKA) before landing at Barça. For now, he has raised two Euroleague with CSKA (2016 and 2019) and four VTB Leagues, the four years he was in the Russian team (between 2016 and 2019). This Sunday it debuted in Spain with its first Copa del Rey.
Photos from as.com