Hidalgo: "We have to give great value to what we are doing"
The Sabadell coach is happy with the squad he has to face the second leg of the League. On Sunday they visit Las Palmas: "The demand will be maximum."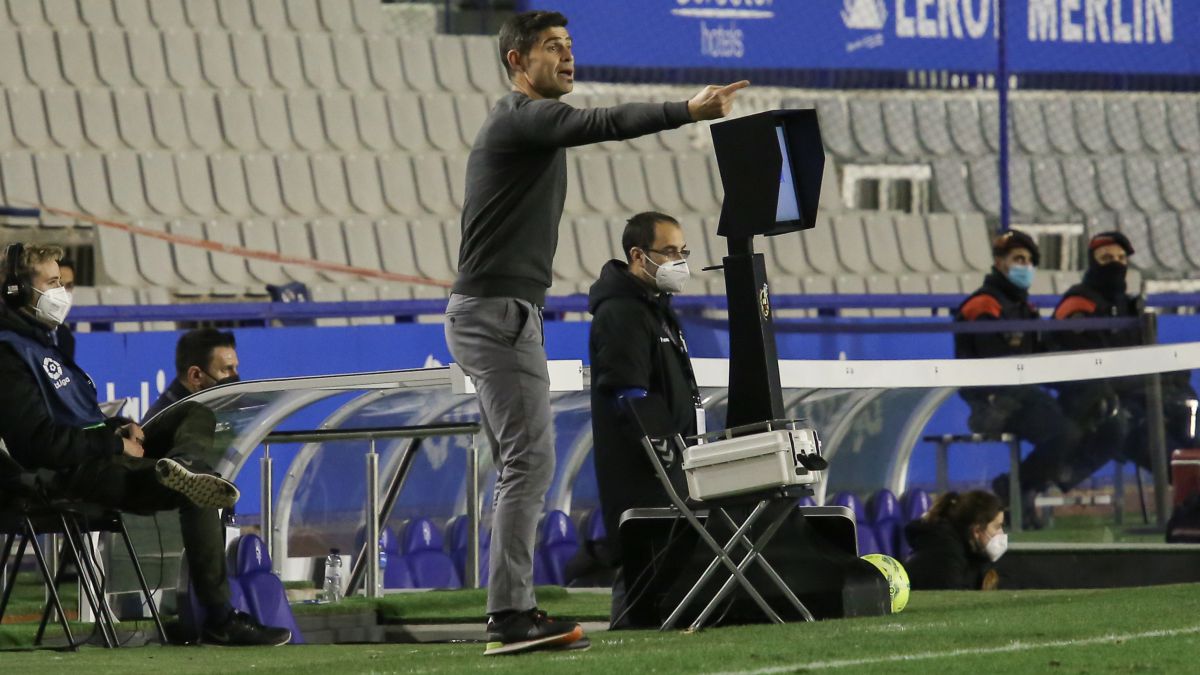 Sabadell plays this Sunday in Las Palmas and their objective is none other than to continue showing themselves as a reliable team that is difficult to win. The harlequins have chained seven rounds without knowing defeat, but in this section the balance has been six draws and one victory. In the current situation, Sabadell, which is in relegation places to a point of permanence, needs to add three by three and an Antonio Hidalgo is aware of this, who has offered a press conference this Friday at noon. The coach is calm and reveals that the team is on the right track. He is confident that his players will have a good duel in Las Palmas and obtain a triumph that will catapult them towards permanence. But he not only spoke of the duel on Sunday because Antonio Hidalgo also took stock of what the transfer market gave of himself is winter. Ramón Azeez, Eugeni and Cifu escaped them, but he defends the work of the sports director and is satisfied with the group he has.
Match against Las Palmas: "It will be difficult, with a maximum level of demand. I think it will be different from the first round because it is a team that has evolved. They have done many different things than they did, now they are very dominating the ball . We have to know these issues because he is submitting or has subjected teams of a lot of identity. We will have to be very tight in moments without the ball because there will be maximum demand. They have a very high quality ".
The team scores more points away: "We can try to think about things and such, but I always plan the games to win them, whether at home or abroad. The statistics say that we get more points away than at home, but I don't know if the teams come here to stay a little further back. Playing, this year, at home or abroad does not change much. We will go for everything and get the three points ".
Winter market: "We know the situation that has occurred in this winter market, we have to turn the page, give ourselves value, which is the most important thing and prepare the game knowing what we will find and face it with the maximum guarantees" .
Few signings in winter (only Álvaro Vázquez arrived): "We have to give a lot of value to what we are doing. It is clear that we would like to have more points, but I have some players who leave their lives and I would like them to see how they They do and what they do, not only those who play, but those who don't too. We have to believe in ours and they are the best we can have. In Almería it seemed that we were the lemon pear and after the other day it seems that it has changed. We have to be more together than ever, I notice a feeling that people support the team to the fullest. Those of us who are always know the difficulty of this. I am very happy and we are in a situation to fight with all the teams that we are down there. We are the Sabadell, we always compete and my players leave everything to them. You have to win games, that's what it's all about, but here, from the first to the last, they try their best to have the best possible squad. The professional world is competitive to the max or and is attentive to any situation. From now on we all have to focus on those of us who are here. It will be the group that is going to get us out of this. Having my people is the best thing I can have because they will be the ones who will help me through good times and bad ".
Are there 19 league games or 19 finals left? "More than finals, they are games. Final was Barça B's in the promotion playoff" .
Five draws in a row in the League: "Surely it has happened because, in situations in which we have felt superior we have not taken advantage of it. It is something we have to influence, that in moments where we believe that we are superior it has to become bookmark ".
Photos from as.com