"Honda has not opened any investigation by Marquez"
"I speak regularly with Marc and I find him good and strong. He is focused on recovering," Carmelo Ezpeleta, CEO of Dorna, told AS.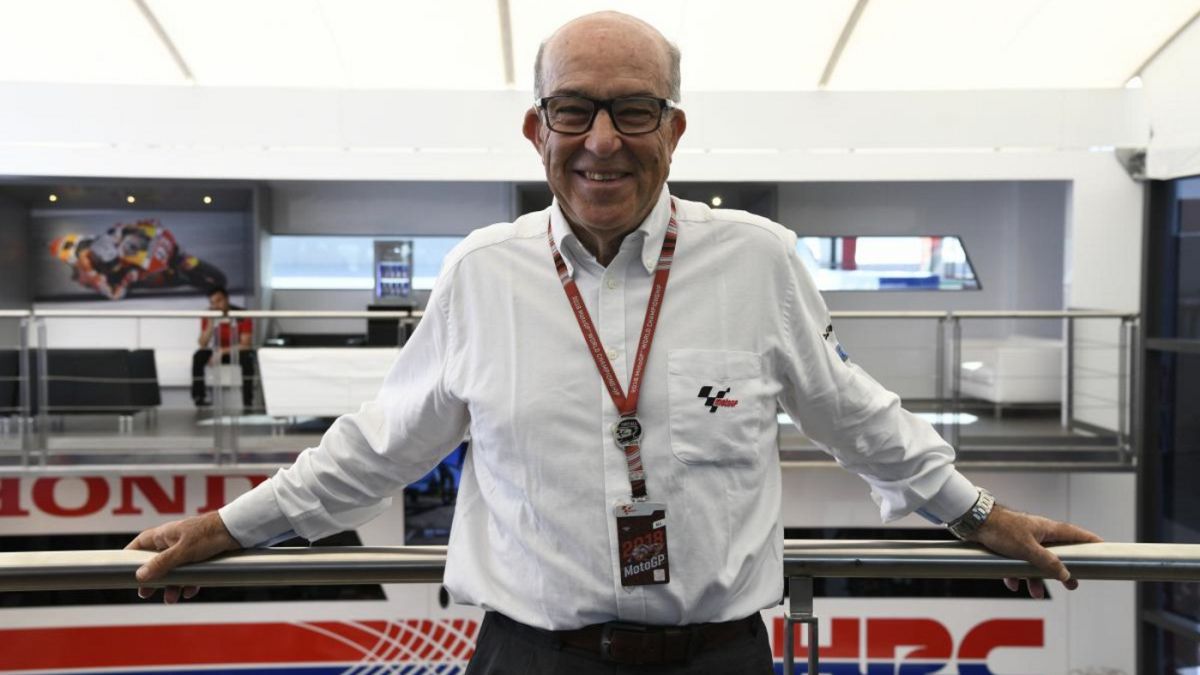 A little less than two months after the start of the World Cup, on March 28 in Qatar, an interview on AS with Carmelo Ezpeleta, CEO of Dorna. The head of MotoGP reviews the championship news and that of the coronavirus pandemic that continues to condition everything. He assures that, for now, they will continue to race behind closed doors, and about Marc Márquez he reveals very interesting details, categorically denying that Honda has opened an investigation to the competition doctors.
-A little less than two months before the start of the 2021 World Cup, are we the same, better or worse than last year at this time?
-Man, before going to Qatar last year we were better than now, because we did not think that the pandemic could come. Now we are worse off, because we already know how serious the pandemic is, and better in the sense that we already have the experience of making a championship with the bubble. We are much better prepared, without a doubt.
-What disorder means that the February tests in Sepang had to be canceled and have to wait until March, in Qatar, for the first tests?
-Not a big loss. You have to adapt and the important thing is that we have preseason. The factories have been talked to and it helps that the engines and aerodynamics freeze were agreed, so the changes are smaller than other years. It is not an ideal situation, but we are not dramatically impacted by having to start in March instead of February.
-Is the same thing happening with the change in the starting schedule, with a double in Qatar and a jump to Portimao instead of going to Argentina and Texas?
-We had already planned that. If you couldn't go to America this possibility was contemplated. We had to wait for the time established in the contracts to decide that we could not go to Argentina and the United States. Now they are postponed and waiting for what happens this year. The goal this year is to make a championship of at least 18 races. If you can reach 20, perfect, but at least 18 and between the months of March and November. The ideal is that and, if it cannot be done, we will adapt.
-Will everyone who goes to the paddock try to get vaccinated if that can be achieved?
-We are looking at it. We are looking at different possibilities. The subject of the vaccine is still very reserved for risk personnel and not for normal people. I hope we finish the year with everyone vaccinated, but we'll see. We are in contact with the authorities of each country and seeing how things are. For now, the Qatari protocol will be the same as we had in Portimao, in the last meeting last year.
-How do you notice the morale of the people in the paddock?
-There is less fear and uncertainty than last year. We all proved to ourselves last year that we were capable of making the championship. I would have liked things to come differently, but unfortunately it is not like that and that does not mean that we want to start and see races, with the illusion that they will be as exciting as last year.
-Any expectations for the return of the public to the stands?
-On March 28, in Qatar, it looks very close, but there are many days left and I hope the pandemic will improve. February is going to be critical so that there can be an improvement and from there we will see. This is clearly a match-to-match thing. You have to see how things develop. Last year we had spectators at Misano and at Le Mans and it went well, because not a single one was contaminated and, however, in Portimao we wanted there to be an audience and it was not possible. Both the promoters of the GGPPs and we are aware that the authorities of each site allow us.
-At a sporting level, the championship is still healthy and now they are renovating different factories until 2026 to remain in MotoGP. What are the main lines of the new project?
-In 2019 we already presented a diagram of how we wanted the championship to be from 22 to 26. We discussed it last year and now all the brands are arriving and renewing one by one. Expectations are good with all.
-And the Márquez factor, how important is it for MotoGP that it arrives in time for the March 28 premiere in Qatar?
-Marc has to do what suits him and not worry about anything. Of course it is important that Marc is there, but I don't want to put any pressure on him. I speak to him regularly and find him good and strong. He is focused on recovering as much as he can and not pending the schedule.
-What role have you played between the World Cup medical department, Márquez and Honda? There has been discomfort. Have you mediated between them?
-I have not had to mediate absolutely anything between the doctors, Márquez and Honda. That is a hoax. Is a lie. That's a lie. I have spoken with whom I have to speak at Honda and there is absolutely nothing that the press says, absolutely nothing. I cannot say it more clearly. There is none of that from research.
-Honda, in addition to seeking sporting glory, also makes a significant financial investment. It is logical that you want to be clear about things ...
-It is absolutely 'fake new' and a lie about the Honda investigation.
-Is there anything you are particularly looking forward to in 2021?
-That the races arrive and that they turn out as good as last year and the previous one. The same I wish since 1992, that they be good races and that there are no serious accidents.
-Thank you and good luck.
-Thank you. We'll try that.
Photos from as.com