Benzema and Mendy put a French accent to the victory of a Madrid that did not accuse casualties. Zidane put Marvin and Arribas ahead of Isco. Marcelo revives and Getafe fails.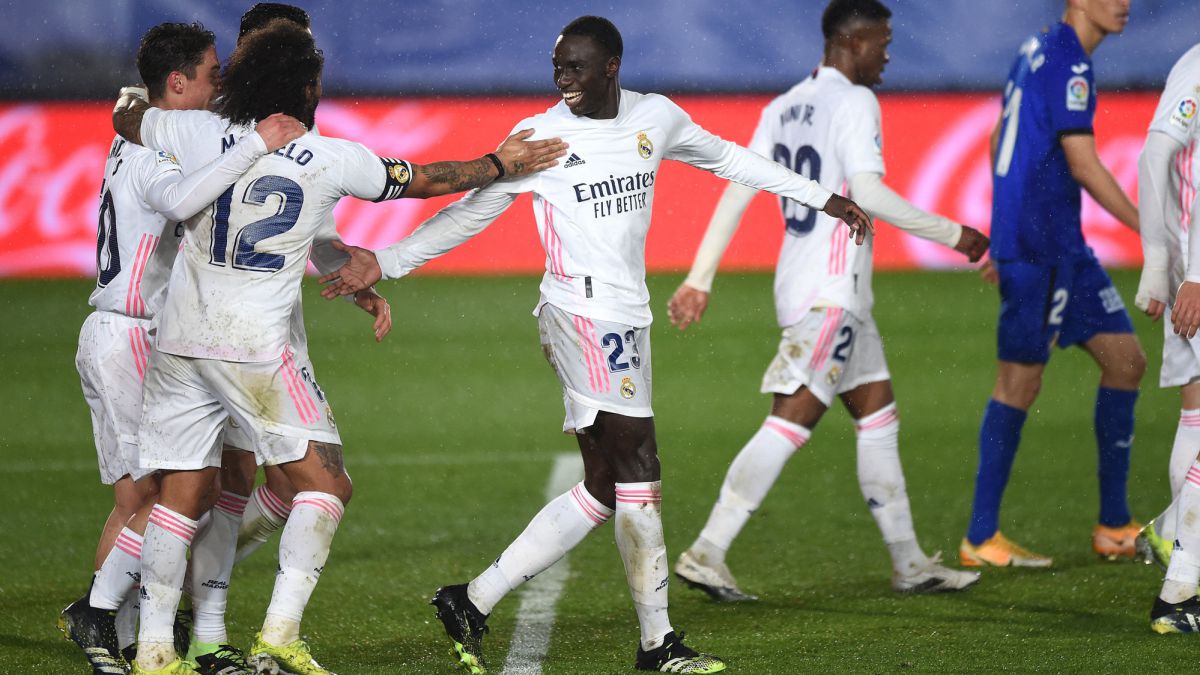 First note: half of Madrid is much better than all of Getafe. Second: Marcelo, with three centers, is still in good use. Third: there is no danger of cantericide for giving a field to young people. Those conclusions were left in a match in which Zidane's team took for granted Celta's draw at Wanda and wove their victory with patience and intelligence. This feature film had less suspense than usual due to its work and the collapse of Getafe, a long time ago a dentist and today without teeth.
There was a time not so distant when Isco was someone in the National Team. And in Madrid he got to sit Bale, that British strain that mutated to harmless too soon, when Zidane still dared to speak of non-negotiable. Now it is a red lantern. With nine absent and Odegaard in London, Zidane put Marvin ahead, as he had put Arribas ahead against Mönchengladbach or Levante. His replacement this Tuesday hangs the poster of lost case. And it is that to avoid him he had to take another step in his recent role as arranger: Mendy of left central in a line of three with Nacho and Varane; Marcelo, from lane; Modric, pivot, Asensio, playmaker ... A full-blown shake.
A classic Getafe ... and failed
Getafe, on the other hand, returned to its old formula, that 4-4-2 that bothered the one in front so much. His party is that the rival has no party. And there were plenty of Kubo and Aleñá. So Getafe became classic without succeeding. He's not going to be cute; presses, annoys, bores and on his good morning he kills with two good tips. This time not even that. That plan has punctured the greats because footballers with very fine feet are needed to escape from it and among the alpha teams they abound. And he has not sneaked in this season against others of smaller size because the second act fails: to score goals.
The conclusion is that neither Madrid nor Getafe are at the height of their best days. Zidane's team flees from spaces, it is repeated in the game at the foot, it does not start the matches. The feeling remains that he is too seen, that at this rate his journey will be short. So he puts almost all the focus on the set piece. There he found his first two chances: a lost ball in the box of those that always look for Casemiro and a header from Benzema in a corner. The Brazilian wasted his magnetism in the zone with a shot to the tenth row of seats and the Frenchman ran into the crossbar, of which he has become an intimate enemy.
Y meanwhile, Getafe, starting out, failed to fulfill its two great commandments: steal very high and make the second play its first play. But adding the imperfections of one and the other, Madrid was far above. Marcelo, with people behind him, lives calmer and lets go. And Modric is not investigated in the process: he continues playing as when he lifted the Ballon d'Or. He too had the goal, in an unopposed shot from the edge of the area that David Soria rejected, in a bizarre posture, with one knee.
Others did not do so well in the first half. Vinicius is a caged tiger, Benzema is too sporadic and Asensio often lowers the volume in many phases of the game.
Getafe did not go beyond bumping the match in their own field without the aggressiveness of other times, felt strange at the change of Madrid's drawing and did not have any presence against Courtois in the first 45 minutes. It was a tough team in the worst sense of the term: ultra-defensive and unanswerable.
Rain and goals
The rest changed the weather (it rained hard) but not the landscape. Madrid continued to shrink Getafe and lose chances. The first from Benzema, whose unopposed shot was served with a quick hand by David Soria. Thus, the Zidane team did not agree with the result or Bordalás's dynamics. Getafe loaded ammunition with Kubo, Aleña and Mata, their two winter signings and their gala nine. Madrid changed canterano for canterano, Arribas for Marvin, who are not the same. Isco watched him with his body and morale frozen in the stands. More fantasy, less speed and a new role for Vinicius: right lane. A maximum risk decision with a good beginning. The Brazilian's first center from his new estate sent Benzema to the net with his head, the best weapon right now of a composer aware as a finisher. The bargain that Cucurella promised himself ended up being the master key of Madrid.
There were still more paranormal phenomena to see. Arribas, who the first thing he did in his European debut was throw a pipe at a Gladbach defender, opened Marcelo on the left and his center at the far post finished him off like a battering ram ... Mendy! They miss few things in a team so injured by injuries that they have had five full-backs in just over four months. Only then, with the game archived, did Isco enter. His days seem numbered. He is only 28 years old and his white magic has turned black.
Photos from as.com