With muscle discomfort in the preseason, he caught COVID and has had a severe foot injury. Now he is facing the good: the fight for permanence. He praises the ACB and Pau Gasol.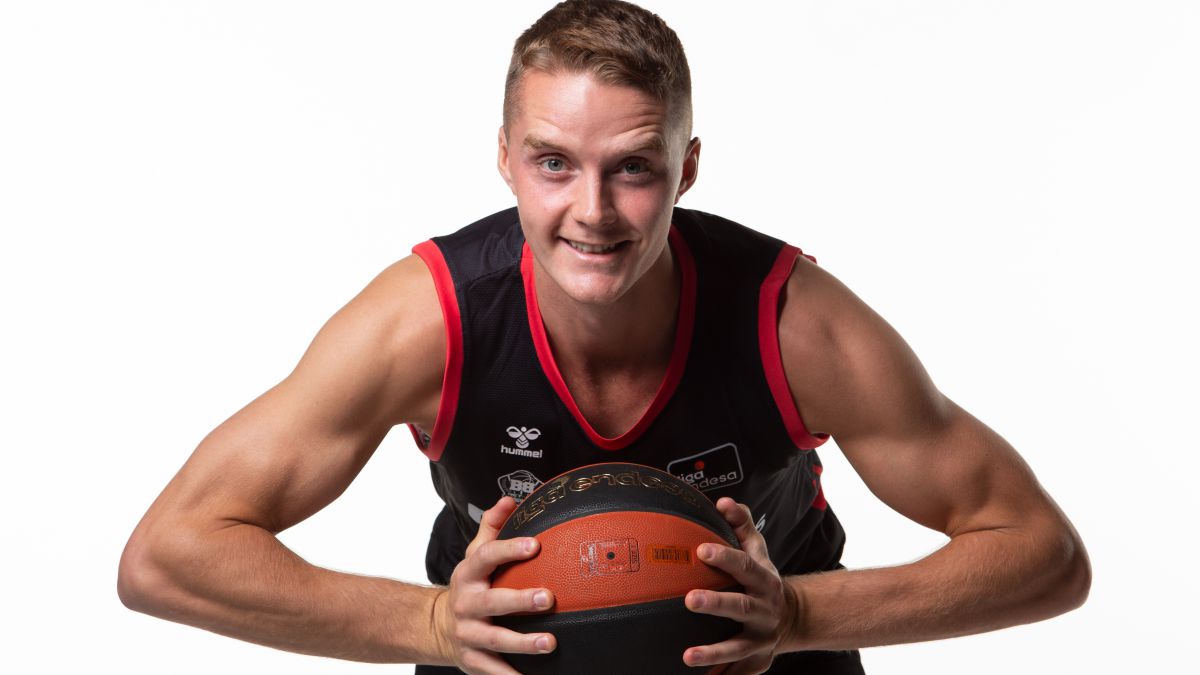 A Hakanson was twisted the season from the 'pre', that is, the preseason. Some muscular problems twisted his return to the ACB with the Bilbao Basket shirt after passing through the Polish Zielina Gora, where he recovered somewhat the role of protagonist in a team that was diluted in his transit through Spain. He was one of many and many homegrown Barça players in a bad time. Because when he was growing as a culé, opportunities like now were not given to Bolmaro, Badio, Badji, Caicedo and Sergi Martínez. Riga, Seville, Fuenlabrada and Estudiantes have also been way stations for the Stockholm base, which with only 24 years has seen more world than others with 42.
If before starting the League things were already crooked, let's not say later. COVID crossed his path and left him to drag. And then he had a foot injury that has kept him out for two months. A rosary of misfortunes, which precisely impel him to look with more desire this end of the season, now with three vital commitments for permanence: Gipuzkoa, Betis and Estudiantes. "We know the importance of the three games, but first we focus on Saturday's. We all would love to have many more victories," says Hakanson. He still does not know what it is that Miribilla's oil spill pushes behind him: "We miss the fans a lot. For small teams, those of our level, it is a very big disadvantage not to have the people behind" .
Swedish players may seem like cold people, something determined by the climate of the Nordic country, but they love their team as the most intense in the world. And because of the string of physical problems, Hakanson could not be with his team, and this lost the ticket to the Eurobasket by one point: he fell by eight and was worth losing by seven. "It was very hard, really," he confesses.
"I feel much better than three weeks ago, this time without competition has gone well. It is super hard not being able to help my teammates, and very difficult to see your teammates in games. Even though you are injured, you keep in touch and support what that you can. When I returned, I was not physically at the level of the others, but I have been in meetings and it should not cost me to return. The first two games have not been good, but I hope I can regain my level ", confesses the base Swede from Bilbao Basket. And it is that with so much period of absence, he has barely been on track with Jenkins and Miniotas, two of the signings with the current campaign.During this time of absence, Rousselle was left alone at the helm, with the help of Betolaza, and the Frenchman, one of the two captains, has suffered such a degree of stress that he has been able to do so on several occasions. "He always helps our colleagues, he has been alone", considers Ludde.
Admits that they must improve to stop those partials that are condemning them and "mental toughness is important, the key is to be very intense from the beginning and that the opponent is not comfortable, to have physical toughness". The view is put on a Gipuzkoa that has won three of the last four games and had three shots in the first round in Miribilla to win. "When Echenique was injured, many thought they were going to collapse, but they are teaching us that they can beat anyone" .
After a year in Poland, he celebrates having returned to the ACB, a competition he holds in high regard. "It is the best league in Europe, you perceive it when you go away for a year. The teams have a very high level." When questioned about the possible return of Pau Gasol, his eyes light up: "I haven't seen him play in a long time. It would be great news if the best player in this country came, finished his career in Barcelona, it's always good ".
Photos from as.com