Griezmann beats the 'soci'
He played his best game with Barça. He led the victory in Granada with two goals, two assists and a lesson of faith. His commitment to the dressing room convinces Barça fans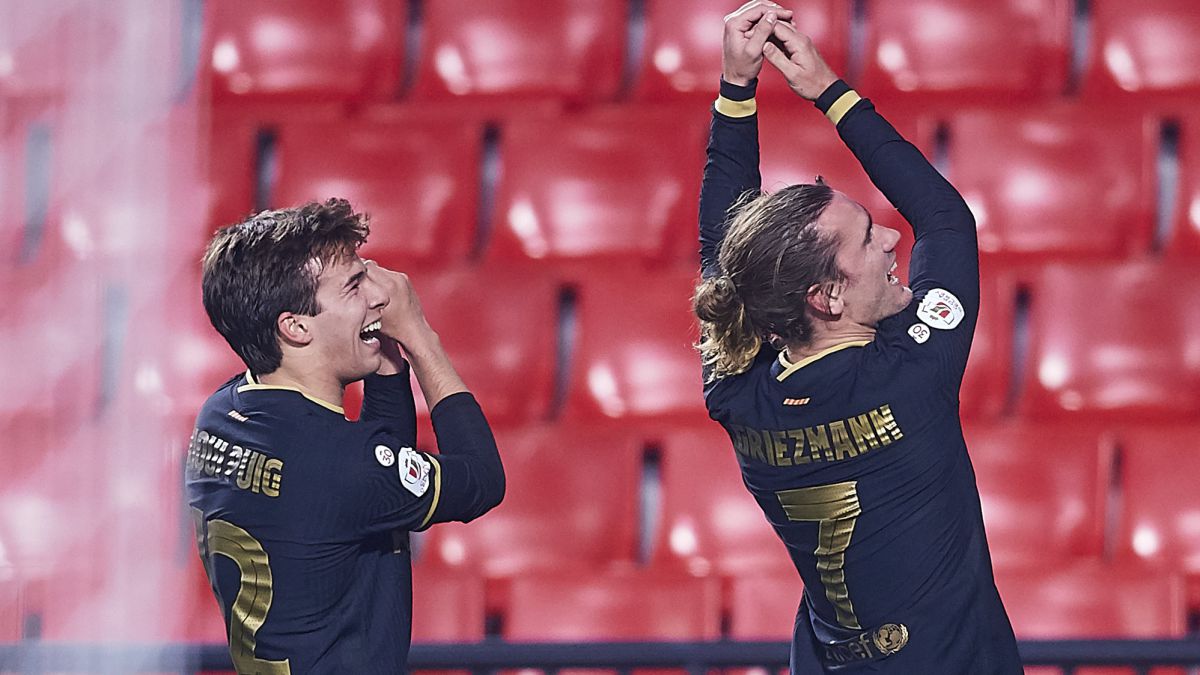 He had been cooking it for weeks and signed it this Wednesday in Los Cármenes. Season and a half after arriving, Antoine Griezmann exploded with his best night as a Barcelona player. He was in four goals of the game (two goals and two assists) and, above all, he put people in their pockets for their faith. For his conviction in chasing an almost impossible ball in the 2-1 play that later found the collaboration of Aaron; for his cold blood to cushion the ball in the direction of Jordi Alba in the 2-2 action. And for his header of faith at 2-3. A killer goal that allowed Barça to explode. Griezmann ended up hugged by Messi, who found him in the plays of the first two goals; and Alba, whom he also found in the action of 3-5.
"We have suffered," Griezmann said at the end of the game as he shared smiles with Frenkie de Jong, who, he said with a laugh, disguised himself as Pippo Inzaghi. That, in part, is the new Griezmann, a fundamental piece in Barça's recovery of the game, but especially the atmosphere inside the dressing room. Griezmann is one of the players who have done the most to sew the group, while improving his performance on the pitch. In the invisible training sessions, those that are played in the dressing room meetings and in the collective commitment, Griezmann has also been the best in recent times.
Against Granada, Griezmann was seen sweeping the entire front of the attack. His division of spaces with Messi seems to have reached a great harmony for the team. And, of course, you see him step on the area more. In addition to the two goals, he was close to making it 0-1 in an action taken in extremis by a defender. Already in the second part, a Chilean was invented that Aaron took with great reflections.
Until this Wednesday, Griezmann had only signed four doubles as a Barça player. One against Betis, upon arrival; another in Ibiza, also in the Cup, which saved Barça. And this course, also against Granada in the Cup and against Athletic in the Super Cup. That must have been his first big night as a Barça player. But a lack of attention in the last minutes ruined the Barça title. "I don't know what happens, sometimes we don't talk," the Frenchman said that night, very hurt by the defeat. Far from reproach, however, Barça has since beaten Cornellà, Elche, Rayo, Athletic and Granada. The feeling of unity in a team that has come together in the face of adversity since the beginning of the year is total. And Griezmann is one of the leaders of the group. He has beaten Barcelona.
Photos from as.com