Great night (14 + 10) of a Willy Hernangómez that asks for passage
The Pelicans go to more and the Spanish sits in the rotation. The Sixers beat some excellent Kings and the Heat suffer against the Knicks.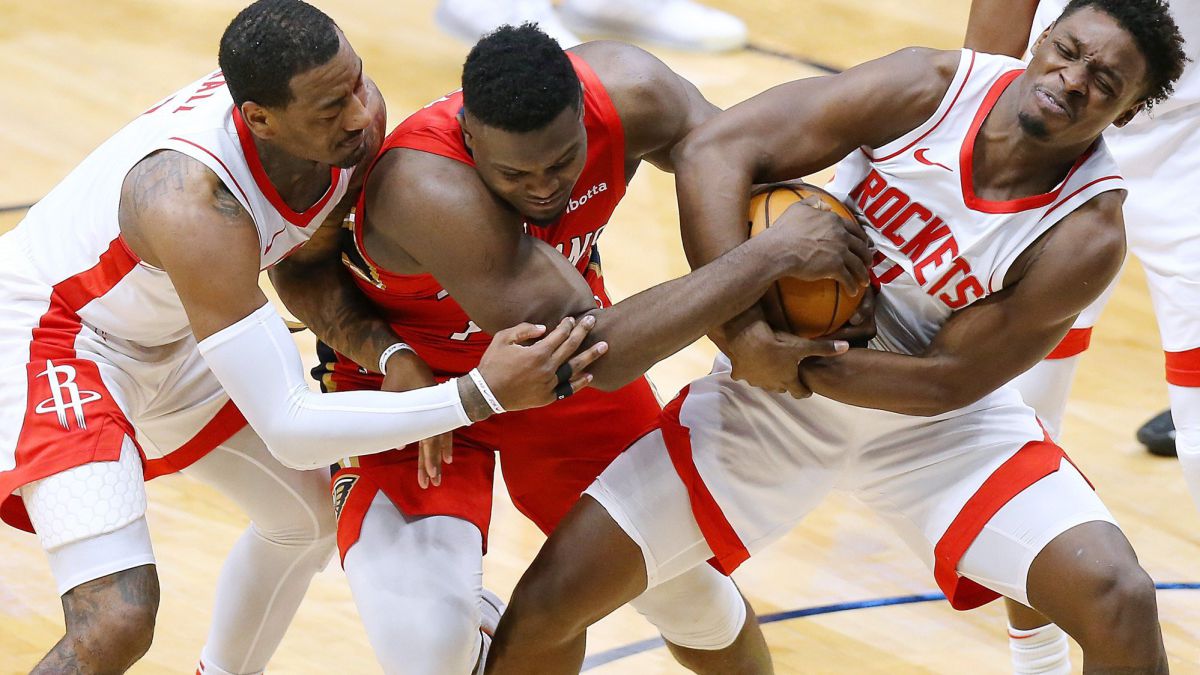 The Pelicans seemed on the verge of losing the thread of the season and burning very quickly the Stan Van Gundy project. They started with a 5-10 of very bad feelings, aspect of unbalanced rotation, porous defense and badly distributed roles. But little by little they have grown, evolved. And with a friendlier schedule, they have amassed four wins in a row and six in eight games. And they are 11-12, perfectly reengaged in the fight for the playoffs in a West in which there are many teams in a more or less similar lot, pending to distribute hierarchy in the second part of this strange season.
Against the Rockets (130-101), the Louisiana team took advantage of the loss of Christian Wood, who is 0-3 to those of Stephen Silas (and 11-13 total with four losses in five games). Without the center, who was at the all-star level, the attack is worse but, of course, the defense is much worse. Test the 124.5 average points that Charlotte and New Orleans have conceded. The injuries, that of Wood and the entrances and exits of others, are punishing the Texan team, which this time made the rubber for a good part of the game, cutting 20-point deficits to see 104-94 with seven minutes remaining, with an option of a turnaround that was actually unlikely: 26-7 from there to the end. John Wall had 25 points and 6 assists and Eric Gordon 23 points, but the Pelicans were much better.
They are, in fact, an obvious growing team: Brandon Ingram is back to flow with attack (22 points) and Zion Williamson scores as usual (20 points) but does a lot of other things better than ever: more defense and more passes, this time 7 assists with which he equaled the top of his career. The Pelicans are 7-1 when Zion, since his arrival in the NBA, deals at least 5 basket passes. The bench did the rest: 10 points from the promising Kira Lewis, a monstrosity from Josh Hart (20 points and 17 rebounds) and a great night from Willy Hernangómez: 14 points, 10 rebounds and 4 assists in more than 25 minutes on the court. The Spaniard has appeared after a ghostly start to the season. Excellent news for him, each time leading (or so it seems) over Jaxson Hayes in Van Gundy's inside rotation. The Pelicans have four consecutive wins in February and Willy is an integral part of that rotation: 21.3 minutes on average on the track this month with 6.3 points and 6.3 rebounds per night. Clearly more.
MIAMI HEAT 98-NEW YORK KNICKS 96
As in their old (very tough) duels of the 90s, Heat and Knicks exchanged blows, scored very little and resolved their duel in the last moments: from 94-94 with 2 minutes from the end to 98- 96 final. In those final 120 seconds, Julius Randle (twice) and RJ Barrett failed, who had the action to force the extension. And the Heat won with a triple by Tyler Herro and a free throw by Jimmy Butler, which finished with 26 points, 8 rebounds and 19 assists. Since his return the Heat are 4-2 and he averages 21.8 + 8 +, 3 + 8.3. And after two long-suffering wins against the Knicks, Spoelstra's team ties three wins in a row for the first time this season, going 10-14 (the Knicks 11-15) and picking up some tone en route to a tremendous tour of the West. , seven games in which he will visit the Lakers, Clippers, Jazz, Warriors ...
The Heat scored twelve two-point baskets, the lowest in their history, four in the entire first half. Of course, they made 14 triples… and 32 free throws for the Knicks' 12. In total, the locals threw 39 and the visitors 16, a discrepancy that was 13-2 in the fourth quarter (22-14 for the Heat) and that left Tom Thibodeau pissed off, who bit his tongue but suggested not to. he had liked what he had seen in the refereeing. His Knicks were able to win in a tough game, with few wide shots and gusty. And that despite the fact that Julius Randle needed 18 shots to score 12 points and Barrett, 14 for 13. Immanuel Quickley stayed at 7… and Derrick Rose arrived, who played 20 minutes and finished with 14 points and 3 assists. But the Heat won, still not bright but at least in survival format. That, right now, is not little.
TRAIL BLAZERS 106-MAGIC 97
The Blazers opened the gap (+16) in the first quarter and always led the way, with ups and downs, against a Magic fully in frame, with a disastrous disposition due to injuries to face a difficult tour of the West . There are six defeats in seven games (and 9-16 after a promising start) for a team without Fultz, Isaac, Fournier, Gordon, Carter-Williams and this time without rookie Cole Anthony. A plague in the middle of which Vucevic (27 points, 15 rebounds, 4 assists) and Ross (22 points) do what they can. Aminu, a former Blazers, played his first minutes of the season after a serious knee injury.
The Blazers, another team without luck (Nurkic, Collins ...) at least have Damian Lillard, who added 36 points and has been in thirteen games this season with at least 30. Carmelo Anthony scored 23, his top of the course, and the Oregon team they keep adding (13-10) despite the setbacks. His next game, yes, will be tougher: the fearsome Sixers arrive in Portland.
KINGS 111-SIXERS 129
Because the Sixers did not fail in Sacramento and are 18-7, six wins in the last seven games and a game and a half ahead in the East over the Bucks who are clearly ahead. Those of Doc Rivers, yes, had to squeeze the maximum to win in Sacramento. And that's no longer news: Californians are one of the fittest teams in the NBA and no one beats them easy right now. After four consecutive wins (tremendous: Nuggets, Celtics, Clippers…) they returned to play very well and compete until the last possessions. They are 12-12, a balance that does not do justice to their great moment, an inertia that is putting them fully (and with all justice) in the fight for the playoffs. They are now ninth from the West. But they ask for passage.
The Sixers needed Joel Embiid (25 points, 17 rebounds, 6 assists) to shake off a bad start in attack and lead a tremendous defensive finish for his team, which won 20-32 the last quarter and, with arbitration permissiveness before his rise of physical tone, linked a key 0-10 from 99-97 with seven minutes remaining. Tobias Harris added 22 points, Seth Curry another 22 with 4/6 in triples, Ben Simmons finished 14 + 7 + 9… the Sixers, in short, needed all their arsenal to win on a court that is now Comanche territory. These are the best Kings in a long time, a tremendous resurrection led by a Luke Walton who seemed lost and with an all-star De'Aaron Fox: 34 + 6 + 10. Hield put in a 21 + 8 + 4 and Haliburton, the exceptional rookie who pairs so well with Fox, 15 points and 3 assists. The Kings lost this round but the game does not erase an iota of their excellent feelings of the last weeks.
Photos from as.com