Granada approved and suspended: The great Rui Silva and the heroes of Maradona
With infinite suffering and four injuries, Granada was consecrated in the house of Maradona and is already in the round of 16. Three saving saves from Rui Silva.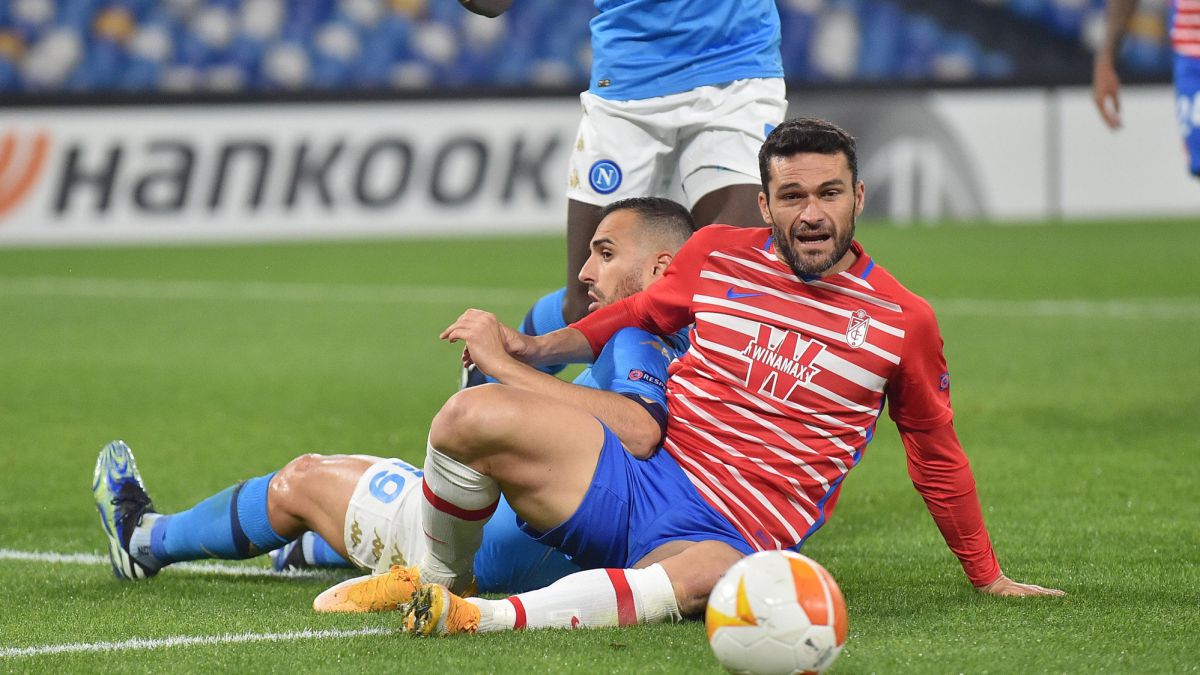 1-Rui Silva: He conceded in the first Neapolitan shot. Great stop to Insigne in an imperial free kick, another to Elmas and a third to Ghoulam at 91 that depressed the Neapolitans. Goalkeeper.
2-Foulquier: Perfect center to Montoro. After Neva's injury, he moved to the left wing to close the first half. Then he returned to the right where he measured himself with Elmas and Insigne. Mertens also fell on him. Huge French Party.
22-Domingos Duarte: Zielinski's shot caught him from behind. Attentive to the cut, he took a yellow one. Sensational second half. A fence in the back of Granada.
6-Germán: Excellent in the air and concentrated game. Unfortunately the physicist turned his back on him and despite trying, he had to withdraw and was reprimanded. The next round will be lost.
15-Carlos Neva: It was complemented very well with Doors. Unfortunately he noticed a puncture in the back of his right leg and withdrew injured.
19-Montoro: The engine of the Granada. A horse. Fantastic header at 1-1. He was also used as a defensive right back. Cautioned, he will not be able to play the round of 16.
8-Eteki: Deadly loss to Bakayoko that ended in 1-0 for Zielinski. Then it was intoned. Great wear. Bulldog.
24-Kenedy: It was stung with Politano and they took a yellow each. Impressive wear. He endured like a champion the 103 minutes that the battle lasted. He attempted an Olympic goal.
4-Gonalons: Well placed and equipped for long trips. He made an effort in pressure but was injured again and left the field at 44 '. Looks like muscle injury.
10-Puertas: He left at the last minute due to Machís injury. Very active on the left wing. In the second part he helped in defense.
23-Jorge Molina: As always, tremendous and generous worker. He put Meret to the test in the final stretch of the first part. Forced.
From the bench:
16-Víctor Díaz. He entered at 45 'for the injured Gonalons as a left winger. He had a lot of fabric to cut.
-Nehuén. He entered the second half for Neva on a three-center line. He did not cover Fabián at 2-1 but he came up. He showed caste and personality.
21-Yangel Herrera: Despite his tight physical condition, he entered for Germán. He got a yellow one. Much credit for what he did.
20-Vallejo: He came out at 83 'to reinforce the defense and took a setback from Bakayoko.
9-Soldier: Another who entered with just a couple of training sessions. He brought experience and gave a lot of air to his teammates. Piece of professional. Second time he eliminated Naples. He already did it with Villarreal.
Diego Martínez: He knew how to rebuild and reinvent his team as injuries punished him. Teams are the reflection of their coaches. In this case, for good.
Photos from as.com