Gipuzkoa solve a drama against Estudiantes de Barea
Fast-paced ending to heads or tails resolved by a 2 + 1 from Tomàs after a virguería from the Puerto Rican base,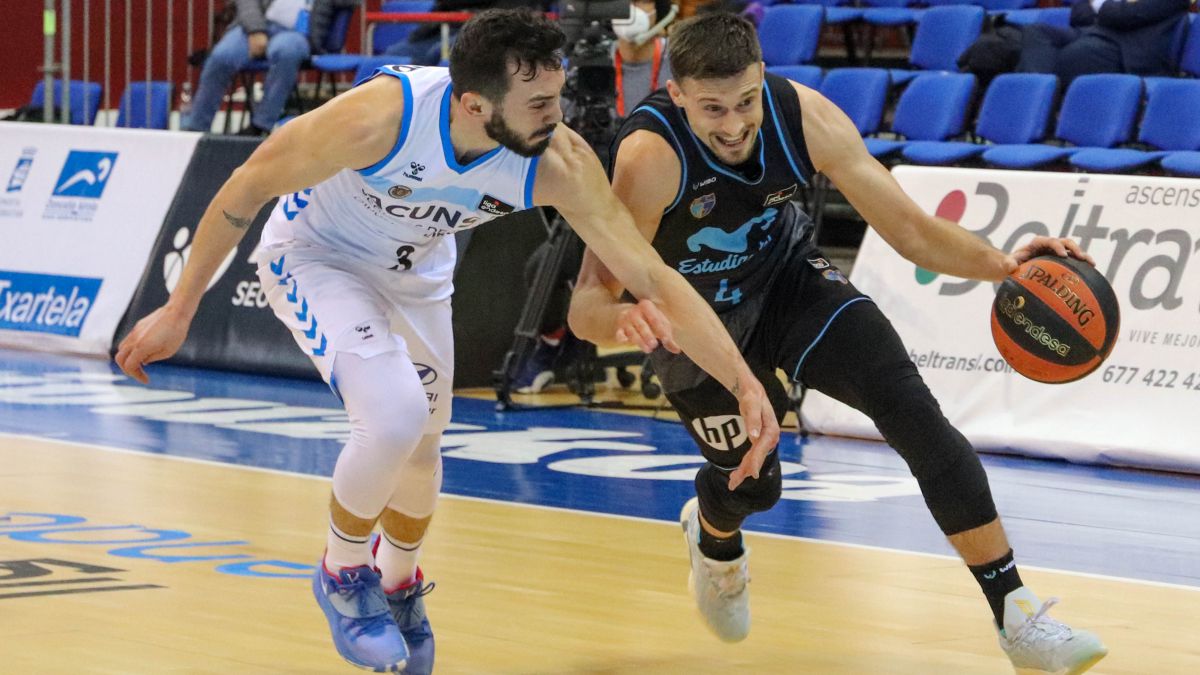 If the Cup begins tomorrow and strong emotions are announced, what better than a league aperitif between two teams that live underground in the classification? The Students have to recover a good string of games and at the first change, life goes on the same. Neither Barea has worked the miracle. In a fast-paced ending, one of those that leave fans glued to the television set, the one with the most mental toughness right now, has taken it. This Gipuzkoa plays as if the walk along the wire were on an eight-lane highway. When everything seemed lost, he continued without changing pieces, with the second coach for the COVID inserted in Nicola, and not even the fall in battle of his star Echenique has stopped him. Of all those who are in the hell of the ACB, he is the one who has the most assumed his modesty and his painful fight against a destiny that places him in the LEB. And that's having a lot of progress.
The final minute of Illunbe's game was pure drama. From 76.75, after a failure by Gentile and a loss by Faggiano. Barea took the reins, which is why he has been signed, another superclass in this Estudiantes with many pedigree players, but very few with that worker character that is left over in Gipuzkoa. The Puerto Rican made one of those changes of pace on the boat that is worth paying a ticket for. He scored 76-77 with 35 seconds to play. In the time-out, Javier Zamora called Okouo a foul in the blocking, because he knew that the Congolese is a disaster in free throws, but Avramovic corrected him: "We are whistled unsportsmanlike one hundred percent for sure." The idea changed and they were able to defend themselves without fail. Faggiano was locked over the baseline and he was forced to make a very forced shot. He missed it, but Radoncic appeared for the house specialty: an offensive slap. Few players in the ACB do better than the Madrid squad at that. Total: 78-77 with 23 seconds left.
The nervousness level was rising like foam. The GBC still had a foul and Faggiano spent it, discounting very few seconds, only eight. There were 15.7 left, therefore. Barea did another poem, got under the hoop, stepped back to earn that necessary space and put in a sublime basket. Return to the Ferris wheel of emotion: 78-79 with seven seconds left. In the other ring, Tomàs got entangled with a ball, but he knew how to recover it, recover it and have a good angle to score. On top of that, Arteaga's personal competed, who contributed interesting things, but was very clumsy in such a tight finish decided by the details. There were two seconds left to play and the possibility of failing in the additional did not cross his mind. It was recommended because the Estu would not have given time for anything other than launching a balloon from far away. Instead, he gave the option of a time-out and of taking the Madrid team out on the attack field. Roberson, Barea, Avramovic ... there were many possible vigilantes. That is why Movistar looked for the most unlikely, Brown coming out very well from a vertical block by Arteaga. He had a very clear shot, but he missed it. Ni Barea changes the losing air of this team.
It was the finish to a vibrant match, with Gipuzkoa going out to the knife thanks to an Okouo who wants to play Echenique and is impeccable. The most collective concept of Gipuzkoa was imposed on the individualities of a student who at times pulls a car, at times another. they need four balls to feed everyone. Gentile had a scare with one knee, but was able to continue. There were his tripping, as alternatives in defense with zones and a triangle and two from Nicola. The donostiarras were twelve up and saw the near triumph, but Roberson started plugging in and that ended with a big end. In the Estudiantes there is so much class that its players put glorious baskets, but surely they changed them for other more earthly ones that would give the triumph. And with 6 of 27 in triples he goes to few parts.
Photos from as.com