"Hierro gave me the ball from my goal in the Champions League with Madrid"
Álvaro Medrán attends AS at Casa Juan on the eve of the clash between Real Madrid and Valencia, the two teams where he dreamed of success.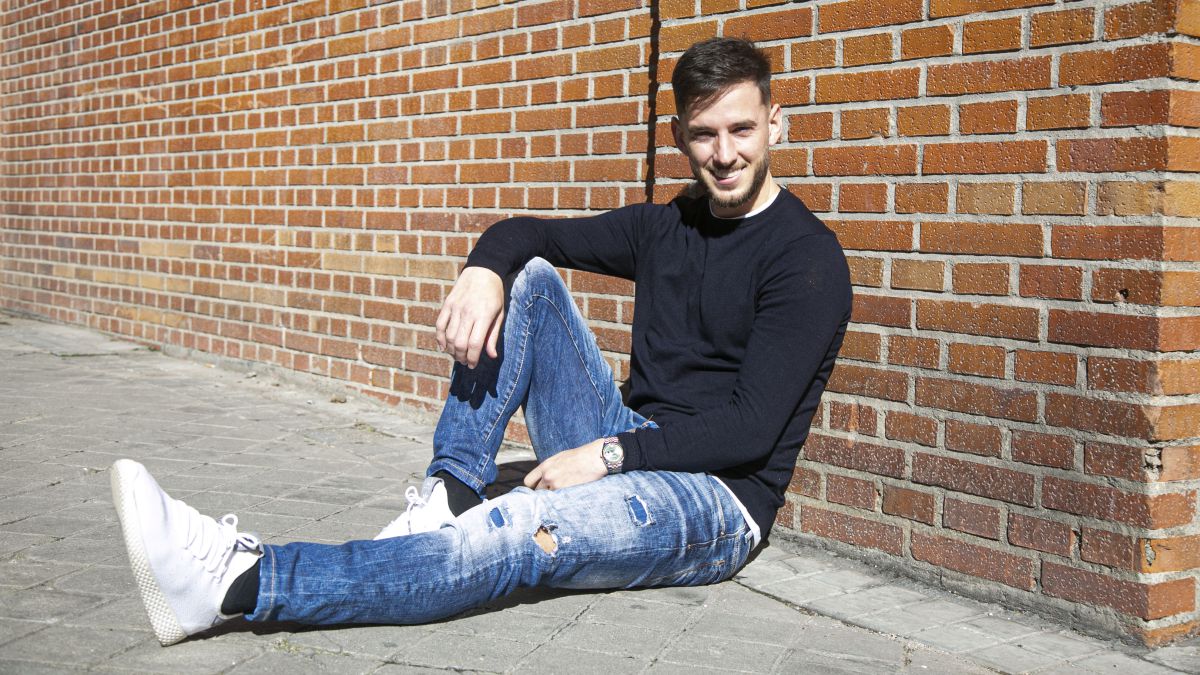 He emigrated to the United States to reconnect with his football and has achieved it by wearing the Chicago Fire '10', where Álvaro Medrán is the player with the most minutes of the team and has signed some of the best numbers of his career. On vacation in Spain, he analyzes tomorrow's Real Madrid-Valencia for AS, the two teams in which he so much wanted to succeed.
Why did you leave LaLiga for MLS?
After changing both teams, with two or three coaches every year, there was no continuity. The preseason with Valencia went as it did and it was clear to me that if I had to go down a step in order to play I was going to do it. And Chicago, in a league that is growing and learning a new language, was a good opportunity. It is my first experience outside of Spain and although football is the same everywhere, it has been rare due to all the uncertainty of Covid-19. We were able to finish the league, we failed to qualify for the playoffs and it is a pending account for this year. Personally, I played every game as it was my goal.
What is left of the summer and autumn of 2014 when the illusion of Real Madrid triggered?
A great memory. I enjoyed it a lot. He was very well and the fibula injury came. To be honest, my career went down from there because I got injured again after four months at Getafe. Some circumstances then no longer accompanied me, but I really enjoyed it. I met amazing people, I played with world-class stars and I keep that.
Y with scoring in the Champions League at the Bernabéu.
I was lucky, the goal was a rebound, but it counts the same and with me the ball was signed by all the teammates that Fernando Hierro gave me. I have it at home.
How are Isco, Kroos or Modric with a youth squad playing in their position?
I had a great relationship with everyone, I always sought to learn from them. It is not that they are always on top telling you what to do, although they do give you some advice. You try to play their game but you always look at how they move or create the space to receive and learn from them to add it to my football.
Would your career in Madrid be different if Ancelotti had continued?
Many things go through your head and you wonder, of course; but I couldn't do anything else, it happened like this. He said he saw me as a box to box and that's the best way to describe myself. I defend, I believe and I come to the area from the second line. I am very fond of him and Hierro. They gave me the experience of debuting, they took care of me and they behaved very well. Today I still thank you.
Why are you betting on Valencia after your loan to Getafe?
I was looking for a change, at Madrid they didn't assure me that I could be in the first team. In the preseason and at the beginning it went well, but I had three coaches and each one with a style and a type of player. Since January I have not participated and the season was already complicated. I knew I could play for Valencia and that's why I went on loan in search of minutes to Alavés and Rayo, where I finally didn't have them either.
Are Madrid's homegrown players required more for being so?
It could be, it happened to me in Getafe where they criticized me even when I was injured without being able to do anything for coming from Madrid, but I don't think that is always the case.
Can Madrid win the League?
Yes, I trust. Zidane already said it, the last league champion cannot be considered dead. He's having a bump with injuries and let's see how the new system experiment comes out.
Since you are talking about Zidane, you had him in Castilla, did you intuit what he would become afterwards?
That he was going to win three Champions in a row, nobody could imagine. Even then I had all the players happy, even if they didn't play, and that is the most complicated thing in Madrid with the stars out there. And he has succeeded and it has paid off. But when players leave, it is difficult to maintain the level.
Do you understand that you are being questioned?
These are club things, I can't get involved, they'll know what's best. Since I got out of there, what I want is for them to have the greatest possible successes and as long as they do well I'll be happy.
Why is it so difficult to succeed at Valencia?
No stability. Although things go well, from night to day everything changes and a project is dynamited. There is little patience, immediate results are requested and it is not easy, especially if it is a transition project. When they find the stability and the objective they seek, they will do well.
Did you understand the decision to dispense with Marcelino?
I was a little stunned. I lived the preseason with them and it was already anticipated that something could happen. The relationships weren't the best, but the group already saw it coming, although they didn't know when it would happen.
How does it affect having a boss like Lim thousands of miles away?
To me, nothing. It wasn't important, I wanted to play and do my best. I signed there to play in Mestalla and meet goals.
Do you see the real option that I can descend?
If they are there, it is for something. They are not doing well and they are not where a team like Valencia should. There is always that possibility, but I hope it doesn't and you save the season.
What's going to happen on Sunday?
A hotly contested match. Valencia are playing well against the big teams. May the one who plays the best win and scores the most goals, I'll see him with a coke and some potatoes to enjoy it.
Photos from as.com