Fognini: "Playing against Nadal in the center is a prize"
Fabio Fognini, who declares himself a friend of Nadal despite having some discussion in the past, says that facing him "requires an extra effort" at all levels.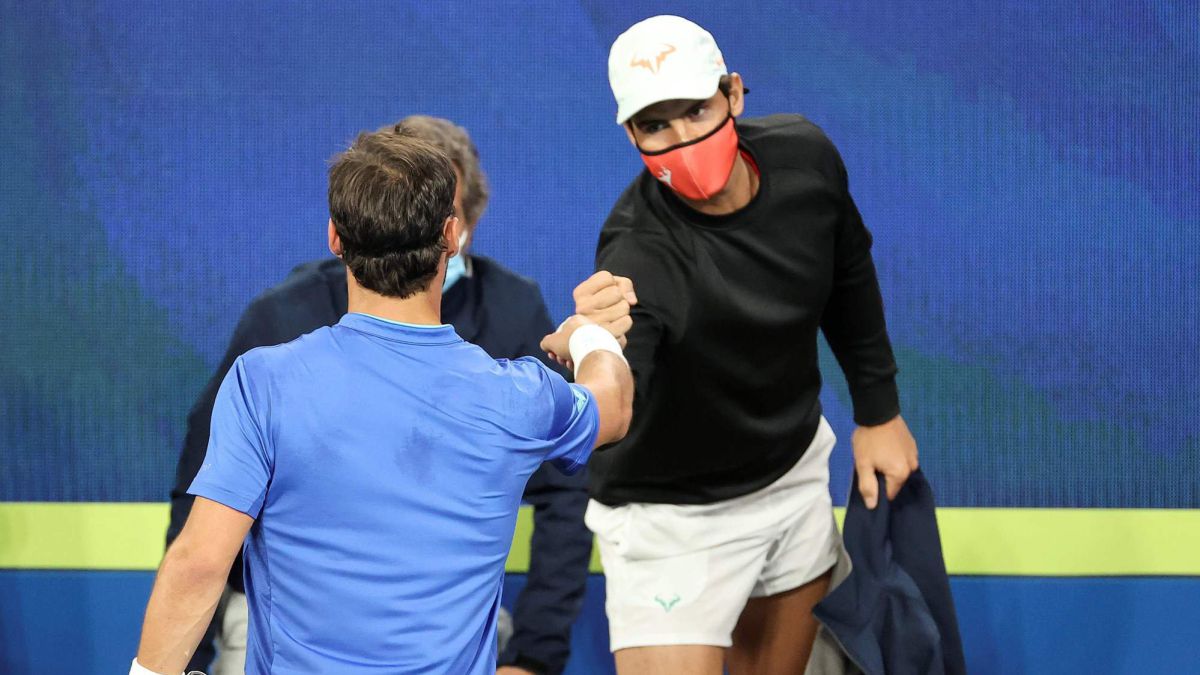 Fabio Fognini will be this Monday (not before 05:00, Eurosport) the first true rival for Rafa Nadal in this Australian Open, and the first against whom he has already faced on some occasions. The Balearic has a favorable balance against the Italian of 12 victories and four defeats. This will be the third time they meet in a Grand Slam, after the third round meeting at Roland Garros in 2013, with Nadal triumphing 7-6 (5), 6-4 and 6-4, and that of the same phase of the US Open 2015, when Fogna rallied from 0-2 to win 3-6, 4-6, 6-4, 6-3 and 6-4. But perhaps the most remembered duel between the two is that of the final in Hamburg in 2015, when they had a discussion in which the San Remo player told the Spaniard that "don't break my eggs", because according to him, Toni Nadal had spoken with his nephew from the stands and the Manacor tennis player had delayed his serve a lot. Nadal beat Fognini by a double 7-5.
"We had our story on the track, but there was no problem after that. I always try to have a good relationship with everyone in the locker room. Life is much happier like this. With Fabio I never had a big problem. I have a very good relationship with him, "said the world number two after beating Norrie on Saturday. "As a player, he is one of the most talented on the circuit with many incredible things. When he plays well, he is one of the most dangerous rivals without a doubt," continued Nadal, who trained this Sunday longer and with greater intensity than the previous days. , thanks to the improvement in her back problems due to the treatment she underwent on Friday.
Fognini, for his part, does not hide his admiration for the winner of 20 Grand Slams, whom he considers "a friend who is the history of this sport". "Rafa is always Rafa. These are the games I like to play." He told Italian journalists after beating De Miñaur. In fact, Fabio considers facing him as "a prize." "I'm happy to play against this great rival on the center court," he acknowledged after explaining what it means to measure himself: "Rafa requires an extra effort, a greater effort from me physically, mentally and, above all, tennis. I'm happy because I have returned to my level ".
The Big Three and dreams
Fognini made an interesting reflection on youth tennis and the comparison with the Big Three: "I am lucky at this point in my career to have been with these people, although you have to be honest and say that little I know has been able to do against them. If you reached the quarterfinals of a Slam, it was to get champagne and caviar. Now I don't see a Federer, a Nadal or a Djokovic among young people who blocks your dreams. "Today, he will try to beat his colleague and dream again. Nadal, getting better from the back, will try to stop him.

Photos from as.com